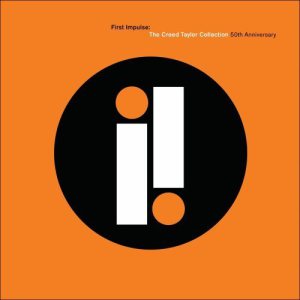 UPDATE 3/22: You can now order this box set through Hip-o Select here.
We have some more info on the aforementioned Impulse! Records box set coming from Universal in April, thanks to our friends at Record Racks.
As previously mentioned, First Impulse: The Creed Taylor Collection 50th Anniversary box is going to compile the label's first six LPs by the likes of Kai Winding, Gil Evans, Ray Charles and John Coltrane, all of which were produced by label founder Taylor, along with rare and unreleased material across four discs. We now have the track list for your perusal.
The set is in mostly chronological order across the first three discs; the Kai Winding LPs, the first and third for the label, are combined onto one disc, with the rest following chronologically. The fourth disc collects the mono single version of Ray Charles' "One Mint Julep," a Gil Evans bonus track, all of the alternate takes from Coltrane's Africa/Brass sessions (previously released as a 1974 LP and a 1995 deluxe set) and three previously unreleased rehearsal takes of Coltrane's. All in all, not a bad set for jazz fans.
The box is set for release April 19. Hit the jump for the full rundown!
Various Artists, First Impulse: The Creed Taylor Collection 50th Anniversary (Impulse!/UMe, 2011)
Disc 1: J.J. Johnson & Kai Winding, The Great Kai & J.J. / Kai Winding, The Incredible Kai Winding Trombones
This Could Be the Start of Something
Georgia on My Mind
Blue Monk
Judy
Alone Together
Side by Side
I Concentrate on You
Moonglow/Theme from "Picnic"
Trixie
Going, Going, Gong!
Just for a Thrill
Speak Low
Lil Darlin'
Doodlin'
Love Walked In
Mangos
Impulse
Black Coffee
Bye, Bye, Blackbird
Michie (Slow)
Michie (Fast)
Disc 2: Ray Charles, Genius + Soul = Jazz / The Gil Evans Orchestra, Out of the Cool
From the Heart
I've Got News for You
Moanin'
Let's Go
One Mint Julep
I'm Gonna Move to the Outskirts of Town
Stompin' Room Only
Mister C
Strike Up the Band
Birth of the Blues
La Nevada
Where Flamingos Fly
Bilbao Song
Stratusphunk
Sunken Treasure
Disc 3: Oliver Nelson, Blues and the Abstract Truth / The John Coltrane Quartet, Africa/Brass
Stolen Moments
Hoe-Down
Cascades
Yearnin'
Butch and Butch
Teenie's Blues
Africa
Greensleeves
Blues Minor
Disc 4: Bonus Tracks
One Mint Juelp (Mono Single Version) - Ray Charles
Sister Sadie - The Gil Evans Orchestra
Song Of The Underground Railroad - The John Coltrane Quartet
Greensleeves (Alternate Take) - The John Coltrane Quartet
The Damned Don't Cry - The John Coltrane Quartet
Africa (First Version) - The John Coltrane Quartet
Africa (Alternate Take) - The John Coltrane Quartet
Laura (Rehearsal Version) - Africa/Brass Rehearsal Band Featuring John Coltrane And Cal Massey
Nakatine Serenade (Slow Version) - Africa/Brass Rehearsal Band Featuring John Coltrane And Cal Massey
The Damned Don't Cry (Rehearsal Version) - Africa/Brass Rehearsal Band Featuring John Coltrane And Cal Massey
Disc 1, Tracks 1-11 released as Impulse! LP A-1, 1961
Disc 1, Tracks 12-21 released as Impulse! LP A-3, 1961
Disc 2, Tracks 1-10 released as Impulse! LP A-2, 1961
Disc 2, Tracks 11-15 released as Impulse! LP A-4, 1961
Disc 3, Tracks 1-6 released as Impulse! LP A-5, 1961
Disc 3, Tracks 7-9 released as Impulse! LP A-6, 1961
Disc 4, Track 1 released as Impulse! single A-side 45-200, 1961
Disc 4, Track 2 first released as bonus track on The Dedication Series Vol. IX: The Great Arrangers - Impulse IA 9340-2, 1978
Disc 4, Tracks 3-4 and 7 released as Africa/Brass Sessions, Vol. 2 - Impulse AS 9273, 1974
Disc 4, Tracks 5-6 released on The Complete Africa/Brass Sessions - Impulse IMPD 2-168, 1995
Disc 4, Tracks 8-10 previously unreleased