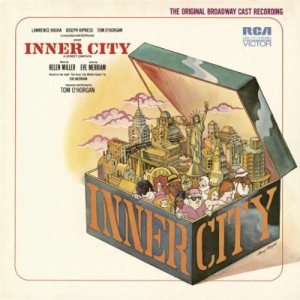 "I look around and what do I see? Nothing's the way it used to be..." In 1969, Eve Merriam bluntly took aim at violence, racism, corruption and poverty in her ironic collection of verse, Inner City Mother Goose. Controversial from the outset, Merriam's Mother Goose became one of the most banned books in the country. Enter visionary theatre director Tom O'Horgan. Having replaced Gerald Freedman for Hair's move uptown in 1968, O'Horgan was well known for his experimental flair. Julian Barry's Lenny Bruce bio Lenny was his first Main Stem outing post-Hair, but O'Horgan soon brought his striking visual aesthetic to the Broadway debut of Andrew Lloyd Webber and Tim Rice's Jesus Christ Superstar. Its October 1971 opening at the late, lamented Mark Hellinger Theatre was followed a mere two months later by Inner City, a musical based on Merriam's book, "conceived and directed" by O'Horgan with lyrics by Merriam and music by Helen Miller. Inner City: The Original Broadway Cast Recording is the latest release, available as CD-R or digital download, from Sony's Masterworks Broadway division and Arkiv Music (88697 83212-2).
The musical billed as "a street cantata" opened at the Ethel Barrymore Theatre on December 19, 1971 where it played a total of 97 performances. Its breakout star, Linda Hopkins, took home both Drama Desk and Tony Awards for her incendiary performance. While O'Horgan was a reigning king of Broadway, both Miller and Merriam were new to theatre.  Merriam, of course, had written the source material for the musical. Miller was a Brill Building tunesmith who had composed such hit songs as Gene Pitney's "It Hurts to Be in Love" and the Shirelles' "Foolish Little Girl," both written with Neil Sedaka's frequent lyricist, Howard Greenfield. (Trivia seekers may take note of an Inner City collaborator who went on to later fame: Harvey Milk, the San Francisco political icon who was tragically murdered in 1978, was the show's Associate Producer.)
Inner City has frequently been grouped with the "rock musicals" that followed Hair. Clive Barnes, reviewing Hair for The New York Times in 1968, famously wrote that "the show is the first Broadway musical in some time to have the authentic voice of today rather than the day before yesterday." It was inevitable that a spate of rock musicals would follow, the genre having been anointed by the critic as the great hope of the American musical theatre. (When Stephen Sondheim's Follies opened in April 1971, Barnes condescendingly asserted that it was "the kind of musical that should have its original cast album out on 78s.") Miller and Merriam's score, however, actually encompassed such diverse styles as pop, soul, gospel, calypso, the tried-and-true showtune...and yes, rock.
As Inner City lacked a proper book, it was dominated, revue-style, by wall-to-wall music. The songs brought to life the contemporary vignettes taking place in locales from a welfare center to an overcrowded urban school. RCA Victor's single-LP cast recording considerably trimmed the expansive, eclectic score from over 50 songs to a mere 29, spread over 15 tracks. (No wonder in her LP liner notes, reprinted in the Masterworks edition, Merriam described O'Horgan's staging as "the fastest moving show ever to hit Broadway.") Still, the best of Miller and Merriam's work has lived on thanks to this album, and it's often electrifying as well as still timely, on Masterworks' new CD reissue.
Hit the jump to visit the Inner City!
The opening salvo of "Fee Fi Fo Fum/Now I Lay Me," as sung by Linda Hopkins, establishes the album's style, consisting of short song fragments, often in medleys. The funky orchestrations (primarily by conductor Gordon Harrell with assists from others including Seesaw's Larry Fallon) are in the vein of Hair but enhance the score's multiple influences. Helen Miller contributed her own vocal arrangements for the small cast of nine performers. Paulette Ellen Jones delivers "Hushaby/My Mother Said," a haunting song sung by a young pregnant girl to her unborn child which shows the score at the intersection of pop and theatre. Set to a Miller melody worthy of The Chi-Lites and with appropriately soulful "background" chorus vocals, the character's innermost thoughts are revealed. The singer is, at turns, matter-of-factly resigned ("My mother said I should never turn out to be anything good..."), defiant ("I won't give my baby away") and confident ("I'll be your mama, I'll be your dad") before ending with "My baby, it won't turn out bad..." But is that a note of inevitable uncertainty in her voice?
The female vocalists are all dynamos, including Delores Hall with "If Wishes Were Horses." But it was Linda Hopkins who walked away with the show's only Tony Award nomination. When it came to the night of the ceremony, Inner City had already shuttered, but Hopkins beat out Bernadette Peters, Adrienne Barbeau and Beatrice Winde for Best Featured Actress in a Musical. Listening to the cast album it's apparent why Hopkins was so recognized. She introduced the passionate "Deep in the Night," a song subsequently recorded by Barbra Streisand, Etta James, Sarah Vaughan and even The Shirelles. But the wailing gospel fervor of Hopkins' climactic eleven-o'clock number, "It's My Belief (That Keeps Me Going)," must have sealed the deal. Her blazing performance has translated well to disc, and she continues a career as actress and singer to this day.
Miller and Merriam also supplied a rousing ode to the isle of Manhattan in the form of "On This Rock" with its instantly memorable melody and lyrical sentiment of resilience that will strike a chord with any big city dweller even today: "I am a city woman/I am a city man/On this rock, I make my stand." Another complex highlight of Inner City was the trilogy of songs sung by Joy Garrett as The Hooker ("You Make It Your Way"), Allan Nicholls as The Dealer ("You Push It Your Way") and Carl Hall as The Pickpocket ("You Steal It Your Way"). Unfortunately, the album producers omitted the Pickpocket's song, but the first two remain all-out showstoppers that may no longer shock but still give pause with their blunt language sung with satirical pizzazz. Long before Trey Parker and Matt Stone hit Broadway with their obscenity-laced The Book of Mormon, Inner City was pushing that particular envelope. A lengthy spoken-word piece near the end of the album, Hall's "Street Sermon," breaks the "F" taboo as well.
More tender is "Shadow of the Sun," another ringer for smooth '70s soul, juxtaposing the harsh reality of the singers' plights in the lyric with an achingly gorgeous melody. Helen Miller's career may have begun in the late 1940s, but her music sounds up-to-the-minute for 1971.
There haven't been many musicals like Inner City. It could fairly be considered a relative of The Me Nobody Knows, a plotless 1970 musical by Gary William Friedman and Will Holt about the lives of urban children.  ("Light Sings" from its score would be recorded by The 5th Dimension.) Clive Barnes, in his original review of Inner City, compared it to Melvin Van Peebles' Ain't Supposed to Die a Natural Death, based on Van Peebles' existing music and subtitled Tunes from Blackness. It's doubtful that Inner City was much influenced by the Van Peebles work, though, as it opened on Broadway just two months earlier than Inner City. In fact, Ain't Supposed to Die played the Ethel Barrymore Theatre, and vacated for the Ambassador two blocks north so that Inner City could move in! A much different subject matter but similar revue-like approach would be taken to ordinary citizens in the 1978 musical Working, based on the book by journalist Studs Terkel. Eve Merriam's son Dee Michel has recounted that Terkel was a fan of Merriam's Inner City Mother Goose.
As with most titles in Masterworks' current reissue program, new liner notes are sadly absent. Only Eve Merriam's original notes have been included here. It's too bad that new essays haven't been incorporated into these discs-on-demands' booklets or even as digital PDFs. Esteemed theatre historian Peter Filichia blogs regularly for the label and can be counted on to provide terrifically entertaining posts on each of the label's releases. Filichia's look at Inner City would have made a swell inclusion in the actual CD booklet.
The album has been remastered by John Fredenberg for CD, and if the sound isn't sparkling, it's still likely an improvement over your LP. The stereo separation in the original mix is pronounced and helps give Inner City a "you are there" feeling. Unfortunately Inner City wasn't "there" for very long, closing after just 97 performances. Galt MacDermot, the composer of Hair, had a sizeable hit with Two Gentlemen of Verona which opened at the St. James Theatre the very same December as Inner City. The most legendary musical of the year, though, remains Follies. Two Gentlemen, however, took home the Best Musical Tony, besting the Sondheim classic, Ain't Supposed to Die a Natural Death, and a little musical called Grease! Inner City was largely forgotten save for the performance of Linda Hopkins.
Don't miss out this time. Masterworks Broadway's reissue is a wonderful opportunity to discover this rarely-produced musical with its themes that still resonate today. The sound of the music may have changed, but the story remains the same.