Welcome to another installment of Reissue Theory, where we reflect on great albums and the reissues they could someday see. Aretha Franklin began her groundbreaking stint at Atlantic Records in 1967 and it wasn't long before a legendary star was in the ascendant. Yet the final chapter of Aretha's Atlantic story has been all but forgotten.  Today's Reissue Theory takes us back to 1974 as we revisit the "lost albums" of Aretha Franklin.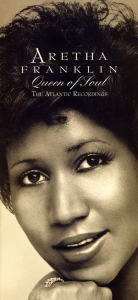 There are plenty of adjectives that can be used to describe Aretha Franklin. Columbia Records used a great many of them for early album titles: tender, moving, swinging, electrifying. Heck, let's add the title of her Dinah Washington tribute: Unforgettable. Atlantic described her on a 1968 album as Lady Soul, while a 1971 LP was entitled Young, Gifted and Black. The young, gifted, unforgettable Queen of Soul has no doubt been well-represented in the compact disc era. After innumerable compilations, Legacy last week released the remarkable box set Take a Look collecting Franklin's entire Columbia output (a review is forthcoming). Rhino reissued Franklin's Atlantic tenure from 1967-1974 as individual discs and also anthologized the artist's best with a box set, 1992's Queen of Soul: The Atlantic Recordings. But even that four-disc treasure trove all but ignores the final five studio albums recorded by Aretha Franklin for Atlantic between November 1974 and September 1979.
Franklin's last five Atlantic releases have never appeared on CD, which remains quite staggering considering the magnitude of the artist and the importance of her groundbreaking Atlantic catalogue. With Everything I Feel in Me (1974), You (1975), Sweet Passion (1977), Almighty Fire (1978) and La Diva (1979) each have something unique to offer even if they don't stack up to the peak Atlantic LPs. But then again, what albums could live up to the lofty heights of I Never Loved a Man the Way I Love You or Lady Soul? With that in mind, today's Reissue Theory presents the hypothetical Sweet Passion: The Lost Atlantic Years. Our three-CD box set collecting these five albums features a "Who's Who" of songwriter and producers, among them Lamont Dozier, Jerry Wexler, Curtis Mayfield, Barry Mann, Burt Bacharach and Hal David, Van McCoy, Marvin Hamlisch and Carole Bayer Sager. True, none of these LPs were pop smashes, but all were successful on the R&B charts (the first three going Top Ten) and most importantly, all have something to offer not only for fans of Aretha but all pop and soul enthusiasts.
If you're not familiar with these albums, you're in for a treat. And if you don't know the story of the tantalizing almost-collaboration (or was it?) between Aretha Franklin and CHIC, look no further. Hit the jump to begin our exploration of Aretha Franklin's Sweet Passion: The Lost Atlantic Years!
Aretha Franklin began 1974 still atop the music world. Let Me in Your Life, her February 1974 classic, was an R&B chart-topper and hit No. 14 on the pop charts, barely missing gold certification. Franklin's galvanizing take on Stevie Wonder's "Until You Come Back to Me (That's What I'm Gonna Do)" became the song's definitive version. Her deft hand at re-arrangement even made the Motown smash "Ain't Nothing Like the Real Thing" and Leon Russell's perennial "A Song for You" her own. So what happened between Let Me in Your Life and its follow-up later that year, With Everything I Feel in Me?
Jerry Wexler and Aretha herself produced With Everything I Feel in Me, joined by Atlantic stalwarts Arif Mardin and Tom Dowd. The songs were a typically eclectic batch. There was another Stevie Wonder track, "I Love Every Little Thing About You." Aretha turned, as she frequently had before, to Burt Bacharach and Hal David. The team's songbook had been kind to her with "I Say a Little Prayer" (regarded by its composer as the best version ever recorded) and "This Girl's in Love with You," among others. One song was familiar from hit takes by both Dionne Warwick and the Stylistics, "You'll Never Get to Heaven," while the second, "Don't Go Breaking My Heart," was a little-known song first recorded by Bacharach himself in 1965 and by Warwick later that year. Aretha brought a solid layer of funk to both songs, much as she did to Barry Mann's "When You Get Right Down to It." That was another much-covered song, though Aretha's take is as nearly as memorable as those by The Delfonics, Ronnie Dyson and even Scott Walker. Perhaps the majority of these songs were too familiar, though Franklin's craft was evident. In any event, With Everything I Feel in Me stalled on the pop chart and did not produce any hit singles. The R&B audience was more loyal, and the album made it to No. 6.
Wexler and Franklin co-produced October 1975's You, largely eschewing marquee songwriters other than Van McCoy, for whom Aretha had a musical affinity since the Columbia days. Franklin recorded McCoy's "Walk Softly," and turned to her sister Carolyn's songbook for "As Long As You Are There." The album's lone single, the self-penned "Mr. D.J.," made it to No. 53 on the Hot 100, but Mr. D.J. wasn't paying enough attention to Ms. Franklin. There was a reggae experiment ("You Got All the Aces") and a solid slice of funk ("Without You") but it was all to little avail, commercially speaking.
After disappointing sales for two consecutive albums, writer/producer Curtis Mayfield came to Aretha's rescue. Mayfield enlisted Franklin to record an entire album of his score to the 1976 film Sparkle, which today can be viewed as a pre-Dreamgirls spin on the story of The Supremes. Irene Cara, Mary Alice and Lonette McKee starred in Sam O'Steen's film.  Co-written by Joel Schumacher, Sparkle is now a cult musical classic, but there was nothing cult about its successful "soundtrack." The concept for this soundtrack album was an odd one, though. For the album, Franklin replaced the film vocalists, singing over the original backing tracks. But the album lived up to its title, as it was certified gold! "Something He Can Feel" was an R&B chart-topper, and went Top 30 on the Hot 100. It inspired a stunning vocal performance and proved that the artist could adapt with the changing musical tastes of the time.
It might have been an expected move for Franklin to engage Mayfield to produce her next album, but she instead turned to a legend with whom she hadn't previously collaborated.  Enter Lamont Dozier. He was responsible for much of Sweet Passion, the April 1977 Atlantic release and Aretha's first since Sparkle. Oddly, the first single wasn't a Dozier composition, though. Perhaps as pop "insurance," Aretha was also teamed with the white-hot Marvin Hamlisch and Carole Bayer Sager team. Hamlisch was already the recipient of Oscars, Tonys and even a Pulitzer Prize. Hamlisch and Sager wrote the catchy "Break It to Me Gently," which made a brief appearance on the Hot 100 before dropping off. It, as usual, fared better on the R&B chart. "Break It" is a particularly valiant attempt to combine Hamlisch's gift for melodic ballads with Franklin's earthier sound. Franklin also brought her commanding vocal presence to "What I Did For Love," Hamlisch's anthem from the 1975 musical A Chorus Line, co-written with Ed Kleban. Of the Dozier tracks, "Touch Me Up" is a clear move into disco territory. This style is expanded upon in the title song, written by Franklin, a seven-minutes-plus dance floor opus. But an undisputed, unexpected highlight is her scat-singing pairing of the Kiki Dee hit "I've Got the Music in Me" with Clark Terry's "Mumbles." Aretha's jazz chops hadn't diminished any.
Mayfield made a belated return with April 1978's Almighty Fire, writing all but one of its tracks and producing the album. Almighty Fire has held up less well than her previous Atlantic albums, despite a strong title song with a white-hot Mayfield funk groove. Other songs flirt with disco ("Keep On Loving You" and "I Needed You Baby"). There's another real throwback here too, a piano ballad called "I'm Your Speed," which feels out-of-place on the LP despite being a fine performance both vocally and instrumentally.
Only one more album remained for Aretha at Atlantic, and September 1979's La Diva may be the least well-received album in the great lady's career. After brushes with the disco sound on Sweet Passion and Almighty Fire, the decision was made that Franklin would embrace it head-on. Here we have a great "what-might-have-been," as it was proposed that Aretha team with Atlantic's top-tier disco hitmakers, Nile Rodgers and Bernard Edwards of CHIC.
In her autobiography From These Roots, Franklin wrote that Rodgers and Edwards "presented me with material that I liked. Good songs, in-the-pocket grooves, and cute lyrics. But when preproduction started, things cooled off in a hurry. Their idea for me was 'just come in and sing impromptu and we'll take it from there.' Well, I hadn't worked that way. I'm an interpreter, and I need to be involved with the total musical environment. I was game, but my relationship with Rodgers and Edwards ended before it even began. There were unmentionables concerning their attitudes, which just didn't fly with me. They took those songs – 'Upside Down' and 'I'm Coming Out' - to Diana Ross. I had no regrets."
Nile Rodgers has a very different memory, as he recounted to Daryl Easlea in Easlea's book CHIC & The Politics of Disco: "'We never wrote anything for her,' Rodgers remembered.  'We had one meeting with her and we were so turned off, we couldn't believe Aretha wanted to do disco…We were not going to go down in history as the producers of Aretha Franklin's disco record!"
Whatever the case, Franklin was once again without a producer. Jerry Wexler had left the label, and the diverse approaches of Lamont Dozier, Marvin Hamlisch and Curtis Mayfield hadn't caught sales fire. So Van McCoy was enlisted to produce the album that became La Diva. Rodgers remembered, "In the end she went with Van McCoy - we were shocked he would do it - but then, he did write 'Do [sic] The Hustle' which is a disco record. I thought of her history and we certainly weren't going to produce her. That was the only time that we ever met her."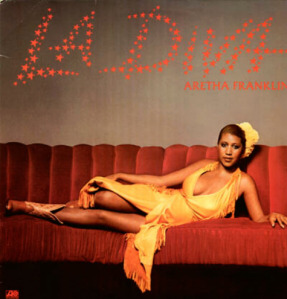 McCoy tragically died the July before the album's release, but he had produced all but two tracks. (Skip Scarborough and Aretha each produced one of the remaining songs.) Two of McCoy's own compositions were featured, "You Brought Me Back to Life" and "The Feeling." Aretha wrote the two songs that opened Side One and Side Two, "Ladies Only" and "Only Star" (with the lyric "I'm gonna be the only star tonight at the disco!") Both had slick grooves, but neither gained much traction and no 12-inch mixes were released. We turn to Nile Rodgers again: "Bernard and I were sitting in the Queen of Soul's house, this beautiful mansion in Los Angeles and she was singing 'I'm going to be the only star tonight down at the disco.' And Bernard and I were looking at each other in disbelief, thinking 'holy shit! We're with Aretha Franklin and she's telling us she's going to be the only star in the disco tonight...Is she nuts?' We were stunned and dumbfounded. We were sitting at the piano with her and we couldn't say anything. If we told her that was great, she would say 'are you kidding me, you want me to sing some shit like this?' We didn't know if it [was] a joke."
Rodgers isn't far off the mark, and today, the cliché-ridden "Ladies Only" and "Only Star" sound even more dated than Franklin's most excessive '80s tracks. For the camp factor, though, La Diva is memorable. As with every Franklin album, it has some genuinely redeeming moments as well. Skip Scarborough's "Reasons Why" is a confident track with a potent rhythm, while "Half a Love" is a strong ballad. McCoy's upbeat album closer, "The Feeling," has energy in abundance but simply isn't unique. Aretha parted ways from Atlantic, still anxious to explore new musical avenues.
The next year brought a new decade and the artist's debut on Arista Records. It was her first album away from Atlantic in years. The change of pace paid off, and it wasn't long before the hit records resumed. (Ironically, Arif Mardin co-produced that debut album, Aretha. Mardin, of course, was one of the most famous names associated with Atlantic as the label's house orchestrator.) Mike will pick up the story with a Reissue Theory exploration of the Arista years.
With its ups and downs, Aretha's late Atlantic period has plenty to offer, more than enough for a single-disc compilation. But these albums deserve to be heard in full, warts and all. Franklin never gives less than her best vocally, and each album has gems hidden among the weaker material. It's been rumored that Franklin herself owns the masters, hence their unavailability on CD. (This is similar to the supposed situation keeping Cher's Warner Bros. albums from seeing the light of day on compact disc or digitally.)
But whatever the case, Aretha Franklin's discography deserves to be fully available on CD. In tribute to the incandescent career of the one and only Queen of Soul, we present Sweet Passion: The Lost Atlantic Years!  Are you listening, Rhino Handmade?
Aretha Franklin, Sweet Passion: The Lost Atlantic Years (Atlantic/Rhino Handmade, 2011)
Disc 1
Without Love (Carolyn Franklin/Ivy Joe Hunter)
Don't Go Breaking My Heart (Burt Bacharach/Hal David)
When You Get Right Down to It (Barry Mann)
You'll Never Get to Heaven (Burt Bacharach/Hal David)
With Everything I Feel in Me (Aretha Franklin)
I Love Every Little Thing About You (Stevie Wonder)
Sing It Again - Say It Again (Carolyn Franklin)
All of These Things (James Cleveland)
You Move Me (Glen Murdock/Mike Keck)
Break It to Me Gently (Marvin Hamlisch/Carole Bayer Sager)
When I Think About You (Aretha Franklin)
What I Did For Love (Marvin Hamlisch/Ed Kleban)
No One Could Ever Love You More (Lamont Dozier)
A Tender Touch (Aretha Franklin)
Touch Me Up (Lamont Dozier)
Sunshine Will Never Be the Same (Lamont Dozier)
Meadows of Springtime (Aretha Franklin)
Mumbles/I've Got the Music in Me (Clark Terry/Aretha Franklin/Bias Boshell)
Sweet Passion (Aretha Franklin)
Disc 2
Mr. D.J. (5 For The D.J.) (Aretha Franklin)
It Only Happens (When I Look At You) (Ken Gold/Michael Denne)
I'm Not Strong Enough To Love You Again (Frank Johnson)
Walk Softly (Van McCoy)
You Make My Life (Bettye Crutcher/Frederick Knight)
Without You (Randy Stewart/Mack Rice)
The Sha-La Bandit (Jerry Ferguson/Wade Davis)
You (Jerry Butler, Marvin Yancy/Randy Stewart)
You Got All The Aces (Ronnie Shannon)
As Long As You Are There (Carolyn Franklin)
Almighty Fire (Woman of the Future) (Curtis Mayfield)
Lady, Lady (Curtis Mayfield)
More than Just a Joy (Curtis Mayfield)
Keep On Loving You (Curtis Mayfield)
I Needed You Baby (Curtis Mayfield)
Close to You (Curtis Mayfield)
No Matter Who You Love (Curtis Mayfield)
This You Can Believe (Curtis Mayfield)
I'm Your Speed (Aretha Franklin/Glynn Turman)
Disc 3
Ladies Only (Aretha Franklin)
It's Gonna Get a Bit Better (Lalome Washburn)
What If I Should Ever Need You (Charles H. Kipps)
Honey I Need Your Love (Aretha Franklin)
I Was Made for You (Clarence Franklin)
Only Star (Aretha Franklin)
Reasons Why (Skip Scarborough/Wanda Hutchinson/Wayne Vaughan)
You Brought Me Back to Life (Van McCoy)
Half a Love (Zulema Cusseaux)
The Feeling (Van McCoy)
Disc 1, Tracks 1-9 from With Everything I Feel in Me, Atlantic SD-18116, 1974
Disc 1, Tracks 10-19 from Sweet Passion, Atlantic SD-19102, 1977
Disc 2, Tracks 1-10 from You, Atlantic SD-18151, 1975
Disc 2, Tracks 11-19 from Almighty Fire, Atlantic SD-19161, 1978
Disc 3, Tracks 1-10 from La Diva, Atlantic SD-19248, 1979
NOTE: The albums are not presented in strict chronological order due to space restrictions on CD and the timings of the individual albums.