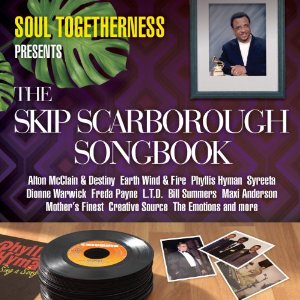 Skip Scarborough (1944-2003) may not have ever gained the name-brand recognition of some of his songwriting peers. But the man born Clarence Alexander Scarborough penned some of the most instantly recognizable classics in the soul music pantheon. Anita Baker's "Giving You the Best That I Got," The Friends of Distinction's "Love or Let Me Be Lonely" and Earth Wind & Fire's "Can't Hide Love" are just three of Scarborough's most memorable compositions. The latter went on to be recorded by Dionne Warwick, Nancy Wilson, Carmen McRae and Patti LaBelle, among others. Until now, though, Scarborough has never been the subject of a career anthology. Expansion Records on April 26 will release The Skip Scarborough Songbook, bringing together 18 soul classics including rare gems and familiar favorites.
The songwriter/producer/arranger had a diverse CV boasting two No. 1 R&B hits: L.T.D.'s "Love Ballad" and Con Funk Shun's "Ffun." He was equally at home with vocalists as well as groups; in the latter category he produced Earth Wind and Fire, Blue Magic, the Emotions and the Los Angeles quintet Creative Source, managed by The 5th Dimension's Ron Townson. Scarborough notably wrote, produced and played on LPs by the late jazz/soul diva Phyllis Hyman, and another diva to benefit from his production expertise was Patti LaBelle. Scarborough supplied LaBelle with "It's Alright with Me" from 1979's Music is My Way of Life, but his biggest hit was Anita Baker's "Giving You the Best That I Got," from the 1988 three-million selling LP of the same name. The single topped the R&B charts and went Top 3 pop, and also won Scarborough a Grammy Award. Despite success with funk, disco and soul, Scarborough never stayed too far away from those artists with jazz leanings; he collaborated with Nancy Wilson through the 1990s on LPs such as Nancy Now!, Lady with a Song, and If I Had My Way.
Artists represented on Expansion's new set include Earth Wind & Fire, the group's Philip Bailey, Dionne Warwick, Syreeta, Freda Payne, Jerry Butler and Thelma Houston, Patti LaBelle and Phyllis Hyman.
Hit the jump for the complete track listing with discographical information and a pre-order link!
The Skip Scarborough Songbook is due from Expansion Records, part of the label's Soul Togetherness series, on April 18 in the U.K. and one week later in the U.S. It can be pre-ordered at the link below.
Various Artists, The Skip Scarborough Songbook (Expansion Records, 2011)
Lover to Lover - Maxi Anderson
Earth Wind & Fire - Earth Wind & Fire
Why Did You Let Me Love You - Alton McClain & Destiny
Funky Luvah - Creative Source
Let Me Be the One You Need – Syreeta
Let's Get Together - Thelma Houston & Jerry Butler
I Can Hardly Wait - Rockie Robbins
Tell Me Please - Freda Payne
Love's Holiday - Wilbert Longmire
Love Changes - Mother's Finest
He Don't Lie - Philip Bailey
It's Alright with Me - Patti LaBelle
Living Inside Your Love - Phyllis Hyman
Can't Hide Love - Dionne Warwick
Don't Ask My Neighbors - The Emotions
Love Ballad - L.T.D.
No One - Bill Summers
Dancin' to Keep from Cryin' - Bobbi Humphrey
Track 1 from Maxi, Blue Note 738, 1978
Track 2 from Spirit, Columbia PC 34241, 1976
Track 3 from Gonna Tell the World, Polydor PD 1-6320, 1981
Track 4 from Pass the Feelin' On, Polydor PD 6052, 1975
Track 5 from Syreeta, Tamla T7-372R1, 1980
Track 6 from Thelma & Jerry, Motown M6-887S1, 1977
Track 7 from Rockie Robbins, A&M SP-4758, 1979
Track 8 from Supernatural High, Capitol ST-11864, 1978
Track 9 from Champagne, Tappan Zee JC-35754, 1979
Track 10 from Mother Factor, Epic JE 35546, 1978
Track 11 from The Wonders of His Love, Myrrh 7 -01 679606 - X, 1984
Track 12 from Music is My Way of Life, Epic 50664, 1979
Track 13 from Somewhere in My Lifetime, Arista 4202, 1978
Track 14 from Friends in Love, Arista 8239, 1982
Track 15 from Rejoice, Epic 34762, 1977
Track 16 from Love to the World, A&M SP-4589, 1976
Track 17 from Feel the Heat, Prestige P-10102, 1977
Track 18 from Tailor Made, Epic PE-34704, 1977