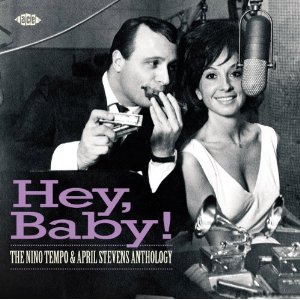 Few artists have blurred the lines between jazz, rock and traditional pop as well as Nino Tempo. Both the multi-talented Tempo (saxophonist, arranger, songwriter, producer, actor) and his sister April Stevens have managed extraordinarily long, diverse careers in the music business; April's first single was released in 1950! Ace next week releases the most comprehensive retrospective yet for Nino and April. Hey, Baby!: The Nino Tempo and April Stevens Anthology compiles their work at numerous labels including Atco, Imperial, A&M and of course, White Whale, where the duo released the extraordinary 1966 album All Strung Out. Eight songs have been drawn from that cult classic LP.
Most casual fans know Nino and April from their 1963 recording of "Deep Purple." Their chart-topping update of the 1934 standard won them a Grammy Award for Best Rock and Roll Recording in a year with such stiff competition as Jan and Dean's "Surf City," Little Stevie Wonder's "Fingertips" and The Chiffons' "He's So Fine." The song was an afterthought for Tempo and Stevens, reportedly recorded when the duo realized they had just under 14 minutes remaining on a session date. Atlantic's Ahmet Ertegun wasn't hopeful for its prospects, and let the track remain in limbo. When Ertegun relented, though, a success story began.
Three LPs (Deep Purple, Sing the Great Songs and Hey Baby!) were released on the Atco label, along with a number of singles. Ace's anthology takes its title from Nino and April's memorable cover of the Bruce Channel classic "Hey, Baby!" During this period, Tempo also became an in-demand session player. His most notable assignments were for producer Phil Spector. While primarily a saxophonist, Tempo also contributed piano, drum and guitars. He was a trusted ally of Spector, and after Jack Nitzsche had moved on, Tempo became the producer's right-hand arranger. He was responsible for the thunderous charts on the Warner-Spector recordings of Dion, Cher and Darlene Love, and even arranged some of John Lennon's Rock 'n' Roll.
After "Deep Purple," Nino Tempo's most beloved song may be "All Strung Out." Hit the jump for the full story on this exhilarating 1966 single and the 1967 album of the same name, plus the full track listing and discography for Ace's upcoming release!
1967's All Strung Out proved just how ingrained the "Wall of Sound" was in Tempo's work. If the title track (which hit No. 26 on the Billboard chart) isn't the best Phil Spector song not produced by Phil Spector, surely another cut off the same LP, "The Habit of Lovin' You Baby," is. Both songs were co-written by Tempo and Jerry Riopelle; "Strung Out" was originally intended for The Righteous Brothers. Renowned engineer Bones Howe lent his expertise to the recording and completed the booming final mix. Tempo recalled to producer Steve Stanley in 2003 that the famed Wrecking Crew participated in the sessions: "I would say Hal Blaine, probably Carol Kaye or Ray Pohlman. Piano might have been Leon [Russell], because he hadn't become a star in his own right then. It also might have been Al DeLory; might have been two pianos. That would be the rhythm section. Guitars, probably Tommy Tedesco, maybe Ray Pohlman played guitar on that if he didn't play bass. Bill Pittman probably was on guitar." Bonus points go to our readers who remember John Travolta's lightly disco-fied cover version a decade later. (Tempo actually participated in Travolta's recording!) To anyone who has gotten this far and doesn't know All Strung Out: you're going to be in for a treat!
Many of the names on the White Whale LP went on to great success; the irresistible "You'll Be Needing Me Baby" was actually written by a pre-Bread David Gates, and "Follow Me" was the work of Warren Zevon and Violet Santangelo, a.k.a. Lyme and Cybelle! Dalton and Montgomery, of Colours, were also represented by two songs on All Strung Out including "Out of Nowhere."  Another song in the Spector bag is "Boys' Town," a 1967 solo effort by Tempo (but written by both Nino and April) that also sounds heavily influenced by Brian Wilson's sensitive work of the period. All of these songs are heard in their full splendor on the new Ace set.
Stevens' solo hits are also present including the suggestive 1959 single "Teach Me, Tiger," which was banned by numerous radio stations! Nino and April were equally adept at both American standards and up-to-the-minute pop; in the former category, Hey, Baby! also includes renditions of "Honeysuckle Rose" and "Sweet and Lovely."
Those who enjoy the music of Nino and April heard on Ace's new release can fill in the gaps with many still-available titles. The original 1965 Hey, Baby! Atco album was recently reissued by Collectors' Choice Music under the Tartare imprint, while All Strung Out is in print on Rev-Ola in a deluxe edition produced by Joe Foster and Steve Stanley containing five bonus tracks.  Nino and April's remaining two Atco LPs can be found on a Collectables two-fer.
Ace's Hey, Baby! is due in stores in the U.S. on Tuesday, and a copy can be yours, simply by clicking on the link below!
Nino Tempo and April Stevens, Hey, Baby!  The Nino Tempo and April Stevens Anthology (Ace CDCHD 1301, 2011)
Deep Purple
All Strung Out
Sweet and Lovely
Wanting You
You'll Be Needing Me Baby
Honeysuckle Rose
I Love How You Love Me
Follow Me
Whispering
Hey Baby
Love Kitten
The Habit of Lovin' You Baby
The Coldest Night of the Year
Alone, Alone
Lovin' Valentine
Out of Nowhere
Wings of Love
Teach Me Tiger
Boys Town (Where My Broken Hearted Buddies Go)
I Can't Go On Livin' (Without You Baby)
Sister James
Amazon River
Soft Warm Lips
America's Weather Girl
Tracks 1 & 3 from Deep Purple, Atco LP 33-156, 1963
Tracks 2, 5, 8, 12, 14, 16, 17, 20 from All Strung Out (White Whale WW-7113, 1967)
Track 4 from MGM K 13825, 1967 (performed by April)
Tracks 6 & 9 from Sing the Great Songs Atco LP 33-162, 1964
Tracks 7, 10 & 13 from Hey, Baby!, Atco LP 33-180, 1965
Track 11 from Imperial single 5761,1961
Track 15 from Atco single 6380, 1966
Track 18 from Teach Me Tiger, Imperial LP 12055, 1959
Track 19 from Tower single 369, 1967 (performed by Nino)
Track 21 from Come See Me Round Midnight, A&M LP SP-3629, 1973 (performed by Nino and 5th Avenue Sax)
Track 22 from Nino, Atlantic Jazz 82471, 1993 (performed by Nino)
Track 23 from King single 6330, 1953 (performed by April)
Track 24 from Atco radio station promo, 1964
All tracks performed by Nino and April unless otherwise indicated.