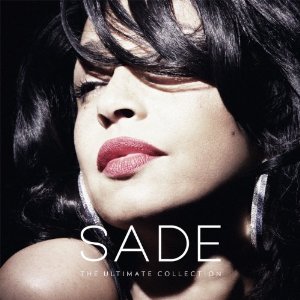 Lovers rejoice! The track list for Sade's The Ultimate Collection has been revealed by our friends at Vintage Vinyl News.
The two-disc set, set for release May 3 - in advance of the British soul band's forthcoming tour - is the band's second compilation and the first to span all of their albums to date, from Diamond Life in 1984 to last year's Soldier of Love. It features 14 of the 16 tracks that made up 1996's single-disc The Best of Sade - omitting "Like a Tattoo" from Love Deluxe (1992) and one of the band's few non-LP tracks, a cover of Percy Mayfield's "Please Send Me Someone to Love" from the Philadelphia soundtrack - and features four unreleased tracks, including a remix of "The Moon and the Sky" (from Solider of Love) featuring Jay-Z. There's also one relatively rare track that closes out the set: a remix of "By Your Side" by The Neptunes that appeared on a CD single in 2000.
Do note that Amazon has a deluxe edition of the set listed for a May 10 release, albeit as an import. There's no word on what that set would feature. In the meantime, if you're so inclined, order your copy from Amazon here and hit the jump to check out the track list.
Sade, The Ultimate Collection (Epic 88697 90454-2, 2011)
Disc 1
Your Love is King
Smooth Operator
Hang On to Your Love
The Sweetest Taboo
Is It a Crime
Never As Good As the First Time
Jezebel
Love is Stronger Than Pride
Paradise
Nothing Can Come Between Us
No Ordinary Love
Kiss of Life
Feel No Pain
Bullet Proof Soul
Disc 2
Cherish the Day
Pearls
By Your Side
Immigrant
Flow
King of Sorrow
The Sweetest Gift
Solider of Love
The Moon and the Sky
Babyfather
Still in Love with You
Love is Found
I Would Never Have Guessed
The Moon and the Sky (Remix featuring Jay-Z)
By Your Side (Neptunes Remix)
Disc 1, Tracks 1-3 from Diamond Life (Epic, 1984)
Disc 1, Tracks 4-7 from Promise (Epic, 1985)
Disc 1, Tracks 8-10 from Stronger Than Pride (Epic, 1988)
Disc 1, Tracks 11-14 and Disc 2, Tracks 1-2 from Love Deluxe (Epic, 1992)
Disc 2, Tracks 3-7 from Lovers Rock (Epic, 2000)
Disc 2, Tracks 8-10 from Soldier of Love (Epic, 2010)
Disc 2, Tracks 11-14 previously unreleased
Disc 2, Track 15 from "By Your Side" CD single - Epic 49K 79544, 2000