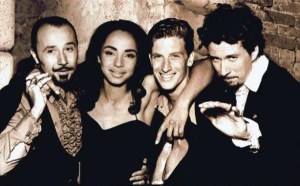 The Second Disc has always meant to be a source of decently-reported news and discussion on the goings-on of the music catalogue world, as well as a resource to the new fan on what catalogue product is out there.
With that in mind, today introduces a new feature that looks at one of the most common catalogue items: the greatest hits collection. It's perhaps been outmoded by the ability to pick and choose tracks to download online, but when you're a new fan of an artist, the compilation is usually the first way to dive into a band's repertoire. It's usually also a boon for collectors as well, since many artists add one or two tracks to a collection for completists.
Where things get confusing, however, is when an artist is popular (or exploited) enough to put out (or have put out by their label) more than one compilation. Especially in this era of Playlist and ICON budget sets, where does one begin? Enter Greater Hits, our new feature that provides a head-to-head (or in some cases, head-to-head-to-head) look at different collections by the same artist. We're going to try to keep this a bit looser than Reissue Theory or Back Tracks, and hopefully you'll enjoy the results.
This feature kicks off with Sade, who just released their second compilation last week. They're two very different sets, but is one better than the other? The answer - after the jump - may surprise you.
The lowdown: Based in England and rising from within a Latin soul band called Pride, Sade, the jazz-R&B band has been one of the sleekest and sultriest combos the modern music world has seen. Vocalist Helen Folasade Adu, a Nigerian-born vocalist with a smoky, sensual voice, is the best-known member of the group, but there are three others - guitarist/saxophonist Stuart Matthewman, keyboardist Andrew Hale and bassist Paul S. Denman - all of whom contribute to the band's unique sound and songcraft. Their debut album, Diamond Life, was released by Epic in 1984 and yielded a U.K. Top 10 hit, "Your Love is King," as well as a U.S. Top 5 smash in "Smooth Operator." The album also earned them a BRIT Award for Best British Album and a Grammy for Best New Artist.
Beginning in 1992, with the band's fourth album, Love Deluxe, a strange thing happened: the wait between Sade albums became increasingly lengthy. Eight years passed between Love Deluxe and Lovers Rock in 2000, and that was followed up a decade later by Soldier of Love in 2010. Far from damaging the band's reputation, however, the wait has turned Sade into a sleeping giant; Soldier of Love was the band's first U.S. chart-topping album in 25 years, and the title track earned them a fourth Grammy earlier this year.
The compilations: In 1994, fresh off the success of Love Deluxe and its Grammy-winning hit "No Ordinary Love," Sade released its first hits set, The Best of Sade (Epic EK 85287) in 1994. The single-disc set was a Top 10 hit, going quadruple platinum. It's been reissued once in 2008 (Epic 88697 22626-2), when it was added to Legacy Recordings' catalogue and placed in the "Platinum/Green" series, which packaged compilations into cardboard discboxes with a sliding tray to hold the CD. (Interestingly, despite having nearly 30 years of recorded music, none of Sade's reissues or compilations have been handled by Legacy but by Epic proper.)
This year, on the eve of a world tour, Epic released The Ultimate Collection (Epic 88697 90454-2), a double-disc collection spanning all six of the band's records.
Song count: The Best of Sade features 16 songs, nearly filling up the disc at just under 74 minutes. Three are taken from Diamond Life, four from 1985's Promise, three from 1988's Stronger Than Pride, five from Love Deluxe and one non-LP track, a cover of Percy Mayfield's soul standard "Please Send Me Someone to Love," taken from the soundtrack to the film Philadelphia, released a year earlier.
All of those tracks except "Like a Tattoo" (from Love Deluxe) "Please Send Me" are included on The Ultimate Collection. "Feel No Pain" and "Bullet Proof Soul" from Love Deluxe is added, raising the total of songs from that album to six, and five tracks from Lovers Rock and three from Soldier of Love are further added. In addition, there are four previously unreleased tracks (one of which is a remix of "The Moon and the Sky" from Solider of Love) and a remix of "By Your Side" by The Neptunes, which appeared on a CD single in 2000. In total, that's 29 tracks.
Edits and mixes: From Love Deluxe onward, The Ultimate Collection generally uses the original album versions of each track. Notable exceptions include "Kiss of Life," presented in its original single edit, and "Cherish the Day," presented as an extended remix from a 1993 single. Most of the earlier tracks (except for the material from Promise) are edited down, but only a few of them ("Smooth Operator," "Nothing Can Come Between Us") were actual single edits. All of those edits were presented in the same way on The Best of Sade.
From the vaults: The remix of "Cherish the Day" is often overlooked on both sets, and it's certainly a winner compared to the Neptunes remix of "By Your Side," which does nothing to improve upon the original (easily one of Sade's most simple, powerful singles - and a stunning stiff on the charts, only reaching No. 75 in the U.S. (it went Top 20 in the U.K.) It's a shame "Please Send Me" wasn't held over onto the new set, as it's certainly better than most of the new tracks on The Ultimate Collection. The remix of "The Moon and the Sky," featuring a rather uncharacteristically uninspired rap by Jay-Z, is hardly the crossover fans might hope for, and the strongest of the four tracks is a cover, and an unorthodox one at that (Thin Lizzy's "Still in Love with You").
Liner notes? None for either, outside of basic songwriting credits and album information.
Final verdict: The knee-jerk reaction would obviously favor The Ultimate Collection, which has more music, a wider breadth of coverage and a heap of new material. But instead, I'm going to consider the "less is more" approach and recommend The Best of Sade instead. The one extra track you're getting is a keeper and you're only missing two albums' worth of singles. And two discs might just be too much for an artist with only so much material out there in the first place. For roughly half of what you'd pay to get The Ultimate Collection (which has six of the nine tracks off Love Deluxe), you could get the album itself and The Best of Sade. Stick with the smaller, just as excellent hits disc and build up from there.