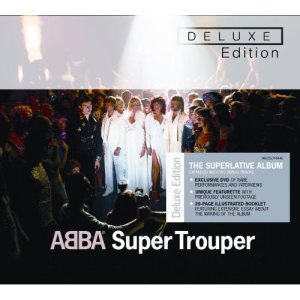 The ABBA catalogue has seen plenty of expansions, compilations and catalogue activity (see this Back Tracks post for the proof) over the years, and we can now add one more to the list: Super Trouper, the band's penultimate album, is being reissued yet again with a bonus DVD of unreleased goodies.
Super Trouper was the group's penultimate album, a conscious attempt to distance the group from the increasingly-hated genre of disco. The more straightforward pop stylings were still as successful with audiences, though, and the album went to No. 1 in seven different countries (it peaked at No. 17 in America). The bouncy, danceable title track and the mournful, prescient break-up ballad "The Winner Takes It All" both soared to the top of the U.K. charts, but only the latter went Top 10 in the States. (The track topped Billboard's Adult Contemporary chart, while a maxi-single of "Lay All Your Love on Me"/"Super Trouper"/"On and On and On" topped the U.S. dance chart.)
In keeping with the recent formula of ABBA deluxe editions, the expanded Super Trouper features the original album with five bonus tracks mostly available from previous reissues (the sole new offering is the extended video version of "On and On and On," presented for the first time in stereo), coupled with a DVD full of vault material. Live television performances, music videos and vintage commercials are all included, along with a long-unreleased vintage documentary (Words and Music) and a never-before-seen one, Somewhere in the Crowd There's You, which focuses on the night the band, along with two local circuses, shot the album sleeve and footage for several of the music videos.
The set is due out in the U.K. on May 9 and two weeks later in the U.S. on May 24 (Amazon is reporting a May 17 release date). Hit the jump for the track list and all discographical information! (Thanks as always to MusicTAP for confirming the date.)
ABBA, Super Trouper: Deluxe Edition (Polydor/UMC, 2011)
Disc 1: Expanded original LP
Super Trouper
The Winner Takes It All
On and On and On
Andante, Andante
Me and I
Happy New Year
Our Last Summer
The Piper
Lay All Your Love on Me
The Way Old Friends Do
Elaine
On and On and On (Full-Length Stereo Version)
Put on Your White Sombrero
Andante, Andante (Spanish Version)
Felicidad (Spanish Version of "Happy New Year")
Tracks 1-10 from original LP - Polar POLS 322 (Sweden)/Atlantic SD-16023 (U.S.), 1980
Track 11 was the B-side to "The Winner Takes It All" - Polar POS 1272, 1980
Track 12 previously unreleased
Track 13 first released on Thank You for the Music - Polydor 523 472-2, 1994
Tracks 14-15 from Spanish pressings of original LP - Carnaby TXS-3202, 1980
Disc 2: DVD
Show Express, ZDF TV performance (Germany - recorded 11/27/1980)
The Winner Takes It All
Super Trouper
On and On and On
Happy New Year (SVT, Stockholm - recorded 11/27/1980)
Words and Music documentary (1981)
Somewhere in the Crowd There's You - On Location with ABBA documentary (2011)
Super Trouper (remastered promo clip)
Happy New Year (remastered promo clip)
Super Trouper TV commercial I (U.K.)
Super Trouper TV commercial II (U.K.)
International Sleeve Gallery