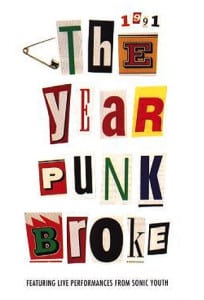 Thanks to Slicing Up Eyeballs for this neat tip over the weekend: 1991: The Year Punk Broke is making its debut on DVD later this year.
This documentary of Sonic Youth and Nirvana's European tour of 1991 - a precursor to the breakthrough Nirvana would experience with Nevermind some 20 years ago - was released on VHS and laserdisc many years ago, and featured performances by both bands as well as other luminaries of the age including Dinosaur Jr., The Ramones and more. The DVD will feature a host of new and unseen bonus material, including commentary by director Kim Markey and Sonic Youth's Thurston Moore, a 2003 panel discussion held at Hollywood's Arclight with Markey, Moore and bandmates Lee Ranaldo and Steve Shelley as well as Dinosaur Jr. frontman J. Mascis and - perhaps most exciting of all - a 42-minute bonus film, (This is Known As) The Blues Scale, with unseen performances and footage cut from the original film.
There's no release date set for the DVD, but this link features both previews of Blues Scale as well as Markey's road journals from the year of shooting the documentary. It looks to be a neat commemoration of an influential era in rock history. Keep it here for news on this release as it develops!