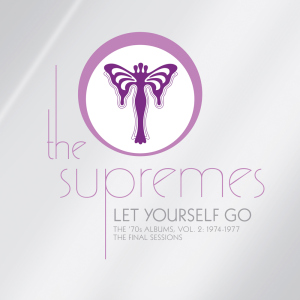 The wait is over: Hip-o Select has finally anthologized the last years of one of Motown's most beloved groups - The Supremes - in their newest limited-edition set.
Let Yourself Go: The '70s Albums, Vol. 2 1974-1977 - The Final Sessions fills in part of the story that hardcore Supremes fans know - that the group didn't just disappear when Diana Ross embarked on her stunning solo career. Jean Terrell replaced Ross on lead vocals on five Supremes LPs between 1970 and 1972. This era saw the last of the group's charting singles, including "Up the Ladder to the Roof," "Stoned Love" and "Floy Joy," and was duly chronicled in Hip-o Select's out-of-print This is the Story: The '70s Albums, Vol. 1 1970-1973 - The Jean Terrell Years in 2006.
Afterwards, the trio endured a shift in personnel, losing Terrell and Lynda Laurence (who'd replaced original member Cindy Birdsong on 1972's The Supremes Produced and Arranged by Jimmy Webb); Birdsong would return alongside Wilson and new lead vocalist Scherrie Payne (younger sister of singer-actress Freda Payne, of "Band of Gold" fame), only to leave again in 1976, to be replaced by Susaye Greene for one last album before the trio quietly disbanded.
Now, Let Yourself Go collects all three of those original albums in the post-Terrell era - 1975's The Supremes, featuring Payne, Birdsong and Wilson; 1976's High Energy, featuring the same trio and two tracks with contribution by Greene and 1977's Mary, Scherrie & Susaye - on three discs, alongside a boatload of alternate takes, mixes and material from Motown's famed vaults. An entire alternate mix of High Energy, done by Motown legend Russ Terrana, is released in full, along with several tracks featuring alternate lead vocals and more. Only five of these tracks have been released anywhere before - one on a single and the rest on a 2002 compilation of Supremes material in the '70s - so you're getting quite the bang for your buck.
Hip-o Select's pre-order page is here (as of this writing it appeared to be down - leave a comment if that's changed), and the track list, with full annotation, is after the jump!
The Supremes, Let Yourself Go: The '70s Albums, Vol. 2 1974-1977 - The Final Sessions (Motown/Hip-o Select, 2011)
Disc 1: The Supremes and related sessions
He's My Man
Early Morning Love
Where Is It I Belong
It's All Been Said Before
This is Why I Believe in You
You Can't Stop a Girl in Love
Color My World Blue
Give Out, But Don't Give Up
Where Do I Go from Here
You Turn Me Around
The Shoop Shoop Song (It's in His Kiss)
The Sha-La Bandit (Alternate Version 3)
Color My World Blue (Alternate Version)
Mr. Boogie
Dance Fever
Seed of Love
Give Out, But Don't Give Up (Group Lead Version)
You Can't Stop a Girl in Love (Early Version)
Bend a Little (Extended Version)
I Can Never Recover
Can We Love Again
Where Do I Go from Here (Single Remix)
The Sha-La Bandit (Alternate Version 1)
He's My Man (Extended Version)
Tracks 11-20 previously unreleased
Disc 2: High Energy and related sessions
High Energy
I'm Gonna Let My Heart Do the Walking
Only You (Can Love Me Like You Love Me)
You Keep Me Moving On
Don't Let My Teardrops Bother You
Till The Boat Sails Away
I Don't Want to Lose You
You're What's Missing in My Life
High Energy (Russ Terrana Mix)
I'm Gonna Let My Heart Do the Walking (Russ Terrana Mix)
Only You (Can Love Me Like You Love Me) (Russ Terrana Mix)
You Keep Me Moving On (Russ Terrana Mix)
Don't Let My Teardrops Bother You (Russ Terrana Mix)
Till the Boat Sails Away (Russ Terrana Mix)
I Don't Want to Lose You (Russ Terrana Mix)
You're What's Missing in My Life (Russ Terrana Mix)
There's Room At the Top (Alternate Version)
You're What's Missing in My Life (Mary Wilson Lead Version)
I'm Gonna Let My Heart Do the Walking (Susaye Greene Lead Version)
Disc 3: Mary, Scherrie & Susaye and more alternates
You're My Driving Wheel
Sweet Dream Machine
Let Yourself Go
Come Into My Life
We Should Be Closer Together
I Don't Want to Be Tied Down
You Are the Heart of Me
Love I Never Knew You Could Feel So Good
Give Out, But Don't Give Up (Mary Wilson Lead Version)
High Energy (Alternate Version)
I'm Gonna Let My Heart Do the Walking (Alternate Version)
Only You (Can Love Me Like You Love Me) (Alternate Version)
You're What's Missing in My Life (Scherrie Payne Lead Version)
You're My Driving Wheel (Alternate Version)
Sweet Dream Machine (Alternate Version)
Love I Never Knew You Could Feel So Good (Alternate Version)
Disc 1, Tracks 1-10 released as The Supremes (Motown M6-828 S1, 1975)
Disc 1, Tracks 11-20, Tracks 11, 12 and 14-19 and Disc 3, Tracks 9-16 previously unreleased
Disc 1, Tracks 21 and 23-24 and Disc 2, Track 13 from The '70s Anthology (Motown 064127, 2002)
Disc 1, Track 22 from Motown single M-1374F, 1975
Disc 2, Tracks 1-9 released as High Energy (Motown M-863 S1, 1976)
Disc 3, Tracks 1-8 released as Mary, Scherrie & Susaye (Motown M-873 S1, 1976)