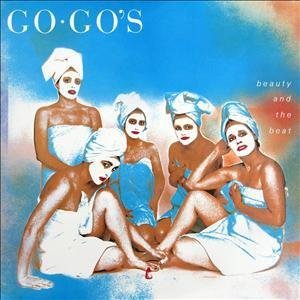 When you think of the canon of rock music, it's largely a man's world, from the most legendary performers to the (theoretically, mostly) male-dominated clique of music geeks. Sure, Elvis and The Beatles wouldn't have gotten anywhere without their screaming female fans, but it took until the early '80s for girls to earn a place in the hierarchy of rock. That glass ceiling was finally shattered with Belinda Carlisle, Jane Wiedlin, Charlotte Caffey, Kathy Valentine and Gina Schock, better known as The Go-Go's.
The Los Angeles quintet traced its roots back toward the emerging punk scene in the late '70s (Carlisle, under the name "Dottie Danger" was briefly a frontwoman for The Germs!) but soon enough adapted a power-pop/New Wave sound that first gained them minor prominence in the U.K., when a demo version of future hit "We Got the Beat" was released on Stiff Records. Eventually, The Go-Go's were signed to I.R.S. Records, founded by Miles Copeland, iconic manager for The Police (and brother of the band's drummer Stewart) and cut their first full-length album, Beauty and the Beat. Though it was a solid debut with some killer guitar riffs and bubbly synth hooks, nobody could have predicted the success it was bound for - two million copies sold, six weeks atop the Billboard charts, two hits in "Our Lips Are Sealed" (No. 20) and "We Got the Beat" (No. 2) and a Grammy nomination for Best New Artist.
Despite all this, the album has never been released on CD past its original incarnation - until now. On May 17, EMI will reissue Beauty and the Beat for its 30th anniversary (also to be commemorated by the band's forthcoming summer tour), remastering the album and adding a bonus disc featuring a live show at the Metro in Boston. The exact day of the show has not been determined, although some fans have noted that the bonus disc shares an identical track list with a promotional disc that aired on Westwood One radio networks in late 1981. While the set was incomplete in broadcast form, omitting an early live version of future hit "Vacation," it's a treasured set among collectors.
Order your copy from Amazon and hit the jump for the rundown. The Go-Go's, Beauty and the Beat: 30th Anniversary Deluxe Edition (EMI/Capitol 50999 027027 1 1, 2011)
Disc 1: Remastered original LP (released as I.R.S. Records SP-70021, 1981)
Our Lips Are Sealed
How Much More
Tonite
Lust to Love
This Town
We Got the Beat
Fading Fast
Automatic
You Can't Walk in Your Sleep (If You Can't Sleep)
Skidmarks on Your Heart
Can't Stop the World
Disc 2: Live at the Metro, Boston, 1981 (previously unreleased)
Can't Stop the World
Skidmarks on My Heart
How Much More
Tonite
Fading Fast
Cool Jerk
London Boys
Automatic
Lust to Love
This Town
You Can't Walk in Your Sleep (If You Can't Sleep)
Our Lips Are Sealed
Surfing and Spying
Beatnik Beach
(Remember) Walking in the Sand
Let's Have a Party
We Got the Beat