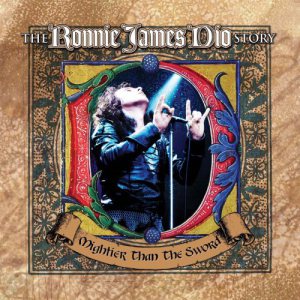 Ronnie James Dio passed away in 2010, but his spirit has lived on rather nicely in the world of reissues. In recent years, Universal in the U.K. has released expansive deluxe editions of the vocalist's work with Black Sabbath and Rainbow, not to mention a few archival releases through his own estate's Niji Entertainment Group. Now, Universal Music Catalogue will add another compilation to the mix for U.K. fans - one which covers, in two discs, all of the artist's major-label acts.
Mightier Than the Sword: The Ronnie James Dio Story, collects tracks from virtually every band Dio ever fronted, from Elf and Ritchie Blackmore's Rainbow to Black Sabbath, Dio and Heaven and Hell (the reformed Dio-led lineup of Black Sabbath that performed in the late 2000s). There's even a track from the lesser-known solo project by ex-Deep Purple bassist Roger Glover, released in 1974.
Expect the set in U.K. shops on May 30 and a week later in the States. A full track list and order link follows after the jump.
Various Artists, Mightier Than the Sword: The Ronnie James Dio Story (Sanctuary/UMC (U.K.), 2011)
Disc 1
Carolina County Ball - Elf
Love is All - Roger Glover featuring Ronnie James Dio
The Temple of the King - Rainbow
Catch the Rainbow - Rainbow
Stargazer - Rainbow
Run with the Wolf - Rainbow
Kill the King - Rainbow
Long Live Rock 'N' Roll - Rainbow
Lady of the Lake - Rainbow
Gates of Babylon - Rainbow
Die Young - Black Sabbath
Heaven and Hell - Black Sabbath
Children of the Sea - Black Sabbath
Disc 2
The Mob Rules - Black Sabbath
Voodoo - Black Sabbath
Country Girl - Black Sabbath
Holy Diver - Dio
Rainbow in the Dark - Dio
We Rock - Dio
Rock 'N' Roll Children - Dio
All the Fools Sailed Away - Dio
I - Black Sabbath
Push - Dio
One More for the Road - Dio
Shadow of the Wind - Black Sabbath
Neon Knights - Heaven & Hell
Bible Black - Heaven & Hell
Disc 1, Track 1 from Carolina County Ball (Purple (U.K.)/MGM (U.S.), 1974)
Disc 1, Track 2 from The Butterfly Ball and the Grasshopper's Feast (Purple (U.K.), 1974)
Disc 1, Tracks 3-4 from Ritchie Blackmore's Rainbow (Oyster (U.K.)/Polydor (U.S.), 1975)
Disc 1, Tracks 5-6 from Rising (Oyster (U.K.)/Polydor (U.S.), 1976)
Disc 1, Tracks 7-10 from Long Live Rock 'N' Roll (Polydor (U.K./U.S.), 1978)
Disc 1, Tracks 11-13 from Heaven and Hell (Vertigo (U.K.)/Warner Bros. (U.S.), 1980)
Disc 2, Tracks 1-3 from The Mob Rules (Vertigo (U.K.)/Warner Bros. (U.S.), 1981)
Disc 2, Tracks 4-5 from Holy Diver (Vertigo (U.K.)/Warner Bros. (U.S.), 1983)
Disc 2, Tracks 6 from The Last in Line (Vertigo (U.K.)/Warner Bros. (U.S.), 1984)
Disc 2, Track 7 from Sacred Heart (Vertigo (U.K.)/Warner Bros. (U.S.), 1985)
Disc 2, Track 8 from Dream Evil (Vertigo (U.K.)/Warner Bros. (U.S.), 1987)
Disc 2, Track 9 from Dehumanizer (I.R.S. (U.K.)/Reprise (U.S.), 1992)
Disc 2, Track 10 from Killing the Dragon (Spitfire (U.K./U.S.), 2002)
Disc 2, Track 11 from Master of the Moon (Sanctuary (U.S.), 2004)
Disc 2, Track 12 from Black Sabbath: The Dio Years (Warner Bros./Rhino (U.K./U.S.), 2007)
Disc 2, Tracks 13-14 from The Devil You Know (Roadrunner (U.K.)/Rhino (U.S.), 2009)