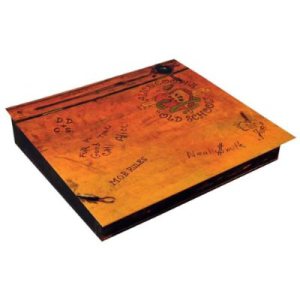 We've got less than a month until the new Alice Cooper mega box set starts shipping, so now's as good a time as any to take a look at the track list for the set.
As previously reported, Old School 1964-1974 encompasses four CDs and a vinyl LP and single, each of which chronicles Vincent Furnier's time as the frontman for Alice Cooper, the band which gave him his stage name. (Beginning in 1975 with Welcome to My Nightmare, Cooper's albums were largely solo efforts.) Only about three of these tracks have been released before - one by Furnier's high school band The Spiders (which also featured Alice Cooper members Glen Buxton, Michael Bruce and Dennis Dunaway), and a reproduced vinyl single by The Nazz, which was The Spiders' line-up with drummer Neal Smith. (The Nazz would later change their name to Alice Cooper.)
The majority of the CDs consist of vintage live material (chief among them a show from the Killer tour in 1971, also reproduced on vinyl), demos, outtakes and radio ads. There's also a bonus CD of Cooper's memories of the band's early days and a 64-page hardcover yearbook, packed with rare photos and other swag in a desk-shaped box.
You can enroll with Old School through Alice's official website (orders ship June 20) and hit the jump for discographical info.
Alice Cooper, Old School 1964-1974 (Bigger Picture, 2011)
Disc 1: Treasures One
No Price Tag  - The Spiders
Nobody Likes Me (Demo)
On a Train Trip (Sing Low Sweet Cheerio) (Demo)
Reflected (Demo)
Easy Action Radio Ad (Version 2)
Mr and Misdemeanor (Live @ Chicago Underground, Warren, MI - 7/23/1970)
Fields of Regret (Live @ Chicago Underground, Warren, MI - 7/23/1970)
I'm Eighteen (Live @ Chicago Underground, Warren, MI - 7/23/1970)
Love It to Death Radio Ad
I'm Eighteen (Pre-Production Version)
Be My Lover (Demo)
Killer (Demo)
Halo of Flies (Demo)
Tornado Warning (Desperado) (Demo)
Killer Radio Ad
Is It My Body (Live @ Paramount Northwest, Seattle - 7/9 or 7/10/1971)
Disc 2: Treasures Two
Akron Rubber Bowl Radio Ad - 8/5/1972
School's Out (Live @ the Mar y Sol Festival, Manatí, Puerto Rico - 4/2/1972)
School's Out (Kids' Session)
Luney Tune (Pre-Production Outtake)
My Stars (Pre-Production Outtake)
School's Out (Demo)
Under My Wheels (Live at Madison Square Garden, New York City - 6/3/1973)
Teenage Lament '74 (Demo)
Never Been Sold Before (Demo)
Working Up a Sweat (Demo)
Muscle of Love (Pre-Production Version)
Teenage Lament '74 (Pre-Production Version)
Muscle of Love Radio Ad
Good to See You Again, Alice Cooper Radio Ad
Muscle of Love (Live in Rio - April 1974)
Greatest Hits Radio Ad
Disc 3: Alice Cooper - In His Own Words
Disc 4: Live Bootleg - Killer Live @ Arena Annex, St. Louis - 12/17/1971
Intro
Be My Lover (Intro)
Be My Lover
You Drive Me Nervous
Yeah, Yeah, Yeah
I'm Eighteen
Halo of Flies
Is It My Body
Dead Babies
Killer
Long Way to Go
Under My Wheels
7" Single: The Nazz (originally released as Very Record S-001, 1967)
Wonder Who's Loving Her Now
Lay Down and Die, Goodbye
LP: Live Bootleg - Killer Live @ Arena Annex, St. Louis - 12/17/1971
Track list identical to Disc 4 except for exclusion of Track 12
Disc 1, Track 1 released on Santa Cruz single SCR-10003, 1966
All other tracks previously unreleased except where noted