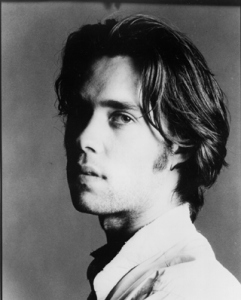 Just in case you were waiting on a track list to buy Rufus Wainwright's mega-box House of Rufus, the wait is over.
The 19-disc box set, which encompasses all the albums and DVDs the baroque-pop tunesmith has released in his career, is packed with some intriguing extras, too. Many of the CDs are augmented with some sort of bonus tracks, either extra songs that were released as retail exclusives, old or new live performances and outtake material. And there are another four discs of rarities as well: a rarities disc augments more rare promo-only or international bonus tracks with unreleased outtakes, another collates Rufus' best appearances on soundtracks (including the CD debut of his tune from the Canadian film Tommy Tricker and the Stamp Traveller (1988), one of the earliest professional Rufus performances), a third collects guest tracks and collaborations (including material recorded with his illustrious family, including sister Martha, mother and aunt Kate and Anna McGarrigle and father Loudon Wainwright III) and another collects a clutch of unreleased demos.
It's certainly a lush package, although one that, at upwards of $260 in the U.S., must be a tough sell for all but the most loaded of Rufus fans. (One could certainly take all the material therein and make deluxe reissues of each of Rufus' LPs - although the singer/songwriter has criminally never been a sales juggernaut, so this one-shot deal is likely the best bet to obtain all these bonus cuts.)
House of Rufus, limited to just 3,000 copies, can be ordered here for a July 18 release. The full rundown is after the jump.
Rufus Wainwright, House of Rufus (Universal Music (U.K.), 2011)
Disc 1: Rufus Wainwright (originally released as DreamWorks Records DRMD-50010, 1998)
Foolish Love
Danny Boy
April Fools
In My Arms
Millbrook
Baby
Beauty Mark
Barcelona
Matinee Idol
Damned Ladies
Sally Ann
Imaginary Love
Heartburn (from The McGarrigle Hour - Hannibal HNCD-1417, 1998)
Goodnight Sweetheart (from The McGarrigle Hour - Hannibal HNCD-1417, 1998)
Disc 2: Poses (originally released as DreamWorks 0044-50237-2, 2001)
Cigarettes and Chocolate Milk
Greek Song
Poses
Shadows
California
The Tower of Learning
Grey Gardens
Rebel Prince
The Consort
One Man Guy
Evil Angel
In a Graveyard
Cigarettes and Chocolate Milk (Reprise)
Greek Song (KCRW-FM Session - 5/6/2001) *
California (KCRW-FM Session - 5/6/2001) *
Grey Gardens (KCRW-FM Session - 5/6/2001) *
Disc 3: Want One (originally released as DreamWorks Records B0000896-12, 2003)
Oh What a World
I Don't Know What It Is
Vicious World
Movies of Myself
Pretty Things
Go or Go Ahead
Vibrate
14th Street
Natasha
Harvester of Hearts
Beautiful Child
Want
11:11
Dinner at Eight
Es Mus Sein (bonus track from special edition - Polydor 450 504-1 (U.K.), 2003)
Velvet Curtain Rag (bonus track from special edition - Polydor 450 504-1 (U.K.), 2003)
What You Got *
11:11 (Studio Demo) *
Disc 4: Want Two (originally released as Geffen B0003716-02, 2004)
Agnus Dei
The One You Love
Peach Trees
Little Sister
The Art Teacher
Hometown Waltz
This Love Affair
Gay Messiah
Memphis Skyline
Waiting for a Dream
Crumb by Crumb
Old Whore's Diet
Coeur De Parisienne - Reprise d'Arletty (Live) (bonus track on special edition - DreamWorks 2103092 (U.K.), 2004)
Quand Vous Mourez de Nos Amours (Live) (bonus track on special edition - DreamWorks 2103092 (U.K.), 2004)
Southern Soul *
Gay Messiah (Studio Demo)
Disc 5: Release the Stars (released as Geffen B0008767-02, 2007)
Do I Disappoint You
Going to a Town
Tiergarten
Nobody's Off the Hook
Between My Legs
Rules and Regulations
Not Ready to Love
Slideshow
Tulsa
Leaving for Paris No. 2
Sanssouci
Release the Stars
Do I Disappoint You (Instrumental) (bonus track on international pressings - Polydor 1733587 (U.K.), 2007)
Low Grade Happiness (bonus track on Best Buy download card (U.S.) and iTunes (U.K.))
Going to a Town (Live @ Kenwood House, London - 3/7/2010) *
Discs 6-7: Rufus Does Judy at Carnegie Hall (originally released as Geffen B0010318-02 IN02, 2007)
Overture: The Trolley Song/Over the Rainbow/The Man That Got Away
When You're Smiling (The Whole World Smiles with You)
Medley: Almost Like Being in Love/This Can't Be Love
Do It Again
You Go to My Head
Alone Together
Who Cares? (So Long As You Care for Me)
Puttin' on the Ritz
How Long Has This Been Going On
Just You, Just Me
The Man That Got Away
San Francisco
That's Entertainment
I Can't Give You Anything But Love
Come Rain or Come Shine
You're Nearer
A Foggy Day
If Love Were All
Zing! Went the Strings of My Heart
Stormy Weather
Medley: You Made Me Love You/For Me and My Gal/The Trolley Song
Rock-a-Bye Your Baby with a Dixie Melody
Over the Rainbow
Swanee
After You're Gone
Chicago
Get Happy
Someone to Watch Over Me (featuring Martha Wainwright) *
Everytime We Say Goodbye *
Disc 8: Milwaukee at Last!!! (originally released as Decca B0013238-02, 2009)
Release the Stars
Going to a Town
Sanssouci
Rules and Regulations
Leaving for Paris No. 2
If Love Were All
Nobody's Off the Hook
Not Ready to Love/Slideshow
Macushla
Gay Messiah
Disc 9: All Days are Nights: Songs for Lulu (originally released as Decca B0014192-02, 2010)
Who Are You New York?
Sad with What I Have
Martha
Give Me What I Want and Give It to Me Now!
True Loves
Sonnet 43
Sonnet 20
Sonnet 10
The Dream
What Would I Ever Do with a Rose?
Les Feux D'Artifice T'Appellent
Zebulon
Les Feux D'Artifice T'Appellent (Alternate Version) (bonus track on British edition - Decca 2736309 (U.K.), 2009
Who Are You New York? (Live @ Kenwood House, London - 3/7/2010) *
Martha (Live @ Kenwood House, London - 3/7/2010) *
The Walking Song (Live @ Kenwood House, London - 3/7/2010) *
Disc 10: Rufus Rarities
Money Song *
Ups and Downs (from French bonus disc included with Poses - Polydor cat. # unknown, 2001)
Red Thread *
St James Infirmary *
London *
A Bit of You (Rufus Wainwright Japanese bonus track - DreamWorks DRMD-50060 (JP), 1998)
Ashes *
In with the Ladies (from Want - Polydor 9887273 (U.K.), 2005)
Miss Otis Regrets *
Cowboy Song (Release the Stars iTunes (U.S.) bonus track, 2007)
Patience is a Virtue (Release the Stars Wal-Mart (U.S.) digital bonus track, 2007)
Shoes *
Fame Into Love Into Death *
One More Chance *
Hankering *
Dreams and Daydreams *
Disc 11: Rufus at the Movies 
I'm a Runnin' (from Tommy Tricker and the Stamp Traveller, 1988) *
Le Roi d'Ys (from The Myth of Fingerprints: Music from the Original Motion Picture Soundtrack - Velvet VEL 79705-2, 1997)
On the Banks of the Wabash (from The Myth of Fingerprints: Music from the Original Motion Picture Soundtrack - Velvet VEL 79705-2, 1997)
Complainte de la Butte (from Moulin Rouge: Music from Baz Luhrman's Film - Interscope 490 507-2, 2001)
Hallelujah (from Shrek: Music from the Motion Picture - DreamWorks Records 0044-50305-02, 2001)
He Ain't Heavy...He's My Brother (from Zoolander: Music from the Motion Picture - Hollywood Records 2061-62324-2, 2001)
Across the Universe (from I Am Sam: Music from and Inspired by the Motion Picture - V2 Records 63881-27119-2, 2002)
It's Only a Paper Moon (from Stormy Weather: The Music of Harold Arlen - Sony Music SK-87888, 2003)
I Wonder What Became of Me(from Stormy Weather: The Music of Harold Arlen - Sony Music SK-87888, 2003)
I Eat Dinner (When the Hunger's Gone) (from Bridget Jones: The Edge of Reason - The Original Soundtrack - Geffen B0003566-02, 2004)
I'll Build a Stairway to Paradise (The Aviator: Music from the Motion Picture - Sony Music SK-93628, 2004)
King of the Road (from Brokeback Mountain: Original Motion Picture Soundtrack - Verve Forecast B0005604-02, 2005)
The Maker Makes (from Brokeback Mountain: Original Motion Picture Soundtrack - Verve Forecast B0005604-02, 2005)
Bewitched, Bothered, Bewildered (from The History Boys: The Original Soundtrack - Rhino R2 74754, 2006)
Another Believer (from Meet the Robinsons: Original Soundtrack - Walt Disney D0000246-02, 2007)
Disc 12: Family and Friends
What'll I Do - Kate & Anna McGarrigle with Rufus & Martha Wainwright (from The McGarrigle Hour - Hannibal HNCD-1417, 1998)
Au Fond du Temple Saint - David Byrne and Rufus Wainwright (from Grown Backwards - Nonesuch 79826-2, 2004)
So Easy - Teddy Thompson (from Teddy Thompson - Virgin 49718, 2000)
Old Paint - Rufus Wainwright with Loudon Wainwright III (bonus track on Release the Stars Best Buy download card (U.S.), 2007)
Casanova in Hell (Live) - Pet Shop Boys (from Concrete - Parlophone 00946 377460 2 8 (U.K.), 2006)
What Can I Do? - Antony and The Johnsons (from I Am a Bird Now - Secretyly Canadian SC-105, 2005)
To America - Joan as Police Woman (from To Survive - Cheap Lullaby CLR-024, 2008)
Tired of Wasting Time - Sloan Wainwright and Rufus Wainwright (from Life Grows Back - Sloan Wainwright 3, 2006)
Chelsea Hotel No. 2 (Live) (from Leonard Cohen: I'm Your Man - Motion Picture Soundtrack - Verve Forecast B0007169-02, 2006)
Everybody Knows (Live) (from Leonard Cohen: I'm Your Man - Motion Picture Soundtrack - Verve Forecast B0007169-02, 2006)
More Wine - Julianna Raye (from Restless Night - Three Crows Music 4391, 2001)
Lowlands Away - Rufus Wainwright and Kate McGarrigle (from Rogues Gallery: Pirate Ballads, Sea Songs and Chanteys - Anti Records 86817, 2006)
Scarecrow - Kristian Hoffman (from & - Eggbert Records, 2002)
Albatross (from Born to the Breed: A Tribute to Judy Collins - Wildflower 1313, 2008)
Down Where the Drunkards Roll - Loudon Wainwright III and Rufus Wainwright *
Disc 13: Original Demos (all tracks previously unreleased)
Foolish Love
Danny Boy
Beauty Mark
Damned Ladies
Liberty Cabbage
Matinee Idol
April Fools
Get Out of Town
Sally Ann
Sweet Repose
In My Arms
Keep Cool Fool
Disc 14: Rufus Does Judy: Live from the London Palladium (DVD) (originally released as Geffen B0010319-09, 2007)
Overture: The Trolley Song/Over the Rainbow/The Main That Got Away
When You're Smiling (The Whole World Smiles with You)
Medley: Almost Like Being in Love/This Can't Be Love
Do It Again
You Go to My Head
Alone Together
Who Cares? (So Long As You Care for Me)
Puttin' on the Ritz
How Long Has This Been Going On
Just You, Just Me
The Man That Got Away
San Francisco
That's Entertainment
I Can't Give You Anything But Love
Come Rain or Come Shine
You're Nearer
A Foggy Day
If Love Were All
Zing! Went the Strings of My Heart
Stormy Weather
Medley: You Made Me Love You/For Me and My Gal/The Trolley Song
Rock-a-Bye Your Baby with a Dixie Melody
Over the Rainbow
Swanee
After You're Gone
Chicago
Get Happy
Hello Bluebird
Someone to Watch Over Me
Everytime We Say Goodbye
San Francisco (Reprise)
Credits
Disc 15: All I Want (DVD) (originally released as Geffen
A Portrait of Rufus Wainwright documentary
Live at Studio Frisson, Montreal
Gay Messiah
Crumb by Crumb
Rebel Prince
The Art Teacher
This Love Affair
Poses
Live at The Corn Exchange, Cambridge
Movies of Myself
Go or Go Ahead
I Don't Know What It Is
Beautiful Child
Live at Central Park Summerstage
Beauty Mark
Cigarettes and Chocolate Milk
Dinner at Eight
Music Videos
The One You Love
California
April Fools
The Maker Makes
Disc 16: Prima Donna: The Story of an Opera (DVD) (originally released on Decca, 2010)
Disc 17: Milwaukee at Last!!! (DVD) (originally released on Decca, 2009)
This is Me (interlude)
Release the Stars
Brooches 1 (interlude)
Going to a Town
Sanssouci
Rules and Regulations
Brooches 2 (interlude)
Tulsa
The Art Teacher
Brooches 3 (interlude)
Tiergarten
Leaving for Paris No. 2
Get Up to Dance (interlude)
Between My Legs
Interval (interlude)
Do I Disappoint You
A Foggy Day
If Love Were All
Nobody's Off the Hook
Beautiful Child
Not Ready to Love
Slideshow
Macushla
14th Street
Playing-out and Changing-up (interlude)
Coming Out (interlude)
I Don't Know What It Is
Pretty Things
La Complainte De La Butte
Glamming-up Onstage and Changing Backstage (interlude)
Get Happy
Gay Messiah
Credits
Special Features:
Grey Gardens (Live in Milwaukee)
Rehearsing for a Wedding (Backstage Rehearsal)
Not Ready to Love (Live from Montreux Jazz Festival 2007)
14th Street (Live from Montreux Jazz Festival 2007)
Get Happy (Live from Montreux Jazz Festival 2007)
Disc 18: Live at the Fillmore (DVD) (included with deluxe edition of Want Two - Geffen B0003716-00, 2004)
Intro
L'absence
14th Street
Harvester of Hearts
Natasha
The Art Teacher
Hallelujah
Matinee Idol
Vibrate
Gay Messiah
Want
Greek Song
Foolish
I Don't Know What It Is
Dinner At Eight
Beautiful Child
Oh What a World
Liberty Cabbage
California
As in Happy
Credits
Disc 19: Release the Stars (DVD) (included with deluxe edition - Polydor 1733588 (U.K.), 2007)
Track by Track interview
The Art Teacher - Sympatico/MSN Presents Live @ The Orange Lounge
Rebel Prince - Sympatico/MSN Presents Live @ The Orange Lounge
Gay Messiah - Sympatico/MSN Presents Live @ The Orange Lounge
Vibrate - Sympatico/MSN Presents Live @ The Orange Lounge