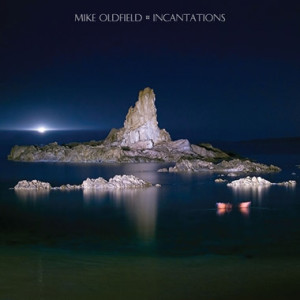 We have another Mike Oldfield record getting the deluxe treatment from Universal in the U.K. this summer.
Following expansive CD/DVD editions of Oldfield's prog-instrumental masterpiece Tubular Bells and follow-ups Hergest Ridge and Ommadawn in 2009 and 2010, Oldfield's Incantations, originally released on Virgin in 1979, will get the expanded treatment.
The four-movement piece, each of which took up a side of vinyl in its original release, will feature a bonus CD of single material and newly remixed selections from the album. A surround mix of those selections on Disc 2, along with vintage concert and video footage on DVD, will be included.
A single-disc remaster with one bonus track (the 1979 single "Guilty") and double-vinyl edition (500 of which will be signed by Oldfield and available on his official site) will also be available. All packages will be released July 25.
Have a look at the track list after the jump. Thanks to MusicTAP for bringing this to light!
Mike Oldfield, Incantations: Deluxe Edition (Mercury/UMC, 2011)
Disc 1: Original LP and bonus track
Incantations (Part 1)
Incantations (Part 2)
Incantations (Part 3)
Incantations (Part 4)
Guilty (7" Version)
Disc 2: Bonus tracks - selections from Incantations and more
Diana (2011 Stereo Mix)
Northumbrian (2011 Stereo Mix)
Piano Improvisation (2011 Stereo Mix)
Hiawatha (2011 Stereo Mix)
Canon for Two Vibraphones (2011 Stereo Mix)
William Tell Overture
Cuckoo Song
Pipe Tune
Wrekorder Wrondo
Guilty (2011 Stereo Mix)
Diana - Desiderata (2011 Stereo Mix)
Disc 3: DVD
Diana (5.1 Surround Sound Mix)
Northumbrian (5.1 Surround Sound Mix)
Piano Improvisation (5.1 Surround Sound Mix)
Hiawatha (5.1 Surround Sound Mix)
Canon for Two Vibraphones (5.1 Surround Sound Mix)
Guilty (5.1 Surround Sound Mix)
William Tell Overture (promotional video, 1977)
Incantations (Parts 1-4) (Live @ Wembley Conference Centre, 1979)
Guilty (promotional video, 1979)
Disc 1, Tracks 1-4 released as Virgin LP VDT-101 (U.K.), 1979
Disc 1, Track 5 released as Virgin single A-side VS-245 (U.K.), 1979
Disc 2, Track 6 released as Virgin single A-side VS-167 (U.K.), 1977
Disc 2, Tracks 7-8 released as Virgin single VS-198 (U.K.), 1977
Disc 2, Track 9 released as Virgin single B-side VS-238, 1978