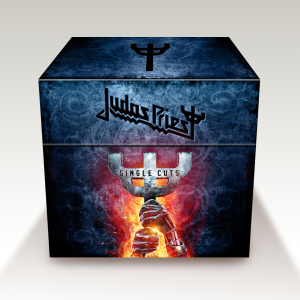 Judas Priest may be heading toward the finish line, at least as live performances go, with their current Epitaph World Tour (though sadly without founding guitarist K.K. Downing, who elected to retire a bit early), but they still have plenty of irons in the fire - including a neat catalogue set for hardcore collectors.
The band announced the impending release of Single Cuts: The Complete U.K. Singles Collection, a 20-disc set replicating every one of the band's British singles, right down to the picture sleeves.
Of particular interest to collectors is the inclusion of a large amount of live B-sides, many of which have never been available on CD (some made it onto Legacy's Setlist entry for the band). While many of the band's singles had album cuts on the flip sides, about 13 of the tracks on the box are live and as aggressive as ever. (There's also another interesting B-side in "The Judas Priest Audio File," a sort of mega-mix of Priest's best songs at the time of release.)
The collection certainly isn't complete; some U.S. singles had other live cuts and even a few dance mixes by the end of the '80s, many of which have yet to surface on CD. And some of the discs in the box follow the 12" single track lists, while others just stick to the basic 45 lineup. But it's still a pretty awesome set for the dedicated fan - and fans have seen sets with far less for a higher price tag than the $99 being charged for this set in the States.
Single Cuts can be ordered through Priest's official website. The full track breakdown is after the jump (note that some tracks were not described as live on the official site, although they were as such on the singles - we shall correct any errors we find out about). (A special thanks to super reader George for staying on top of this one!)
Judas Priest, Single Cuts: The Complete U.K. Singles Collection (Columbia/Legacy 88697 93961-2, 2011)
Disc 1 (originally released as CBS single 5222 (U.K.), 1977)
Diamonds and Rust
Dissident Aggressor
Disc 2 (originally released as CBS single 6077 (U.K.), 1978)
Better by You, Better Than Me
Invader
Disc 3 (originally released as CBS single 7312 (U.K.), 1978)
Evening Star
Starbreaker
Disc 4 (originally released as CBS single 6794 (U.K.), 1978)
Before the Dawn
Rock Forever
Disc 5 (originally released as CBS single 12-6915 (U.K.), 1978)
Take on the World
Starbreaker (Live @ the Agora Ballroom, Cleveland - 5/9/1978)
White Heat Red Hot (Live @ the Agora Ballroom, Cleveland - 5/9/1978)
Disc 6 (originally released as CBS single 12-7312 (U.K.), 1979)
Evening Star
Beyond the Realms of Death (Live @ the Agora Ballroom, Cleveland - 5/9/1978)
The Green Manalishi (with the Two-Pronged Crown)
Disc 7 (originally released as CBS single 12-8379 (U.K.), 1980)
Living After Midnight
Delivering the Goods (Live in Tokyo)
Evil Fantasies (Live in Tokyo)
Disc 8 (originally released as CBS single 8644 (U.K.), 1980)
Breaking the Law
Metal Gods
Disc 9 (originally released as CBS single 8897 (U.K.), 1980)
United
Grinder
Disc 10 (originally released as CBS single 9520 (U.K.), 1981)
Don't Go
Solar Angels
Disc 11 (originally released as CBS single A-1153 (U.K.), 1981)
Hot Rockin'
Breaking the Law (Live - February 1981)
Steeler
You Don't Have to Be Old to Be Wise
Disc 12 (originally released as CBS single A-2611 (U.K.), 1982)
You've Got Another Thing Comin'
Exciter (Live)
Disc 13 (originally released as CBS single A-2822 (U.K.), 1982)
(Take These) Chains
The Judas Priest Audio File
Disc 14 (originally released as CBS single TA-4054 (U.K.), 1983)
Freewheel Burning
Breaking the Law (Live)
You've Got Another Thing Comin'
Disc 15 (originally released as CBS single TA-4098 (U.K.), 1984)
Some Heads Are Gonna Roll
The Green Manalishi (with the Two-Pronged Crown) (Live)
Jawbreaker
Disc 16 (originally released as CBS single A-7048 (U.K.), 1986)
Turbo Lover
Hot for Love
Disc 17 (originally released as CBS single TA-7144, 1986)
Locked In
Reckless
Desert Plains (Live)
Freewheel Burning (Live)
Disc 18 (originally released as CBS single 656273-6 (U.K.), 1990)
Painkiller
United
Better by You, Better Than Me
Disc 19 (originally released as CBS single 656589 (U.K.), 1991)
A Touch of Evil
Between the Hammer and the Anvil
You've Got Another Thing Comin' (Live)
Disc 20 (originally released as CBS single 659057-2 (U.K.), 1993)
Night Crawler
Breaking the Law (Live)
Living After Midnight (Live)
All tracks on Disc 1 and Disc 3, Track 1 originally released on Sin After Sin (CBS, 1977)
All tracks on Disc 2 and Disc 18, Track 3 originally released on Stained Class (CBS, 1978)
Disc 3, Track 1, all tracks on Disc 4, Disc 5, Track 1 and Disc 6, Track 1 originally released on Killing Machine (CBS, 1978)/Hell Bent for Leather (Columbia (U.S.), 1978)
Disc 6, Track 3 from Hell Bent for Leather (Columbia (U.S.), 1978)
Disc 7, Track 1, all tracks on Discs 8-9 and Disc 11, Tracks 3-4 from British Steel (CBS, 1980)
Disc 7, Track 3 also available on Unleashed in the East (CBS, 1979)
All tracks on Disc 10 and Disc 11, Track 1 originally released on Point of Entry (CBS, 1981)
Disc 12, Track 1, Disc 13, Track 1 and Disc 14, Track 2 originally released on Screaming for Vengeance (CBS, 1982)
Disc 14, Track 1 and Disc 15, Tracks 1 and 3 originally released on Defenders of the Faith (CBS, 1984)
All tracks on Disc 16 and Disc 17, Tracks 1-2 originally released on Turbo (CBS, 1986)
Disc 18, Track 1, Disc 19, Tracks 1-2 and Disc 20, Track 1 originally released on Painkiller (CBS, 1990)