June is busting out all over, and so is the music of Richard Rodgers. Then again, the work of the composer (1902-1979) is always busting out all over. Even in 2010, Rodgers had the third most-covered song of the year, according to ASCAP. The song was "My Funny Valentine," with lyrics by Lorenz Hart, and it was written in 1937, proving that Richard Rodgers' music is, indeed, timeless.  Masterworks Broadway, drawing from Sony Music Entertainment's Columbia and RCA Victor vaults, has been a leading light in bringing classic theatre titles into the digital age, as downloads and CDs on demand. The past month has brought two titles composed by Rodgers, and they couldn't be more different.
Rodgers' partnership with Hart is characterized by the insouciant, jazz-inflected musical comedies they created, which produced perhaps the greatest run of standards in musical history: "Where or When," "The Lady is a Tramp," "Blue Moon," "It Never Entered My Mind," "I Didn't Know What Time It Was," "Bewitched, Bothered and Bewildered," and "I Could Write a Book" are just a few. One of those titles, 1936's On Your Toes, received its first recording in 1952 from Columbia Records, and that title has arrived in digital splendor. The Rodgers and Hart partnership went on a temporary hiatus in 1943 when Rodgers teamed with Oscar Hammerstein II, a playwright, lyricist and innovator of the operetta form, to write Oklahoma!.  That collaboration changed the face of musical theatre, perfecting the art of integrating song, dance and dialogue into a seamless whole.  Rodgers and Hart had one final hurrah reteaming to write new material for a revival of their 1927 A Connecticut Yankee, but Hart died soon after, and Rodgers and Hammerstein, the team, was born. But this was a largely different Rodgers, composing sweeping, majestic, dramatic melodies for "musicals," often a different animal than "musical comedies." In 1955, RCA Victor brought out the most complete recording of Rodgers and Hammerstein's 1945 musical Carousel, and that, too, has just received the Masterworks treatment.
Should fans of On Your Toes and Carousel invest in these new reissues, both of which are studio cast recordings making their first-ever digital/CD(-R) debuts? Hit the jump to find out!
There is no shortage of available recordings of Carousel.  The story (based on Ferenc Molnar's play Liliom) of the doomed love affair between Billy Bigelow and Julie Jordan, and Billy's fall from grace and eventual redemption, has entranced audiences since its debut in 1945.  The redoubtable Castalbums.org lists an impressive 35 recordings of the score, from the Brussels World's Fair recording in 1958 on the Disneyland (!) label to two Japanese recordings made in 1995 alone. In 1955, though, the number wasn't quite so high. The original 1945 production had been preserved by Decca, and the U.K.'s Columbia label tackled the Original London Cast in highlights form in 1950. RCA Victor had taken baby steps toward a studio recording of Carousel in 1953, bringing original star John Raitt into the studio for an album, with one side devoted to a reprise of his work on Carousel and another to Oklahoma!. (Raitt would return to the role in 1965 for Rodgers' Music Theater of Lincoln Center, and that production, too, allowed him to preserve Billy on disc for RCA Victor!) 
What set the 1955 recording apart is that it was the first album to present the score in a more or less complete form. No longer did the score have to be truncated to fit on 12-inch 78s, as was the case in 1945. RCA poached Lehman Engel, a familiar name from his pioneering studio LPs produced by Goddard Lieberson at Columbia, to conduct, and Engel turned in his customarily excellent job. The "Bench Scene," incorporating "If I Loved You," most benefited from Victor's lavish treatment. It demonstrates Hammerstein's mastery of the dramatic form, fusing dialogue and song into an ambitious, lengthy sequence.  No less an authority than Stephen Sondheim, Hammerstein's one-time protege, called "probably the single most important moment in the revolution of contemporary musicals". Clocking in at almost nine minutes' length, it's twice as long here as on the 1945 Decca album. Most other songs are extended, although Billy Bigelow's climactic Act One "Soliloquy" is a bit shorter than the original version due to the authors' dropping of one passage from the song. 
RCA enlisted Robert Merrill and Patrice Munsel, two renowned opera singers, to portray Billy Bigelow and Julie Jordan. While "crossover" recordings often leave a bitter taste in mouths of purists on both the opera and musical theater ends of the spectrum, both Merrill and Munsel acquit themselves admirably on what is arguably Rodgers' most complex and challenging work. Merrill's "Soliloquy" is impassioned and believable, not to mention beautifully sung as the composer intended.  Neither singer sounds out of place; the highest compliment that can be paid to the album is that it plays like a recording of a stage production by actors fully inhabiting their characters. Joining them is the winsome Florence Henderson, then a young ingenue many years away from being Mrs. Brady. She's delightful as Julie's friend Carrie, destined to meet "Mr. Snow," and have a brood of many children - nine, to be exact - herself. (Notice a pattern there? Hmmm...) Broadway stalwart George S. Irving, still active today at 89 and a R&H veteran from the original production of Oklahoma!, has a surprising turn as the menacing Jigger. Gloria Lane, as Nettie Fowler, leads a tearful "You'll Never Walk Alone."  This Carousel has been superseded by other, even longer versions, but it remains a fine preservation of a cherished score in its original orchestrations, chiefly the work of Don Walker (Cabaret, Fiddler on the Roof).  The mono sound is crisp for this digital presentation.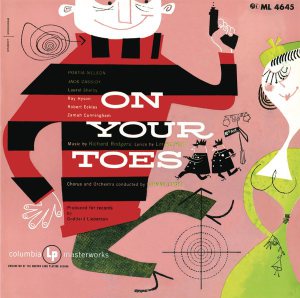 The Columbia Records presentation of On Your Toes dates from just three years earlier, 1952, though the show was less contemporary than Carousel, having made its Broadway debut in 1936. Like Carousel, it was conducted by Lehman Engel. Label President Goddard Lieberson, always a champion of musical theatre, produced the album himself. It was such a successful recording that it was partially responsible for the musical itself getting a stage revival in 1954. Originally choreographed by the legendary George Balanchine and directed by equally legendary "Mr." George Abbott, On Your Toes is a thirties romp bringing together gangsters, vaudeville and even Russian ballet. When vaudevillian Junior leaves show business to become a music teacher, he meets Sydney, a composer, and Frankie, a co-ed, and the trio attempt to sell Sydney's new ballet to a ballet company. Junior eventually dances in the ballet but is mistaken by gangsters for a dancer in debt, and the gangsters rectify this by attempting to shoot him in the ballet "Slaughter on Tenth Avenue," later adopted as a theme of sorts by rock guitarist and Spider from Mars Mick Ronson! In addition to writing the lengthy "Slaughter" and the "Princess Zenobia" ballet, Rodgers composed a remarkable song score with Hart. Roughly eleven minutes of the fifteen-minute "Slaughter" are included on the new disc, while the "Zenobia" ballet that also figures into the plot was jettisoned. Lieberson and Engel did choose to preserve the Overture and Entr'acte, however.
The vocals are equally delicious, which is no surprise with Jack Cassidy as Junior and cabaret singer Portia Nelson as Frankie. At this point in his career, Cassidy wasn't yet typecast as a pompous, rakish rogue (watch his delicious turns on Bewitched or The Mary Tyler Moore Show, in which he plays Ted Baxter's brother, for a perfectly-cast Cassidy performing with zeal, or listen to his wonderfully conceited Kodaly on the original cast album of 1964's She Loves Me) and was believable, at least on disc, as Junior. His creamy vocals are sweet on Rodgers and Hart's ballad "There's a Small Hotel" and confident on "It's Got to Be Love" and "The Heart is Quicker Than the Eye." (The usually-jaunty "It's Got to Be Love," it must be said, is conducted by Engel at a slightly too slow, not snappy enough tempo!) Nelson's soprano soars on Rodgers' atypical "Quiet Night" and the now-standard "Glad to Be Unhappy" as well as the spirited title song. Until the 1983 Broadway revival (with George S. Irving among the cast, natch), this was the finest On Your Toes recording available, and it's still a pleasure from start to finish, although that recording - reintroducing the original orchestrations by Hans Spialek - remains preferable and more authentic. 
Carousel and On Your Toes are available as discs-on-demand from Arkiv Music, digital downloads from iTunes and MP3s/CD-Rs from Amazon.com as well. It's still unfortunate that pressed CD copies aren't in the cards, but it's nonetheless refreshing to find a major label continually asserting its commitment to its theatrical catalogue. These titles both offer wonderful alternatives to more familiar versions of the score, and we look forward to the next titles to be rescued from Masterworks' vaults. What's the use of wond'rin? Another announcement promises to be around the corner.