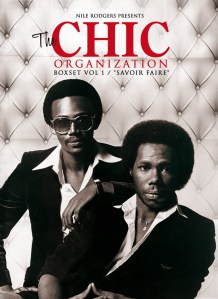 It's a crime that when you talk about CHIC, many of the players who made up arguably the greatest band of the disco era aren't alive to hear your words of praise. Bernard Edwards, CHIC's bassist and co-producer, died in 1997; drummer Tony Thompson passed away in 2003. Nile Rodgers, guitarist, co-producer and keeper of the CHIC flame, could easily have met the same early fate had he not been lucky enough to discover the cancer that he's been since late last year. (Rodgers, one of the best users of the Internet to connect with fans, has kept readers entertained and informed with his Walking on Planet C blog since the start of the year, and will release his memoir, Le Freak, in the fall.)
The other day at Second Disc HQ, we were reminded by our good friend Eric Luecking of Record Racks that another member of the CHIC Organization had passed away: Raymond Jones, who played piano and keyboards on "Le Freak," "Good Times" and "We Are Family," succumbed to pneumonia earlier this month at the too-young age of 52. (Jones also worked with the Tom Tom Club and Jeffrey Osbourne, writing "Stay with Me Tonight" for the latter.)
In honor of Jones and all the other members of the CHIC Organization who are not here to enjoy our expressions of love and respect for their music, today's Back Tracks takes a look at the music of CHIC and the many reissues and compilations that have been released all over the world.
CHIC (Atlantic, 1977 - reissued Wounded Bird, 2008)
The CHIC Organization formula was locked in from the beginning: Nile on guitar, Bernard on bass (both men having risen to local popularity as part of The Big Apple Band, a rare black group playing rock music instead of soul), Tony on drums, vocals from a rotating session lineup that included Norma Jean Wright (whose debut solo album was the band's first extracurricular proudction) and Luther Vandross, keyboards played by Jones and Robert Sabino, airtight engineering from Bob Clearmountain that kept the funk clean and locked in and - of course, Nile and 'Nard keeping watch above all in the producer's chairs.
And the best thing? It was done mostly without a record deal in sight. CHIC first shopped "Dance, Dance, Dance" - a propulsive, eight minute-plus dance-floor filler that married the new sounds of disco with a jazz/swing sensibility (right down to the parenthetical "Yowsah, Yowsah, Yowsah," popularized in the '20s by jazz musician Ben Bernie) - as a demo, but the only one to bite was Buddah Records, who'd given audiences in the '70s some of the best disco and soul sides, from The Five Stairsteps' "O-o-h Child" to The Andrea True Connection's "More, More, More." When Buddah released the track to the clubs, audiences freaked (no pun intended), and Atlantic signed over the group. "Dance, Dance, Dance" would ultimately top Billboard's Dance chart and reach No. 6 on the Hot 100; follow-up "Everybody Dance" was also a Top 40 single.
But it's not just those two hits that stick. Of particular note to this author are the groovy "São Paulo" and "Strike Up the Band," one of the few CHIC tunes with a co-writing credit (Rodgers and Edwards shared credit with Tony Lehman, a woodwind player for the group). All in all, it's a solid album, one whose reissue by Wounded Bird in 2008 was a welcome one.
CHIC, of course, were just getting started.
C'est CHIC (Atlantic, 1978)
Neither Rodgers, Edwards nor Thompson were visible presences of CHIC when the band began their rise to fame. There was no MTV to show off their ability to play, and the sleeve of their first album showed two sensuous ladies. This facelessness meant that when Grace Jones invited Rodgers and Edwards to New York City's Studio 54 nightclub on New Year's Eve of 1977, they weren't about to be recognized and let into the club - even though they were behind some of the tracks patrons were grooving to.
Disappointed with their inability to get ahead of the velvet rope, they decamped back home, cracked open a few bottles of wine and jammed. Nile laid down a scratchy guitar riff, Bernard pumped out a bubbly bass riff, and, to cap it all off, an angry lyric: "Aaaaah, fuck off!" They immediately knew they had something, but it wasn't going to sell with that lyric.
Cut to almost a year later: a clipped count-off, and "Aaaaah, freak out!" blares from the nightclub's sound system. "Le Freak" is the single, CHIC is the killer band behind it, and, three trips to the top of the Hot 100 and six million copies later (a still-standing record for Atlantic Records), a legend is born. But it's not only "Le Freak" that birthed the legend. It was "I Want Your Love," the bell-ringing follow-up hit. It was the killer instrumental "Savoir Faire," with its excellent guitar line and lush strings. It was the rush of the opening track, "Chic Cheer," the band's rallying cry if ever there was one.
C'est CHIC may be, pound-for-pound, the band's best album. So it's inconceivable that of all the band's LPs, it's one of a few to never get any remastering on CD in the States. Track down the original Atlantic CD from 1991 or Japanese pressings if you want, but it's something criminal that you have to do that kind of digging to score this gem.
Risqué (Atlantic, 1979)
Depending on who you ask, Risqué may not be the best thing CHIC got to do in 1979. The best may be Atlantic's request that they lend their production techniques to any act on the roster. When initial plans to work with Aretha Franklin fell through, Rodgers and Edwards picked Sister Sledge, a little-known group who'd cut two unnoticed LPs on Cotillion. By couching them in the CHIC Organization sound and writing them a clutch of seriously great tracks, they turned them into stars, with 1979's We Are Family.
[youtube=http://www.youtube.com/watch?v=5whlcu717IU]
So would CHIC have any juice left for their own record? Absolutely! Risqué boasts another clutch of great tracks, including the urgent grooves of "My Feet Keep Dancing" and "My Forbidden Lover." But the crown jewel is unquestionably "Good Times," an eight-minute jam that would be the envy of dance music-makers everywhere, from Queen to The Sugar Hill Gang. And, perplexingly, there's no CD remaster in sight.
Les Plus Grands Succès De Chic: Chic's Greatest Hits (Atlantic, 1979)
The band's deserved victory lap for a successful year. Seven tracks, six of which were hits ("My Forbidden Lover" only made international pressings; domestically, it was "Chic Cheer" that opened side two), three of which were single edits ("Le Freak," "I Want Your Love" and "Dance, Dance, Dance"). Never released on CD, but not to worry - there are plenty compilations for the band in that format.
Real People (Atlantic, 1980 - reissued Wounded Bird, 2003)
Blame the inevitable disco backlash that spread like wildfire (or blew up like dynamite) in 1979. Blame the best material going to other acts produced by the band that year (Sister Sledge's Love Somebody Today had "Got to Love Somebody," Sheila & B. Devotion's King of the World had the U.K. hit spacer - and of course there was the entirety of Diana Ross' diana). Whatever you blame, this was a rough time for CHIC, outside of the underrated single "Rebels Are We." However, it got its due on CD, reissued by Wounded Bird as a two-fer with Tongue in CHIC from two years later.
Take It Off (Atlantic, 1981 - reissued Wounded Bird, 2006)
Again, the CHIC Organization doesn't save the most interesting material for their own album, opting instead to give it to Debbie Harry (Koo Koo, which provides a key clue as to how CHIC's future productions would sound for the rest of the decade) and Johnny Mathis (whose unreleased I Love My Lady is the stuff of legend). While there's more to like here than on Believer thanks to tracks like "Stage Fright," "Burn Hard" and "Just Out of Reach," it's still not a patch on CHIC's own work in the '70s.
Soup for One: Original Motion Picture Soundtrack (WEA, 1982)
The third time was the charm for CHIC in the '80s, thanks to this soundtrack to a forgotten romantic comedy. Granted, its success comes from the band finally realizing that their greatest successes were coming from producing other people's albums, and therefore including some collaborations on their albums.
[youtube=http://www.youtube.com/watch?v=aW8UnXzP3ms]
While part of the record was previously released (a track each by CHIC, Sister Sledge and Debbie Harry), the two new CHIC tracks (the title track and the acoustic "Tavern on the Green") were keepers. But the best work was with the guests: Carly Simon's "Why," a propulsive slow-burn of a track, was inexplicably never a hit here but surged into the Top 10 in England. "I Work for a Livin'," featuring longtime CHIC vocalist Fonzi Thornton (whose CHIC-produced solo album would join Johnny Mathis in the pantheon of unreleased masters) was a solid performance. And one of the greatest gems of '80s R&B was "Dream Girl," a beautiful ballad sung by Teddy Pendergrass, released mere months after a car accident paralyzed him from the waist down.
Like too many of CHIC's other albums, this one is unavailable on CD.
Tongue in CHIC (Atlantic, 1982 - reissued Wounded Bird, 2003)
Released at the end of 1982, this record, like far too many of CHIC's albums in the '80s, offers little outside of the guilty pleasure "Hangin'," which is perhaps the group's closest successful attempt at updating the energy of the band's early disco records with respect to the techniques of the '80s. Those curious to know more should seek out Wounded Bird's reissue, which paired the LP with Real People.
Believer (Atlantic, 1983 - reissued Wounded Bird, 2006)
Believer, like so many before it, was also light on heavy-duty grooves, and CHIC would split up not long after the record came out. Worse than the lost of CHIC as a band, though, would be the loss of the CHIC Organization. Rodgers and Edwards had already each released solo albums in 1983 to little fanfare, and were starting to seek out their own avenues as producers. Nile was the producer of David Bowie's hit Let's Dance (1983), while Bernard and Tony only played here and there on the album. Nile would also produce Madonna's Like a Virgin the next year, but the core CHIC Organization was present for nearly all of that record, at least assuring that the band went out with a bang.
From there, Rodgers produced and mixed hits for Duran Duran, INXS, Peter Gabriel, The Thompson Twins and The B-52's while Rodgers produced The Power Station, Jody Watley, ABC, Robert Palmer and Rod Stewart (most of his projects had Thompson on drums)
[youtube=http://www.youtube.com/watch?v=7_L7vQV9tMg]
Freak Out: The Greatest Hits of CHIC and Sister Sledge (Telstar (U.K.), 1988)
The way back catalogue ownership was distributed at the time, it was hard to collate all of CHIC's successful songs and productions into one compilation, as many of the acts were on various labels. CHIC and Sister Sledge, however, were both Atlantic/Cotillion artists, and a natural fit for a compilation of their own. Not only did Freak Out collect the single edits of each band's biggest hits, but it included a couple of interesting old and new mixes, namely CHIC-commissioned remixes of Sledge's "Lost in Music" (featuring some of the members of Duran Duran on backing vocals) and "We Are Family" as well as "Jack Le Freak," a house-inspired mix overseen by British pop producers Phil Harding and Ian Curnow. The worth of this set, though, would be offset by similar titles coming in the next two decades.
MegaCHIC: The Best of CHIC (Atlantic (Europe), 1990)
The Top 20 placement of "Jack Le Freak" in the U.K. led to this European compilation, anchored by a new megamix of the band's biggest hits. The compilation itself also included mostly album and 12" versions (save "I Want Your Love" and "Le Freak").
Dance, Dance, Dance: The Best of CHIC (Atlantic, 1991) / The Best of CHIC, Volume 2 (Rhino, 1992)
Over time, the U.K.'s CHIC nostalgia spread to the U.S.; apparently, disco was starting to get back in again. (This idea, particularly as it applied to CHIC, peaked in 1993, when a remix of "We Are Family" by Sure is Pure became a Top 5 single in the U.K., charting even higher than the original version did.) So Atlantic and Rhino (not yet Warner's main catalogue arm) commissioned these two discs, the first true CHIC anthology in the States. Featuring remastered sound (though sound that is sometimes criticized by the most dedicated audiophiles) and informative liner notes, these were, for a time, your go-to CHIC compilations in the States. (The presence of single edits on both discs make them still worthy for collectors.)
CHIC-ism (Warner Bros., 1992 - reissued Wounded Bird, 2006)
Music critics weren't the only one to sense the early-'90s CHIC revival. When Nile and 'Nard happened to jam together on some CHIC songs at a birthday party with keyboardist Paul Schaeffer and drummer Anton Fig, the audience was rapturous. A full on album followed, and while this author wouldn't call it a full reunion (Fonzi Thornton and longtime concertmaster Gene Orloff return, but Tony Thompson is replaced by former Duran Duran replacement drummer Sterling Campbell), it's good to have the boys back making music. It's a long album at over an hour, and strangely more dated than any of the band's early works, but it's worth checking out if you're a big enough fan.
Everybody Dance (Rhino, 1995) / Dance, Dance, Dance and Other Hits (Atlantic, 1997)
Two inessential CHIC compilations, short on liner notes, chronological presentation or anything else. These are meant for the bargain bin.
[youtube=http://www.youtube.com/watch?v=ueyy83WP8o8]
CHIC Freak and More Treats (Video Arts (Japan), 1996 - reissued A440 Music, 2003)
Although this disc is often credited as a Nile solo album, the presence of Bernard Edwards on bass (and the fact that an international reissue credited it to CHIC) is enough to include it here. Even though it's mostly new recordings of old songs (including CHIC's hits and songs they produced for others), there's enough to pique your curiosity, notably the new "Do That Dance" with Simon Le Bon of Duran Duran on lead vocals.
Live at the Budokan (Sumthing Else MusicWorks, 1999)
CHIC's live sets at this point were jam-heavy mixes of their hits alongside CHIC Organization-produced hits, and Rodgers and Edwards were the only original members (noted session players included Omar Hakim on drums and onetime Prince protegee Jill Jones on vocals). But this show is magical for two reasons. One is some of the great guests in the show, including Slash, Steve Winwood and Sister Sledge.
The other is the date of the show: April 17, 1996. Rodgers was in the show in the first place to pick up an award for his production, and invited Edwards to come along. Before the show, Edwards came down with a bad case of pneumonia, but insisted that Nile not cancel. The show was intensely taxing for the bassist, but he performed admirably, so much so that at one point, Rodgers mistook Edwards' temporary loss of consciousness for an interesting minimalist approach to a groove. Unfortunately, the show would be Edwards' last; within a day, the pneumonia would kill him.
The Very Best of CHIC and Sister Sledge (Rhino (U.K.), 1999) / Good Times: The Very Best of CHIC and Sister Sledge - The Hits & The Remixes (Warner Strategic Marketing (U.K.), 2005)
Another batch of CHIC/Sledge compilations. Both feature a clutch of contemporary remixes, but the 2005 set adds those mixes to its own disc, featuring a healthy selection of vault mixes from the '80s and '90s. Highly recommended for new fans and collectors alike.
The Very Best of CHIC (Rhino, 2000)
While this compilation is a favorite in $5 bins at Walmart, it's got good sound and nice liner notes, plus the enjoyment of full-length LP mixes used for each track and a good song selection, which utilizes mostly hits (outside of album cuts "What About Me" and "Just Out of Reach"). This is arguably your current go-to disc if you've got no clue where to start with CHIC and want to do so on the cheap.
The Definitive Groove Collection (Rhino, 2006)
If you've got more money, though, go with this one from Rhino. Two discs of hits and album cuts, almost all of which are album length ("Give Me the Lovin'," from Believer, is the only single edit not found elsewhere on CD), robust sound and liner notes - a good compilation, all around.
Nile Rodgers Presents The CHIC Organization Volume 1 - Savoir Faire (Rhino France, 2010)
Once you're done wondering why a CHIC box set only came out in France and didn't come out at all until 2010, go and track down a copy of this set right now. Featuring the best of CHIC from the band's classic period, including hits, album tracks, unreleased outtakes, new remixes from producer Dimitri from Paris, productions from Sister Sledge, Diana Ross and more (including three of the Johnny Mathis tracks in their first official release), and presented in the best sound quality yet with some great liner notes penned by Rodgers himself, it's no wonder this was one of last year's best box sets.
[youtube=http://www.youtube.com/watch?v=g7F62ut37jw]