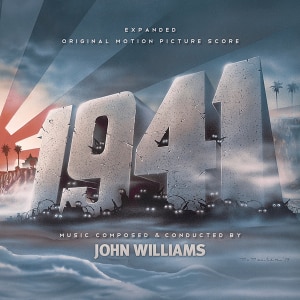 The War for Soundtracks rages on, and La-La Land Records' latest volley is the long-awaited expanded edition of the score to 1941, the 1979 World War II comedy scored by legendary composer John Williams for longtime collaborator, director Steven Spielberg.
Take some of the most talented young comedians of the '70s, put them in a picture written by two of the brightest upstarts in Hollywood and put the world's hottest young director in charge. Sounds like a formula for success, right? Maybe most of the time...but 1941 isn't anywhere near conventional.
Spielberg's zany ensemble comedy - an exaggeration of the panic on the West Coast in the aftermath of Pearl Harbor and the United States' impending entry into World War II - certainly has some of the funniest players around. Dan Aykroyd leads a bumbling squadron of troops (including early turns by John Candy, Treat Williams and Mickey Rourke) to protect Los Angeles from the evil Axis powers (represented by veterans Toshiro Mifune and Christopher Lee), whose attempt at capturing Hollywood leads to the abduction of a similarly-named Christmas tree salesman (Slim Pickens). And then there's Wild Bill Kelso, John Belushi's irascible fighter pilot who finds trouble everywhere he flies. (That doesn't even count Ned Beatty and Lorraine Gary as a family whose house becomes an unwitting lookout for the troops, Tim Matheson and Nancy Allen as an amorous couple on a B-52 or Robert Stack as a bumbling version of real-life Major General Joseph Stilwell.)
The young Spielberg went characteristically over budget on his feature, turning the smallest gags by writers Robert Zemeckis and Bob Gale into major set pieces. It was a surprise, however, when the film did not follow his similarly financially-overextended films, 1975's JAWS and 1977's Close Encounters of the Third Kind, to major success. (Contrary to popular belief, the film was not a box office bomb, but critics were quick to compare the young director's latest spectacle to the actual tragedy of Pearl Harbor. Nonetheless, 1941 would become a cult classic thanks to a generous amount of special features on the eventual laserdisc and DVD releases.)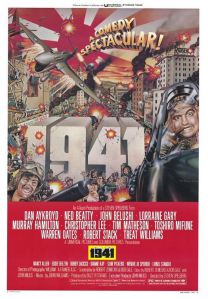 One area where 1941 succeeded was, unsurprisingly, the music. Spielberg and Williams had already established their collaboration with three classic scores - 1973's The Sugarland Express, the Oscar-winning JAWS and the Oscar-nominated Close Encounters - and 1941 marked a major milestone in the pair's partnership. Williams went all-out for the film's action scenes, anchoring the film with a march for the cast of characters that was both lighthearted and bombastic. The composer also jumped back into less-traveled territory, namely calling back to his jazzy comedy roots with a Benny Goodman-esque swing piece that scores a fight at a USO dance. (There's also one of the best jokes of Williams' musical repertoire: a humorous reprise of the iconic JAWS theme for the film's elaborate parody of the suspenseful opening sequence.)
1941 got a short but effective LP on Arista records that was later reissued on Varese Sarabande in the CD era. For this release, though, producer Mike Matessino has gone back to the original 16-track score masters to present, for the first time on CD, the complete score as heard in the film. As an added bonus, a second disc includes that original remastered LP appended with source cues and never-before-released alternates and rarities (including a relative rarity in Spielberg-Williams history: a suite composed exclusively for the film's original trailer).
From bombs bursting in air to sides splitting with laughter, 1941 is a major feather in La-La Land's cap, from here to Hollywood. And it's yours to order now, right after the jump.
John Williams, 1941: Original Motion Picture Soundtrack - Limited Edition (La-La Land Records LLLCD 1179, 2011 - original film released 1979)
Disc 1: Original film score
"1941" Main Title
Chrissie Takes Another Swim **
Sub Commander/Wild Bill Kelso **
Donna's Obsession/Birkhead's Pitch **
Poppa's Got a Gun *
You Have Been Chosen/You, You, You *
Capture of Hollis/Kelso Lost *
The Crackerjack Box *
The Sentries **
The Escape of Hollis *
More About Donna *
The Count Down/Swing, Swing, Swing **
The Brannigan
Here We Go
Kelso in Barstow **
Service Tunes *
Encounters *
Kelso's Attack/Deep in the Heart of Texas **
Eat Lead *
Defending the Homeland *
Wally Saves Betty **
Sound Off/Stolen Motorcycle *
Ward's Big Gun *
Going My Way Sister *
More Kelso
Taking Aim *
The Ferris Wheel **
The Tank Approaches/Finale *
"1941" End Credits
Disc 2: Original soundtrack LP and bonus material
The March from "1941"
The Invasion
The Sentries
Riot at the U.S.O.
To Hollywood and Glory
Swing, Swing, Swing
The Battle of Hollywood
The Ferris Wheel Sequence
Finale
In the Mood (Source)
Jingle Bells (Source) *
Down By the Ohio (Instrumental Source) *
Play-Off (Source) *
Goodnight, Sweetheart (Source) *
Promo Trailer *
Sub Commander/Wild Bill Kelso/Capture of Hollis (Alternate) **
The Escape of Hollis (Alternate) *
Kelso in Barstow (Alternate) **
Defending the Homeland (Alternate) *
Sound Off (Alternate) *
More Kelso (Alternate)
Finale (Alternate) *
"1941" End Credits (Alternate)
Disc 2, Tracks 1-9 originally released as Arista LP AL-9510, 1979. * denotes previously unreleased track. ** denotes track which contains previously unreleased material.