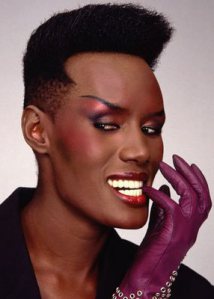 With her striking, even fearsome, physical appearance, distinctive voice and commitment to only the most danceable of music - a commitment that's netted her scores of Top 10 hits on Billboard's dance charts - it's safe to say there is no one quite like Grace Jones. Now, thanks to the efforts of the Gold Legion label, part of Jones' oft-overlooked early history is coming back out on compact disc.
Jones' discography is considered most bountiful during her time on Island Records, working with producers Chris Blackwell and Alex Sadkin on records like Warm Leatherette (1980), Nightclubbing (1981) and Slave to the Rhythm (1985). But before that, she recorded a trilogy of albums, also on Island, with disco legend Tom Moulton that set the groundwork for the rest of her career.
The albums - 1977's Portfolio, 1978's Fame and 1979's Muse - all follow a very similar pattern. The first side of each album features a lengthy, continuous presentation of songs, sometimes around a similar theme (Portfolio features three showtunes - Sondheim's "Send in the Clowns," "What I Did for Love" from A Chorus Line and "Tomorrow" from Annie - while Muse's song cycle centers on songs about sin and salvation). Each second side is a non-continuous, non-thematic side, sometimes featuring notable songs in French ("La Vie en Rose" on Portfolio, "Autumn Leaves (Les feuilles mortes)" on Fame, featuring English lyrics by Johnny Mercer). While all were respectable hits in nightclubs, particularly those lengthy side-long medleys, their releases dovetailed with the growing anti-disco backlash, forcing Jones to change her style and thereby leading to the gloriously off-the-wall music that would make her a star in the '80s.
Gold Legion is now bringing the last two of Jones' Moulton-produced albums to CD, one of which makes its debut on the format. (Fame was released on CD in Europe and Australia under PolyGram's Karussell/Spectrum imprints in 1993 - a disc that commands very high prices on the secondary market.) While no bonus material is included - a few international bonus cuts would have been viable additions to Fame - it's certainly a blast to have them on CD for a relatively more affordable price. Both discs are remastered from the original tapes and feature new liner notes by Christian John Wikane, a contributing editor for PopMatters.
Order links and track lists are after the jump. (Thanks to super reader Dean Harris for the tip!)
Grace Jones, Fame (Island ILPS 9525, 1978 - reissued Gold Legion GLDN-56226, 2011)
Do or Die
Pride
Fame
Autum Leaves
All on a Summers Night
Am I Ever Gonna Fall in Love in New York City
Below the Bealt (La Vieille Fille)
Grace Jones, Muse (Island ILPS 9538, 1979 - reissued Gold Legion GLDN-56227, 2011)
Sinning
Suffer
Repentance (Forgive Me)
Saved
Atlantic City Gambler
I'll Find My Way to You
Don't Mess with the Messer
On Your Knees