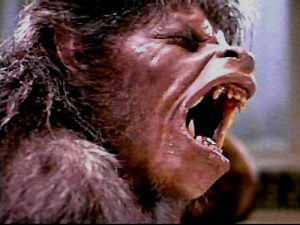 In 1941, the werewolf mythology gained an iconic set of lines in the Universal horror classic The Wolf Man: "Even a man who is pure at heart/and says his prayers by night/May become a wolf when the wolfsbane blooms/and the autumn moon is bright." Forty years later, from the same studio, a less delicate line was added to the lycanthrope canon: "I will not be threatened by a walking meat loaf!"
Such is the tone of An American Werewolf in London, one of the best horror-comedies of the past few decades. It's rare that a movie can strike such a perfect balance of laughs and screams, but AWiL has them in spades. With Halloween coming up - and the film's 30th anniversary having occurred this past August - The Second Disc triumphantly brings back the Friday Feature for a look back at this classic film, and the interesting musical history that surrounds the film, as well.
Beware the moon after the jump!
The genesis of American Werewolf occurred more than 10 years before the film was actually shot. John Landis was a 19-year-old production assistant on the Yugoslavian set of Kelly's Heroes, a war comedy starring Clint Eastwood when he saw an unusual sight: a gypsy burial on the side of the road. The body was buried in a ritual manner, so as not to rise from the grave. Already a fan of all things horrific and fantastic on film, Landis was quickly inspired to pen a draft of a screenplay about a young American backpacker who has a firsthand encounter with Hollywood's classic werewolf mythology: a man/beast bites him under the light of a full moon, and before long, he himself sprouts hair and fangs and develops a taste for blood.
Landis had a great idea, but he needed to prove himself as a filmmaker before he could realize the project. Though his first film, Shlock, released in 1971, didn't lead to any breakthroughs, Landis kept pushing. Eventually, a 1977 film, The Kentucky Fried Movie (a collection of off-the-wall sketches written by David Zucker, Jim Abrams and Jerry Zucker, who were also close to mainstream success with Airplane! and The Naked Gun), was a cult success. The film attracted the attention of Universal Studios, who hired him to direct National Lampoon's Animal House. With a stable of bright young stars, including Saturday Night Live actor John Belushi, Animal House was a critical and commercial success. 1980's The Blues Brothers, based upon an SNL sketch with Belushi and Dan Aykroyd, was another smash for Landis, who directed and co-wrote.
The director now had the clout to make American Werewolf. Shot on a tight budget of $10 million in England and starring two young Americans - David Naughton, best known for his catchy Dr. Pepper commercials, and future director Griffin Dunne - as the victims of the wolf, the film was poised to be a fun romp through Hollywood horror territory. But Landis had an ace up his sleeve that would elevate the movie into something much more.
Landis had known makeup artist Rick Baker for the length of his career. Baker designed ape suits for the director Schlock and The Kentucky Fried Movie (and would win a special achievement Oscar for his work on another ape film, the 1976 remake of King Kong). Landis wanted something outside of the norm for Werewolf; the lap dissolves and Jack Pierce makeup that turned Lon Chaney, Jr. into the beast of The Wolf Man was long since passé. But he almost didn't get it; Baker was signed onto another werewolf movie, Joe Dante's The Howling. Landis eventually persuaded Baker off the project (the artist's student and collaborator, Rob Bottin, would handle the reins on The Howling, and both were rather similar in terms of makeup).
[youtube=http://www.youtube.com/watch?v=UFLQS12z8K4]
The secret was foam latex over mechanical understructures, to contort the body from human to beast in ways that regular makeup could not convey. The first transformation scene, not hidden by shadow, remains a watershed moment in makeup effects. A combination of makeup and mechanics powered the little-seen final werewolf in the film; an actor wore a suit replicating the beast's full torso and laid on a gimbal while mechanical hind legs whirred behind him. Also impressive was Baker's makeup for Griffin Dunne, the backpacker killed early on in the film who comes back as his buddy's undead guide. Dunne's increasingly gory countenance - first covered in gashes and gore, then increasingly zombified throughout the picture - is a great touch of black comedy.
An American Werewolf in London was a critical and commercial success, turning back a healthy profit for the studio and garnering an Oscar for Baker - the first ever Outstanding Achievement in Makeup, which has since become a regular category. It was largely ignored by anyone for its music, however - and while there's not much that would have earned a nomination, there's a lot of music surrounding this film, both onscreen and off.
In keeping with the lighter tones of the movie, An American Werewolf in London is scored mostly with pop songs about - you guessed it! - the moon. Three versions of Rodgers and Hart's classic "Blue Moon" appear in the film: Bobby Vinton's 1963 version opens the flick, Sam Cooke's 1960 cover scores the transformation scene and The Marcels' chart-topping version from 1961 closes the film. Pivotal scenes in London are scored by Van Morrison's "Moondance" and Creedence Clearwater Revival's "Bad Moon Rising." (Landis attempted to add two other moon songs, Cat Stevens' "Moonshadow" and Bob Dylan's "Moonshiner," but was denied on both counts. Amazingly, there's no record of him attempting to license the most obvious, Warren Zevon's "Werewolves of London.")
[youtube=http://www.youtube.com/watch?v=eHUo2xsEIFM]
But there is a dedicated film score to be heard in the movie, even if for only a few minutes. And it's a pretty big name, too: Landis got Elmer Bernstein to score a few pivotal scenes, most notably David's pre-transformation nightmare sequences. The urgent, rhythmic music has never been released on CD, but it's certainly a holy grail among collectors. (No official word if Bernstein scored the over-the-top adult film See You Next Wednesday, created for the pre-climactic scene in Piccadilly Circus!)
[youtube=http://www.youtube.com/watch?v=wE8M6rhxIhk]
So what official soundtrack exists of An American Werewolf in London? Oddly enough, it's a pop LP by Meco Monardo, he of the discofied Star Wars album. On Impressions of An American Werewolf in London, however, he goes for straightforward pop/rock, covering "Bad Moon Rising" and "Blue Moon" with a minimum of cheesy effects, and turns out some interesting arrangements of pop originals as well as bits of Bernstein's own score. Naturally, it too remains unavailable on CD.
Meco, Impressions of An American Werewolf in London (Casablanca NBLP-7260, 1981)
Blue Moon
You Gotta Hurt Me
Moon Dance
The Boys
Bad Moon Rising
No More Mr. Nice Guy
Werewolf (Loose in London)
Werewolf Serenade