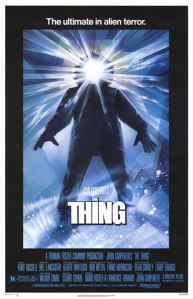 Our enjoyment of music takes many shapes and sizes, from the most basic of digital files to the vast quantities of reissues and box sets we all enjoy around The Second Disc. Part of the nervous excitement in being a collector is really never knowing what your latest musical obsession will look or sound like - and that's, I think, what keeps us coming back.
Now, replace "music" with "an alien virus from another planet" and "nervous excitement" with "crippling terror" and you have the subject of our latest Friday Feature, John Carpenter's sci-fi/horror classic interpretation of The Thing. Far too often overlooked is the rich history of the story that became one of the most chilling alien flicks of the past three decades - or the musical pedigree of both film adaptations. So bundle up, grab your flamethrower and get ready for terror - musical terror - to take shape.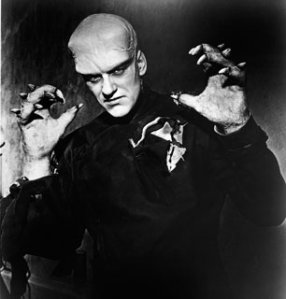 The story of The Thing begins in 1938, when influential sci-fi writer John W. Campbell, Jr. (under the pen name of Don A. Stuart) wrote a novella for Astounding Stories (now known as Analog Science Fiction and Fact, still the longest-running magazine of its genre). Who Goes There? was the story of an Antarctic team of researchers who find an alien spacecraft buried under the icy wasteland. As the crew soon discovers, the pilot of the ship has the power to perfectly recreate itself as any other living thing, leading to a claustrophobic tale of survival as the research team questions who is human and who is not.
The first adaptation of the tale for moviegoers was, at best, a loose interpretation of the original story. The action shifts poles to the Arctic Circle, where a group of scientists and members of the Air Force are pitted against a slightly less crafty alien being - not a shapeshifter but a humanoid-based plant resembling a hulking, pre-Gunsmoke James Arness.
Despite the deviation from its source material, The Thing from Another World - produced by legendary director Howard Hawks (of Scarface and Bringing Up Baby fame) - was the highest-grossing sci-fi film of the year and a classic of the genre. Selected for preservation by the National Film Registry in 2001, the film's other merits include one of the most recognizable lines in film history: Douglas Spencer, playing the reporter who gets the story of a lifetime by tagging along with the expedition, closes his report with a stern warning to "watch the skies everywhere, keep looking, keep watching the skies."
Legendary composer Dimitri Tiomkin, known for his Oscar-winning work on High Noon, was certainly an offbeat choice to score a science fiction film, but he did so admirably, anticipating the by-now iconic sonic landscape of '50s sci-fi, theremin and all. (He never went back to the genre, though.) A 2005 release through Film Score Monthly paired the score (sourced from Tiomkin's personal mono acetates, as the original masters were lost) with Tiomkin's score to a military film, 1953's Take the High Ground! The set, co-produced with Turner Classic Movies and limited to 10,000 copies, is still available.
Dimitri Tiomkin, The Thing from Another World / Take the High Ground! Original Motion Picture Soundtracks (Film Score Monthly FSMCD Vol. 8, No. 1, 2005 - original films released 1951/1953)
Main Title
Flying Saucer Sequence, Part 1
Flying Saucer Sequence, Part 2
Melting Sequence
Dog Fight
The Hand
Greenhouse Sequence
The Thing at Door
Plasma #1
Plasma Plants #2
Fire Sequence
Electrocution Sequence
End Title
Lion Head/Prologue/Main Title/Foreword
Holt's Opening Address
Footlockers/Mattresses/Sinking Teeth Bridge/First Day Recap
Platoon Breakup
Julie
Julie Faints
Obstacle Montage/Gas Chamber/Platoon Drill
Letters from Home
Julie's Theme
Julie's Distress/Holt Comes Home/Naglaski and Chaplain
Infiltration Course/Mock Battle
Julie (Sung by Bill Lee)
William Tell Tolliver
Neon Lighted Love
Let Me Alone
Dover AWOL/Dover Returns
Goodbye Julie/Buddies Again
Dress Parade/America's Fighting Men
Ryan Takes Over
End Title
Julie's Theme (Key Club Version)
Take the High Ground (conducted by Johnny Green)
Julie's Theme (Alternate)
Tracks 1-13 from The Thing from Another World. Tracks 14-36 from Take the High Ground!
It took 41 years after The Thing from Another World to see a more faithful remake of the original story. John Carpenter had established himself as a master of horror with Halloween - the iconic 1978 horror film he wrote, produced, directed and composed - and The Fog, released a year later. After venturing into action/sci-fi territory with 1981's Escape from New York, Carpenter took on an adaptation of Who Goes There?, written for the screen by Bill Lancaster (writer of The Bad News Bears).
This venture was far more faithful to the original tale, changing only two major details: in Carpenter's story, The Thing wasn't a full-bodied alien, per se, but a virulent strain of extraterrestrial life. And it wasn't discovered by the American research outpost after a spaceship crashed; instead, the original discoverers were a nearby Norwegian team, all of whom met grisly ends at the hands of the creature.
The Thing is perhaps best known for its groundbreaking special effects, supervised by Rob Bottin of The Howling fame. Bottin's mechanical armatures under latex skins were wildly effective here, as the beast casually discards its victims in violent fashion and bursts out of their hosts as asymmetrical, snarling demons. The scene in which the team member Norris, suffering from a heart attack, is revealed to be an alien remains one of the most delightfully gory alien sequences ever put on film.
[youtube=http://www.youtube.com/watch?v=JjIXwkX1e48]
Despite the perfect storm of suspense and shock horror - not to mention the stone-cold brilliant casting of Kurt Russell as headstrong, heroic, luxuriously bearded pilot MacReady - The Thing was a box-office bomb, likely owing to the other sci-fi screen story of 1982, a far more positive endeavor put out by the same studio, Universal Pictures. But today, the film remains a perpetual favorite of cult-film lovers and horror enthusiasts.
It also boasted a stunningly underrated score from a legend of film composition: Ennio Morricone. The minimal, synth-undercut score captured the bleak landscape and ultimately nihilistic outlook of the film. Beyond a 46-minute soundtrack album, fans have clamored for an expanded presentation for years.
Ennio Morricone, The Thing: Original Motion Picture Soundtrack (MCA Records 6111, 1982 - released on CD as Varese Sarabande VSD-5278)
Humanity (Part 1)
Shape
Contamination
Bestiality
Solitude
Eternity
Wait
Humanity (Part II)
Sterilization
Despair
The legacy of The Thing continues to live on: in 2002, a well-received video game depicted a research and rescue mission at Outpost 31 not long after the events of Carpenter's film. And this weekend, Universal releases a reimagining/prequel to the film showing what happened at that Norwegian base. (Hint: it ain't pretty!) At this point, it's safe to say The Thing will reside in the hearts of sci-fi loving humans everywhere - and you know what they say: man is the warmest place to hide.