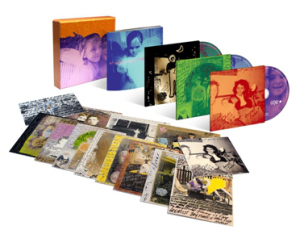 Anyone worried that Billy Corgan's muse would take him away from the long-promised expanded reissues of The Smashing Pumpkins' catalogue can breathe a sigh of relief. The first two entries in the reissue campaign - 2 CD/1 DVD editions of Gish (1991) and Siamese Dream (1993) - have been announced for a November 28 release domestically (December 5 for the rest of the world).
These albums - produced by Butch Vig and remastered by Bob Ludwig - are the first in a lengthy salvo of reissues promised by EMI through 2013. Featuring new interviews with frontman Corgan conducted by journalist David Wild and bonus material curated by Corgan, the packages follow the tradition of deluxe editions by David Bowie and Duran Duran, with lift-top boxes holding the three discs and additional artwork.
As for bonus material, Gish and Siamese Dream boast a healthy amount of unreleased demos and session material. (Gish uses some already-released material, featuring new Butch Vig-commissioned mixes of some single and B-side tracks, including the band's original version of "Tristessa" released by Sub Pop Records, but most of the B-sides are likely being saved for an expanded version of Pisces Iscariot, the band's original B-sides-and-rarities set.) The sets will each come with newly-released vintage live shows on DVD, both recorded at Chicago's Metro club and featuring new introductions from club owner Joe Shanahan.
Hit the jump for the full scoop on track lists for each set!
Gish: Deluxe Edition (Virgin/EMI, 2011)
Disc 1: Original LP (originally released as Caroline Records 1705, 1991)
I am One
Siva
Rhinoceros
Bury Me
Crush
Suffer
Snail
Tristessa
Window Paine
Daydream
Disc 2: Bonus material
Starla (2011 Mix)
Siva (John Peel Session - 8/7/1991)
Honeyspider (Reel Time Demo - 2011 Mix)
Hippy Trippy (Crush Music Box Demo)
Snail (Live Radio Performance)
Plume (2011 mix)
Bury Me (Reel Time Demo - 2011 Mix)
Daydream (Old House Demo)
Tristessa (Sub Pop Single Version - 2011 Mix)
Girl Named Sandoz (John Peel Session - 8/7/1991)
Jesus is the Sun (Apartment Demo)
Blue (Gish Sessions Demo)
Smiley (Gish Sessions Demo)
I Am One (Reel Time Demo - 2011 Mix)
Seam (Suffer/Apartment demo)
La Dolly Vita (2011 mix)
Pulseczar (Gish Sessions Demo)
Drown (Alternate Guitar Solo)
Original versions of Tracks 1 and 6 were B-sides to "I Am One" 12" single - Hut Recordings HUTT 18 (U.K.), 1992
Tracks 2 and 10 released on The Peel Sessions EP - Hutt Recordings HUTT 17 (U.K.), 1992
Original versions of Tracks 3, 9 and 16 released as Sub Pop 12" single 90, 1990
Track 17 released on Earphoria promo (Virgin DPRO-12694, 1994)
All other songs previously unreleased.
Disc 3: DVD - Live at The Metro, Chicago, - 8/25/1990
Introduction
I am one
Snail
Rhinoceros
Bury Me
Tristessa
Window Paine
Razor
Sookie Sookie
Godzilla
Crush (Acoustic)
Siamese Dream: Deluxe Edition (Virgin/EMI, 2011)
Disc 1: Original LP (originally released as Caroline 1740, 1993)
Cherub Rock
Quiet
Today
Hummer
Rocket
Disarm
Soma
Geek U.S.A
Mayonaise
Spaceboy
Silverfuck
Sweet Sweet
Luna
Disc 2: Bonus material
Pissant (Siamese Sessions Rough Mix)
Siamese Dream (Broadway Rehearsal Demo)
STP (Rehearsal Demo)
Frail and Bedazzled (Soundworks Demo)
Luna (Apartment Demo)
Quiet (BBC Session - Billy Corgan Mix)
Moleasskiss (Soundworks Demo)
Hello Kitty Kat (Soundworks Demo)
Today (Broadway Rehearsal Demo)
Never Let Me Down Again (BBC Session)
Apathy's Last Kiss (Siamese Sessions Rough Mix)
Ache (Silverfuck Rehearsal Demo)
U.S.A. (Soundworks Demo)
U.S.S.R. (Soundworks Demo)
Spaceboy (Acoustic Mix)
Rocket (Rehearsal Demo)
Disarm (Acoustic Mix)
Soma (Instrumental Mix)
All songs previously unreleased except Track 10, originally released on Large N' in Charge (Hut Recordings/Virgin 8399162, 1994)
Disc 3: DVD - Live at The Metro Chicago - 8/14/1993
Introduction
Rocket
Quiet
Today
Rhinoceros
Geek U.S.A.
Soma
I am One
Disarm
Spaceboy
Starla
Cherub Rock
Bury me
Hummer
Siva
Mayonaise
Drown
Silverfuck