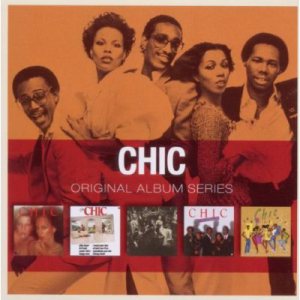 Ever feel like all the fancy bonus content and packaging on some reissues totally overshadows the music? Rhino's European division must've felt so, too: they released a handful of Original Album Series boxes a few weeks ago, featuring a lot of music with a minimum of frills and a relatively low price.
The titles - five albums by one artist, housed in mini-LP cardboard sleeves and put into a box - are the ideal quick, easy discography builder for new fans or collectors with a few notable gaps on their shelves. A myriad of artists, from the obvious (CHIC, Carly Simon, The Doobie Brothers) to the overlooked (Sérgio Mendes, The Young Rascals, Tim Buckley), are represented here. While some of these titles are available in expanded form, a few of these are hard to find on their own on CD. With a price tag that hovers around the £10 mark, it's certainly something to consider.
All of the titles, with the albums they contain, are after the jump, along with links from Amazon's U.K. pages.
Tim Buckley, Original Album Series (Elektra/Rhino (U.K.), 2011)
Disc 1: Tim Buckley (originally released as Elektra EKS-74004, 1966)
Disc 2: Goodbye and Hello (originally released as Elektra EKS-74028, 1967)
Disc 3: Happy Sad (originally released as Elektra EKS-74045, 1969)
Disc 4: Blue Afternoon (originally released as Straight STS-1060, 1969)
Disc 5: Lorca (originally released as Elektra EKS-74074, 1970)
CHIC, Original Album Series (Atlantic/Rhino (U.K.), 2011)
Disc 1: CHIC (originally released as Atlantic SD-19153, 1977)
Disc 2: C'est CHIC (originally released as Atlantic SD-19209, 1978)
Disc 3: Risqué (originally released as Atlantic SD-16003, 1979)
Disc 4: Real People (originally released as Atlantic SD-16016, 1980)
Disc 5: Take It Off (originally released as Atlantic SD-19323, 1981)
Bobby Darin, Original Album Series (ATCO/Rhino (U.K.), 2011)
Disc 1: Darin at The Copa (originally released as ATCO SD 33-122, 1960)
Disc 2: For Teenagers Only (originally released as ATCO 1001, 1960)
Disc 3: Bobby Darin and Johnny Mercer, Two of a Kind (originally released as ATCO SD 33-122, 1961)
Disc 4: Love Swings (originally released as ATCO SD 33-134, 1961)
Disc 5: Twist with Bobby Darin (originally released as ATCO SD 33-138, 1961)
The Doobie Brothers, Original Album Series (Warner Bros. Records/Rhino (U.K.), 2011)
Disc 1: Toulouse Street (originally released as Warner Bros. Records BS-2364, 1971)
Disc 2: The Captain and Me (originally released as Warner Bros. Records BS-2694, 1973)
Disc 3: What Were Once Vices Are Now Habits (originally released as Warner Bros. Records W-2750, 1974)
Disc 4: Stampede (originally released as Warner Bros. Records BS-2835, 1975)
Disc 5: Takin' It to the Streets (originally released as Warner Bros. Records BS-2899, 1976)
Sérgio Mendes, Original Album Series (Atlantic/Rhino (U.K.), 2011)
Disc 1: The Swinger from Rio (originally released as Atlantic SD-1434, 1965)
Disc 2: In Person at El Matador (originally released as Atlantic SD-8112, 1965)
Disc 3: The Great Arrival (originally released as Atlantic SD-1466, 1966)
Disc 4: The Beat of Brazil (originally released as Atlantic SD-1480, 1967)
Disc 5: Sérgio Mendes' Favorite Things (originally released as Atlantic SD-8177, 1968)
Bette Midler, Original Album Series (Atlantic/Rhino (U.K.), 2011)
Disc 1: The Divine Miss M (originally released as Atlantic SD-7238, 1972)
Disc 2: Bette Midler (originally released as Atlantic SD-7270, 1973)
Disc 3: Songs for the New Depression (originally released as Atlantic SD-18155, 1976)
Disc 4: Broken Blossom (originally released as Atlantic SD-19151, 1977)
Disc 5: The Rose: Original Soundtrack Recording (originally released as Atlantic SD-16010, 1979)
Ministry, Original Album Series (Sire/Rhino (U.K.), 2011)
Disc 1: Twitch (originally released as Sire 25309, 1986)
Disc 2: The Land of Rape and Honey (originally released as Sire 25799, 1988)
Disc 3: The Mind is a Terrible Thing to Taste (originally released as Sire 26004, 1989)
Disc 4: In Case You Didn't Feel Like Showing Up (Live) (originally released as Sire 26266, 1990)
Disc 5: ΚΕΦΑΛΗΞΘ (Psalm 69) (originally released as Sire 26727, 1992)
Montrose, Original Album Series (Warner Bros./Rhino (U.K.), 2011)
Disc 1: Montrose (originally released as Warner Bros. BSK-3106, 1973)
Disc 2: Paper Money (originally released as Warner Bros. BS-2823, 1974)
Disc 3: Warner Bros. Presents Montrose! (originally released as Warner Bros. BS-2892, 1975)
Disc 4: Jump on It (originally released as Warner Bros. BS-2963, 1976)
Disc 5: Ronnie Montrose, Open Fire (originally released as Warner Bros. BSK-3134, 1978)
Randy Newman, Original Album Series (Warner Bros./Rhino (U.K.), 2011)
Disc 1: Randy Newman (originally released as Reprise RS-6286, 1968)
Disc 2: 12 Songs (originally released as Reprise RS-6373, 1970)
Disc 3: Sail Away (originally released as Reprise MS-2064, 1972)
Disc 4: Good Old Boys (originally released as Reprise MS-2193, 1974)
Disc 5: Little Criminals (originally released as Warner Bros. BSK-3079, 1977)
Pantera, Original Album Classics (ATCO/Rhino (U.K.), 2011)
Disc 1: Cowboys from Hell (originally released as ATCO 91372, 1990)
Disc 2: Vulgar Display of Power (originally released as ATCO 91758, 1991)
Disc 3: Far Beyond Driven (originally released as EastWest 92302, 1994)
Disc 4: The Great Southern Trendkill (originally released as EastWest 61908, 1996)
Disc 5: Reinventing the Steel (originally released as EastWest 62451, 2000)
Carly Simon, Original Album Classics (Elektra/Rhino (U.K.), 2011)
Disc 1: Carly Simon (originally released as Elektra EKS-75016, 1971)
Disc 2: Anticipation (originally released as Elektra EKS-74082, 1971)
Disc 3: No Secrets (originally released as Elektra EKS-75049, 1972)
Disc 4: Hotcakes (originally released as Elektra 7E-1002, 1974)
Playing Possum (originally released as Elektra 7E-1033, 1975)
Sister Sledge, Original Album Classics (Atlantic/Rhino (U.K.), 2011)
Disc 1: Circle of Love (originally released as ATCO SD 36-105, 1975)
Disc 2: Together (originally released as Cotillion SD-9919, 1977)
Disc 3: We Are Family (originally released as Cotillion SD-5209, 1979)
Disc 4: Love Somebody Today (originally released as Cotillion SD-16012, 1980)
Disc 5: All-American Girls (originally released as Cotillion SD-16027, 1981)
The Young Rascals, Original Album Series (Atlantic/Rhino (U.K.), 2011)
Disc 1: The Young Rascals (originally released as Atlantic SD-8123, 1966)
Disc 2: Collections (originally released as Atlantic SD-8134, 1967)
Disc 3: Groovin' (originally released as Atlantic SD-8148, 1967)
Disc 4: Once Upon a Dream (originally released as Atlantic SD-8169, 1968)
Disc 5: Freedom Suite (originally released as Atlantic SD-2901, 1969)