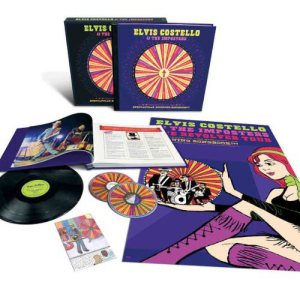 In 1986, Elvis Costello and The Attractions did something bizarre for rock musicians: they reinvented the wheel. Okay, maybe that's pushing it, but the introduction of "The Spectacular Spinning Songbook" to Costello's tour itinerary remains among the most treasured of memories for longtime fans. Costello, who only used The Attractions once on his then-new album, King of America (opting instead for a number of other musicians, including a studio-created group, The Confederates, featuring T-Bone Wolk and Mitchell Froom and members of Elvis Presley's 1970s T.C.B. Band), reassembled them for a humorously gaudy portion of the tour in which Costello, in character as fictitious game show host Napoleon Dynamite (years before that name was re-appropriated on film), invited audience members to spin a giant wheel to determine what the next song in the set list would be. Selections were varied, from hits to deep cuts to the odd cover or two.
A quarter of a century later, Elvis Costello and The Imposters (featuring original Attractions Steve Nieve on keyboards and Pete Thomas on drums and Davey Farragher on bass) reignited a live frenzy by bringing back the Spectacular Spinning Songbook - and this time, it's been captured for release. And the lavish box set nature of the release is enough to warrant coverage on The Second Disc, for sure.
Hip-O's Return of the Spectacular Spinning Songbook is a limited-edition box - only 1,500 numbered copies worldwide - culled from the group's two dates at Los Angeles' Wiltern Theater in May of 2011. The set includes a CD of 16 performances from both nights, ranging from all ends of Costello's lengthy career, from "Mystery Dance" off his 1978 debut My Aim is True to the title track of 2010's National Ransom. The accompanying DVD showcases the second show on May 12 and includes highlights in covers of Nick Lowe ("Heart of the City") and The Rolling Stones ("Out of Time") as well as "Tear Off Your Own Head (It's a Doll Revolution)," featuring a guest appearance from Susanna Hoffs, who covered the track with The Bangles a year after Costello released his version on When I Was Cruel in 2002.
The box set also features a 10" EP with an additional four songs, a 40-page hardbound book of photos and Costello's journal entries while on tour, a 20" x 30" poster, a limited edition tour postcard and a commemorative card signed by Costello himself. Those who don't want all the super-deluxe trimmings can rest easy, though: next year, the CD and DVD will be released individually and as a two-disc set.
The set's in shops November 28, but you can order your copy right now through Amazon. Enjoy the set lists after the jump.
Elvis Costello and The Imposters, The Return of the Spectacular Spinning Songbook: Super Deluxe Edition (Hip-O Records B0016176-00, 2011)
Disc 1: CD - The Wiltern Theater, Los Angeles, May 11-12, 2011
I Hope You're Happy Now
Heart of the City
Mystery Dance
Radio Radio
Everyday I Write the Book
God Give Me Strength
Watching the Detectives
Tear Off Your Own Head (It's a Doll Revolution) (featuring Susanna Hoffs)
Out of Time (Mick Jagger-Keith Richards)
I Want You
Stella Hurt
All Grown Up
Lipstick Vogue
Man Out of Time
National Ransom
(What's So Funny 'Bout) Peace, Love and Understanding?
Disc 2: DVD - The Wiltern Theater, Los Angeles, May 12, 2011
I Hope You're Happy Now
Heart of the City
Mystery Dance
Radio Radio
Clubland
God Give Me Strength
Tear Off Your Own Head (It's a Doll Revolution) (featuring Susanna Hoffs)
Out of Time
I Want You
Everyday I Write the Book
Stella Hurt
A Slow Drag with Josephine
Jimmie Standing in the Rain
Alison
Earthbound
(What's So Funny 'Bout) Peace, Love and Understanding?
Uncomplicated (Bonus Track)
Watching the Detectives (Bonus Track)
Monkey to Man (Bonus Track)
10" EP: The Wiltern Theater, Los Angeles, May 11-12, 2011
Pump It Up (in 6/8)
Busted
Brilliant Mistake
Strict Time