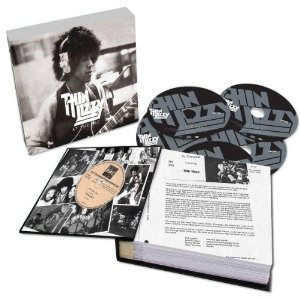 With the recent wave of expanded reissues of the Thin Lizzy catalogue across the pond (in some cases after years of waiting), it's easy for eager fans to ask what comes next. The answer is quite a doozy: November sees the release of a massive seven-disc box set that captures the band's various live stands recorded by the BBC.
The set has everything stored in the BBC archives, including sessions with the likes of Bob Harris and John Peel through the '70s, two sets at London's Golders Green Hippodrome recorded for BBC In Concert in 1973 and 1974, a 1981 gig at the Hammersmith Odeon, one at Hitchin's Regal Theatre in 1983 and a DVD featuring two complete shows, performances on Top of the Pops and The Old Grey Whistle Test and more. Some of the tracks were resurrected by the work of fans and collectors, who supplied their own tapes for Universal to include as much music as possible. (The BBC commonly erased tapes after using them, meaning that some performances aren't complete.)
While some of these tracks have been released before - some tracks bowed on Strange Fruit's Peel Sessions compilation in 1994, others on the aforementioned recent expanded editions and the 1977 show at The Rainbow Theatre was the basis for the iconic Live and Dangerous album - this is likely going to be a set that hardcore Lizzy fans won't want to miss. (And casual fans also have something to look forward to: a cut-down double-disc set is also being released on the same day, November 7.)
So what's in the box? Find out after the jump.
Thin Lizzy at The BBC (UMC (U.K.), 2011)
Disc 1: Sessions 1971-1973
Look What The Wind Just Blew In (Sounds of The Seventies - 7/7/1971) *
Return of the Farmer's Son (Sounds of The Seventies - 7/7/1971)
Whiskey in the Jar (John Peel Session - 11/14/1972) * +
Suicide (John Peel Session - 11/14/1972) +
Black Boys on the Corner (John Peel Session - 11/14/1972) +
Saga of the Ageing Orphan (John Peel Session - 11/14/1972) * +
Vagabond of the Western World (John Peel Session - 7/31/1973) * +
Gonna Creep Up on You (John Peel Session - 7/31/1973) * +
Little Girl in Bloom (John Peel Session - 7/31/1973) +
Randolph's Tango (John Peel Session - 8/6/1973) *
The Rocker (John Peel Session - 8/6/1973)
Slow Blues (John Peel Session - 8/6/1973) *
Randolph's Tango (Bob Harris Session - 8/29/1973)
Little Girl In Bloom (Bob Harris Session - 8/29/1973) *
The Rocker (Bob Harris Session - 8/29/1973) *
Disc 2: Sessions 1974
Little Girl in Bloom (Rock On Session - 2/25/1974) +
Little Darling (Rock On Session - 2/25/1974)
Showdown (Rock On Session - 2/25/1974) *
Sitamoia (Bob Harris Session - 3/6/1974) +
Little Darling (Bob Harris Session - 3/6/1974) * +
Slow Blues (Bob Harris Session - 3/6/1974) +
Showdown (Bob Harris Session - 3/6/1974) +
It's Only Money (John Peel Session - 4/4/1974)
Little Darling (John Peel Session - 4/4/1974) +
Still in Love with You (John Peel Session - 4/4/1974) +
Black Boys on the Corner (John Peel Session - 4/4/1974) * +
Sitamoia (John Peel Session - 4/4/1974) *
She Knows (John Peel Session - 10/4/1974) *
It's Only Money (John Peel Session - 10/4/1974) *
Sha La La (John Peel Session - 10/4/1974) *
Philomena (John Peel Session - 10/4/1974) *
Disc 3: Sessions 1974-1977
Dear Heart (Bob Harris Session - 10/23/1974)
Banshee (Bob Harris Session - 10/23/1974)
Half Caste (John Peel Session - 5/29/1975) *
Rosalie (John Peel Session - 5/29/1975) * +
Suicide (John Peel Session - 5/29/1975) +
Emerald (John Peel Session - 2/12/1976) +
The Warrior (John Peel Session - 2/12/1976) +
Cowboy Song (John Peel Session - 2/12/1976) * +
Jailbreak (John Peel Session - 2/12/1976) * +
Don't Believe a Word (John Peel Session - 9/23/1976) * +
Johnny (John Peel Session - 9/23/1976) * +
Fools Gold (John Peel Session - 9/23/1976) +
Johnny the Fox Meets Jimmy the Weed (John Peel Session - 9/23/1976) +
Killer Without a Cause (John Peel Session - 8/1/1977) +
Bad Reputation (John Peel Session - 8/1/1977) * +
That Woman's Gonna Break Your Heart (John Peel Session - 8/1/1977) +
Dancing in the Moonlight (It's Caught Me in Its Spotlight) (John Peel Session - 8/1/1977) * +
Downtown Sundown (John Peel Session - 8/1/1977)
Disc 4: In Concert 1973-1974
The Rocker (Live @ Golders Green Hippodrome, London - 7/26/1973)
Things Ain't Working Out Down At the Farm (Live @ Golders Green Hippodrome, London - 7/26/1973) *
Slow Blues (Live @ Golders Green Hippodrome, London - 7/26/1973)
Gonna Creep Up On You (Live @ Golders Green Hippodrome, London - 7/26/1973)
Suicide (Live @ Golders Green Hippodrome, London - 7/26/1973) *
She Knows (Live @ Golders Green Hippodrome, London - 11/27/1974)
It's Only Money (Live @ Golders Green Hippodrome, London - 11/27/1974)
Still in Love with You (Live @ Golders Green Hippodrome, London - 11/27/1974) *
Showdown (Live @ Golders Green Hippodrome, London - 11/27/1974)
Rock 'N' Roll with You (Live @ Golders Green Hippodrome, London - 11/27/1974)
Baby Drives Me Crazy (Live @ Golders Green Hippodrome, London - 11/27/1974) *
Disc 5: Live at the Hammersmith Odeon, London - 11/27/1981
Angel of Death +
Renegade * +
Hollywood (Down on Your Luck) +
The Pressure Will Blow
Killer on the Loose * +
The Boys Are Back in Town +
Are You Ready
Baby Drives Me Crazy
Emerald +
Disc 6: Live at the Regal Theatre, Hitchin, U.K. - 1/26/1983
Introduction
Jailbreak
This is the One
Cold Sweat *
The Sun Goes Down
The Holy War
The Boys Are Back in Town *
Rosalie
Baby Please Don't Go
Still in Love with You
Dancing in the Moonlight (It's Caught Me in Its Spotlight)
Baby Drives Me Crazy
Disc 7: DVD
The Boys Are Back in Town (Live at The Rainbow Theatre, London - 3/29/1978) +
Emerald (Live at The Rainbow Theatre, London - 3/29/1978) +
Dancing in the Moonlight (It's Caught Me in Its Spotlight) (Live at The Rainbow Theatre, London - 3/29/1978) +
Massacre (Live at The Rainbow Theatre, London - 3/29/1978) +
Still in Love with You (Live at The Rainbow Theatre, London - 3/29/1978) +
Don't Believe a Word (Live at The Rainbow Theatre, London - 3/29/1978) +
Are You Ready? (Live at The Rainbow Theatre, London - 3/29/1978) +
Sha La La (Live at The Rainbow Theatre, London - 3/29/1978) +
Baby Drives Me Crazy (Live at The Rainbow Theatre, London - 3/29/1978) +
Me and the Boys (Live at The Rainbow Theatre, London - 3/29/1978) +
Jailbreak (Live at the Regal Theatre, Hitchin, U.K. - 1/26/1983)
This is the One (Live at the Regal Theatre, Hitchin, U.K. - 1/26/1983)
Cold Sweat (Live at the Regal Theatre, Hitchin, U.K. - 1/26/1983)
The Sun Goes Down (Live at the Regal Theatre, Hitchin, U.K. - 1/26/1983)
The Holy War (Live at the Regal Theatre, Hitchin, U.K. - 1/26/1983)
The Boys Are Back in Town (Live at the Regal Theatre, Hitchin, U.K. - 1/26/1983)
Rosalie (Live at the Regal Theatre, Hitchin, U.K. - 1/26/1983)
Baby Please Don't Go (Live at the Regal Theatre, Hitchin, U.K. - 1/26/1983)
Whiskey in the Jar (Live on Top of the Pops - 2/1/1973)
Jailbreak (Live on Top of the Pops - 7/29/1976)
Don't Believe a Word (Live on Top of the Pops - 7/29/1976)
Dancing in the Moonlight (Live on Top of the Pops - 8/11/1977)
Dancing in the Moonlight (Live on Top of the Pops - 8/25/1977)
Rosalie (Cowgirl Song) (Live on Top of the Pops - 5/11/1978)
Rosalie (Cowgirl Song) (Live on Top of the Pops - 6/22/1978)
Waiting for an Alibi (Live on Top of the Pops - May 1979)
Sarah (Live on Top of the Pops - May 1979)
Chinatown (Live on Top of the Pops - 1980)
Are You Ready (Live on Top of the Pops, 4/30/1981)
Are You Ready (Live on Top of the Pops - May 1981)
Back on the Streets (Live on The Old Grey Whistle Test, 2/9/1979)
Don't Believe a Word (Live on The Old Grey Whistle Test, 2/9/1979)
Ode to a Black Man (Live on The Old Grey Whistle Test - 4/11/1981)
Somebody Else's Dream (Live on The Old Grey Whistle Test - 4/11/1981)
Renegade (Live on Three of a Kind - 1983)
* denotes track also available on double-disc version
+ denotes previously released material