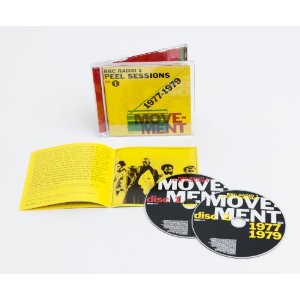 Last week's revelation that American media conglomerate Clear Channel had let go of dozens of local radio DJs made music fans yearn for the simpler times of when jockeys weren't limited to playlists from on high and could shape the public's music taste in a positive way.
Ironically, as the Clear Channel news spread, EMI prepares the release of a new compilation devoted to one of England's most famous radio presenters, the late, great John Peel. Peel, a jockey on BBC's Radio 1 from 1967 until his death in 2004, was a pioneering force on the British music scene, embracing the cutting edge of music in every new decade, particularly the wild punk, reggae, ska and indie sounds that were emerging as the 1970s gave way to the 1980s.
Of course, playing the singles wasn't enough: Peel frequently invited his favorite new acts to BBC's Maida Vale Studios to record live sets for his shows. These "Peel sessions" fast became treasured recordings for serious music fans, and while the BBC often erased their tapes not long after they were done airing them, Peel's tapes have enjoyed years of commercial release, first on his own label, Strange Fruit, in the 1980s, then on various major labels, either as part of standalone releases or bonus tracks on expanded reissues.
Very little of the tracks on this new comp - Movement: BBC Radio 1 Peel Sessions 1977-1979 - are being released for the first time. (At the very least, many of these tracks came out on Strange Fruit EPs and compilations, and are making their debut on a CD distributed by EMI, the project deriving from material commonly controlled by the label and the BBC.) But the idea of a sampler of tracks from such greats as The Jam, Joy Division, The Specials, XTC, Adam and The Ants, The Psychedelic Furs and others is pretty appealing - particularly given EMI's announcement, which ends with the promise of more Peel compilations in the future.
Movement is available today in the U.K., and the track list is after the jump.
Various Artists, Movement: BBC Radio 1 Peel Sessions 1977-1979 (EMI 50999 029496 2 8, 2011)
Disc 1
In the City (4/26/1977) - The Jam
What Do I Get? (9/7/1977) - Buzzcocks
Youth Youth Youth (12/4/1977) - Generation X
No More Heroes (8/30/1977) - The Stranglers
Gary Gilmour's Eyes (4/25/1977) - The Adverts
Love and Romance (9/19/1977) - The Slits
Science Friction (6/20/1977) - XTC
She's a Wind Up (9/20/1977) - Dr. Feelgood
Don't Take No for an Answer (11/1/1977) - Tom Robinson Band
Sex, Drugs & Rock 'n' Roll (11/30/1977) - Ian Dury & The Blockheads
Deutscher Girls (1/23/1978) - Adam and The Ants
Hong Kong Garden (2/6/1978) - Siouxsie & The Banshees
Another Girl Another Planet (4/5/1978) - The Only Ones
Get Over You (10/1/1978) - The Undertones
Top of the Pops (5/31/1978) - The Rezillos
Love and a Molotov Cocktail (3/15/1978) - The Flys
Sound of the Suburbs (1/17/1979) - The Members
Alternative Ulster (9/12/1978) - Stiff Little Fingers
The Saints Are Coming - (8/29/1978) - The Skids
We Are the People (10/24/1978) - The Angelic Upstarts
Sus (5/21/1979) - The Ruts
Homocide (10/25/1978) - 999
Reader's Wives (10/3/1978) - John Cooper Clarke
Disc 2
Movement (2/28/1979) - Penetration
Goodbye Joe/Strange Boutique (8/21/1979) - Monochrome Set
The Other Window (9/11/1979) - Wire
The Light Pours Out of Me (2/14/1978) - Magazine
Transmission (1/31/1979) - Joy Division
Wardance (10/17/1979) - Killing Joke
Being Boiled (8/8/1978) - The Human League
Messages (8/20/1979) - Orchestral Manoeuvres in the Dark
Sister Europe (7/25/1979) - The Psychedelic Furs
Premonition (12/19/1979) - Simple Minds
Poptones (12/10/1979) - Public Image Ltd.
Jah Pikney (Rock Against Racism) (4/4/1978) - Steel Pulse
It's Not Our Wish (10/10/1978) - Aswad
Food for Thought (12/12/1979) - UB40
Gangsters (5/23/1979) - The Specials
The Prince (8/14/1979) - Madness
Street Feeling (10/9/1979) - The Selecter
Ranking Full Stop (10/24/1979) - The Beat