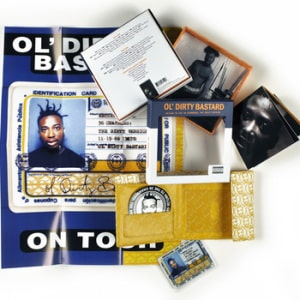 Indie label Get On Down Records is preparing a lavish deluxe reissue of Return to the 36 Chambers, the solo debut by late, iconic Wu-Tang Clan member Ol' Dirty Bastard.
Almost no one could have predicted the meteoric success of the Wu-Tang Clan, upon the release of 1993's landmark Enter the Wu-Tang: 36 Chambers, a seminal East Coast hip-hop record that slow-burned its way to a million copies by 1995 and spawned definitive tracks like "C.R.E.A.M." and "Method Man." That said, the gritty, nine-member outfit were shoo-ins for the charts compared to the hilariously profane, off-the-wall style of ODB, born Russell Tyrone Jones. Before his hyperkinetic turn rapping on Mariah Carey's joyous "Fantasy (Bad Boy Remix)" and his did-you-see-that?! turn crashing Shawn Colvin's Grammy acceptance speech in 1998, Return to the 36 Chambers: The Dirty Version was the second solo iron the Clan would throw into the fire, following Method Man's Tical in the fall of 1994.
For Return, producer/fellow Wu-Tang member RZA and affiliates True Master and 4th Disciple took the Wu-Tang formula and stripped it down, taking samples from Joe Tex, Lyn Collins, Stevie Wonder and Sly & The Family Stone and turning them on their sides for a stark, dissonant sonic landscape. (It wouldn't be a Wu-Tang solo album without guest appearances from other members of the group; Method Man, Raekwon, Ghostface Killah, GZA,RZA and Masta Killa all make appearances.) With killer cuts like "Brooklyn Zoo" and "Shimmy Shimmy Ya," the album ultimately cracked the Top 10 and picked up a Grammy nomination for Best Rap Album.
Get On Down pulled out all the stops for this set, remastering the album and expanding it with a bonus disc of single-only remixes, instrumentals and rarities. The packaging is also rather delightful; both discs come housed in a specially-made billfold wallet featuring a laminated replica of ODB's food stamps card (which served as the iconic cover image of the original album); an expanded booklet and tour poster replica are also in the box.
The reloaded 36 Chambers is out November 22 and can be found at the link above. The track list is after the jump.
Ol' Dirty Bastard, Return to the 36 Chambers: The Dirty Version - Deluxe Edition (Get On Down Records, 2011)
Disc 1: Original LP (released as Elektra 61659, 1995)
Intro
Shimmy Shimmy Ya
Baby, C'mon
Brooklyn Zoo
Hippa to da Hoppa
Rawhide (feat. Raekwon and Method Man)
Damage (feat. GZA)
Don't U Know (feat. Killah Priest)
The Stomp
Goin' Down
Drunk Game (Sweet Sugar Pie)
Snakes (feat. Killah Priest, RZA, Masta Killa and Buddha Monk)
Brooklyn Zoo II (Tiger Crane) (feat. Ghostface Killah)
Protect Ya Neck II The Zoo (feat. Brooklyn Zu, Prodigal Sunn, Killah Priest and 60 Second Assassin)
Cuttin' Headz (feat. RZA)
Dirty Dancin' (feat. Method Man)
Harlem World
Disc 2: Remixes and Rarities
Shimmy Shimmy Ya (Extended Version)
Don't U Know (Part II)
Brooklyn Zoo (Lord Digga Remix)
Shimmy Shimmy Ya (Studio Ton Remix)
Give It to Ya Raw (SD50 Remix)
Brooklyn Zoo (Instrumental)
Shimmy Shimmy Ya (Extended Instrumental)
Brooklyn Zoo (Lord Digga Remix Instrumental)
Rawhide (Instrumental)
Don't U Know (Instrumental)
Baby, C'mon (Instrumental)
Shimmy Shimmy Ya (Extended A Cappella)
Ol' Dirty's Back
Disc 2, Tracks 1, 7, 11 and 12 from Elektra single 66128, 1995
Disc 2, Tracks 2, 9 and 10 from Elektra 12" promotional single ED 5808, 1995
Disc 2, Tracks 3, 5, 6 and 8 from Elektra single 66166, 1995
Disc 2, Track 4 from Elektra promotional CD single PRCD 9276-2, 1995
Disc 2, Track 13 from Tales from the Hood EP (MCA Soundtracks MCA8P-3427, 1995