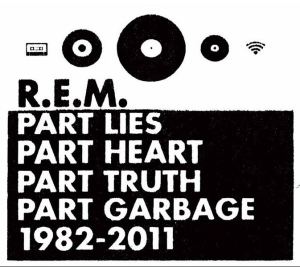 R.E.M.'s Part Lies Part Heart Part Truth Part Garbage 1982-2011 (Warner Bros. 529088-2) marks the fourth compilation by the Athens band in my collection. As a young teen, I fell in love with their melodic, confident pop/rock with In Time: The Best of R.E.M. 1988-2003 - but that was only part of the picture. The rest would be filled in by the 2006 release of And I Feel Fine...The Best of the I.R.S. Years 1982-1987, which captured the quartet at what may be their creative peak. (The third compilation was 1988's Eponymous, picked up used to get the three alternate or rare tracks I didn't already have.)
This music lives with me, as it should live with any self-respecting American who enjoys rock music of the last 40 years or so. When R.E.M. came of age in the mid-1980s, it seemed as though America, the nation that filtered country and blues stylings into a slick, satisfying musical hybrid that defined a generation, would never ascend to the top of the pile again. We had Elvis, Jerry Lee Lewis, The Doors and others, but England gave us The Beatles, The Who, The Rolling Stones, Eric Clapton, Led Zeppelin - essentially 2/3 of the modern rock pantheon. (Even Seattle-born Jimi Hendrix got his best breaks across the pond.) By virtue of The Smiths or U2 alone, it looked for awhile like the '80s were going to be another decade of playing second to the Europeans.
And then along came a simple quartet: a bookish guitarist with the cleanest, most melodic tones you could dream up, a killer rhythm section replete with whip-crack drumming and insistent bass lines and a spindly vocalist whose throaty tones were so captivating, audiences almost ignored the fact that, all too often, they had no idea what the hell he was singing. R.E.M. knew nothing of formula or convention; they did nothing to be popular, even as the gut-wrenching "The One I Love" gave indie label I.R.S. Records one of its biggest hits of all time or 1991's iconic video for "Losing My Religion" became an MTV staple. By the mid-'90s, they were strong contenders for biggest band in the world (at a time when that seemed to mean something) and firmly situated in the canon of alternative rock, which had blossomed from a whisper to a scream by the end of the century.
Then, crazy things started to happen. In 1997, the band became a trio, losing drummer Bill Berry to retirement. A credited co-writer on the band's catalogue, his drumming was difficult to replace - and the resultant songs seemed to be missing...something. Was it the urgency? The effortless hooks? Whatever it was, R.E.M. took the logical next step as rock stars: they, willingly or not, entered the point on their timeline where whatever they put out was neither universally adored nor uniformly excoriated. As a live act, they didn't buoy themselves on hits like, say, The Rolling Stones, but nobody clamored for "Imitation of Life" or "Supernatural Superserious" the way they did for "Radio Free Europe" or "Stand."
This year, though, the craziest thing happened. Rather than continue making serviceable if not classic albums like this year's Collapse Into Now, Michael Stipe, Peter Buck and Mike Mills walked away. This double-disc, 40-track set is the period with which they (and Berry, too) intend to finish the R.E.M. sentence. It spans, for the first time, both the I.R.S. and Warner years, making it the easiest way to get an overview of the group's entire discography in one $15 set.
And, despite being the latest (and likely not the last) in an endless string of R.E.M. hits documents, there's still stuff to learn. With these discs, we learn that 13 tracks of I.R.S. songs is not enough. (No "Cuyahoga" or "Welcome to the Occupation"?) We find that perhaps some of R.E.M.'s throwaways (to us) mean more to them ("Shiny Happy People" and "New Test Leper" make the cut while an underrated beauty like "Daysleeper" does not.) What the post-Berry material lacks in hooks, it makes up for in vocal beauty (the layers of Stipe are what stand out on even the lesser tracks at the end of Disc 2) or noise - and that almost intentional lack of focus, rock stars throwing toys around the room, so to speak, is more than a little interesting.
The three new tracks - "A Month of Saturdays," "We All Go Back to Where We Belong" and "Hallelujah" - are incredibly forgettable, even by the lofty standards of extra tracks on compilations. (Mills recently made a decent argument that the three serve as reminders of R.E.M.'s major facets as a band, but I'd rather get my silliness from "Stand" and my heavy poignance from "Nightswimming.") Even the liner notes, featuring commentary by all four band members, seem kind of rote. (Buck penned the bitingly funny notes for most previous compilations, and those are easily the definitive word for liner notes junkies out there.)
Ultimately, though, that's not what the set is about - and those of you who are already stocked to the brim with R.E.M. material are definitely going to be fine with skipping this one. But it might be worth giving to someone who needs to understand or be reminded anew what all the fuss was about concerning this crazy quartet. For better - and even for worse - R.E.M. are one of the brightest patches on the quilt of rock and roll, and Part Lies Part Heart Part Truth Part Garbage is a great way to end an illustrious career: by reminding us of just how important - and truly great - it all was.