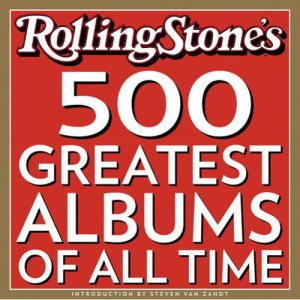 Welcome to our brand-new, exhaustive feature to take us to the end of another great year for reissues and box sets: our first-ever official Second Disc Buyers Guide! From now until Christmas, we're taking you on a delightful trip through the 100 greatest albums of all time, as selected by Rolling Stone in 2003, through the filter of when and how these classic albums have been reissued, remastered and repackaged. If you've ever wondered to yourself which versions of these albums to buy for certain bonus tracks and the like, wonder no more.
Our first installment takes us from the smoky, jazzy style of Frank Sinatra to the New Wave heavy artillery of Elvis Costello, with a little bit of funk and rock opera thrown in for good measure. It's all waiting for you after the jump!
100. Frank Sinatra, In the Wee Small Hours (Capitol, 1955)
Frank Sinatra was the Chairman of the Board for a reason. He did everything in his own, cool way - and that didn't just extend to his Hollywood antics and onscreen charisma. No, Sinatra made albums long before they were considered something more than afterthoughts for the music market. Sure, there were singles to be had, but from the get-go, you wanted to sit and listen to his statements on long-playing vinyl, from start to finish.
In the Wee Small Hours, his seventh LP and third for Capitol Records, is one of the darkest, most pained of those early albums. Recently separated with Ava Gardner, Sinatra, producer Voyle Gilmore and arranger Nelson Riddle put together 16 tracks of late-night heartache, anchored by the title track, written by Bob Hilliard and David Mann for the singer.
Originally released on 12" and double 10" vinyl in 1955, the premiere CD release in the 1980s (Capitol CDP 7 46571 2) bizarrely cut one track, "Last Night When We Were Young," despite a 48-minute running time that came well under the limit for discs at the time. A 1991 release (Capitol CDP 7 96826 2) restored the full track list, and a remaster followed in 1998 (Capitol 72434 94755 2 6). The album's also been included as part of several box sets, including 1992's Concepts (reissued in 2000), 1998's import The Capitol Years (considered by some to have the best sound quality) and the surprisingly cheap (if not as expansive) Capitol Records Concept Albums box.
99. Sly & The Family Stone, There's a Riot Goin' On (Epic, 1971)
Consider the stunningly short time in which Sly and The Family Stone ascended to the top of the pop and soul scene. The material on 1970's Greatest Hits was released in two years. So Sly and his bandmates worried Epic and music fans everywhere by taking a good year-and-a-half without releasing any new material. Privately, the band was falling apart, with all of the members abusing drugs and Sly feuding with Larry Graham, succumbing to increased paranoia (he hired known mafiosos for his entourage) and becoming disillusioned with the peaceful dreams of the '60s that gave way to the harsh realities of the '70s.
All of these things fueled the making of There's a Riot Goin' On, one of the best socially-conscious funk records, albeit one darker than anything the band had put out at the time. Although lead single "Family Affair" was another No. 1 hit, it was something entirely different from what the band had been putting out over the years, closer to What's Going On than Dance to the Music. The mix had an Exile on Main St.-esque murkiness to it, and the cynical lyrics were a tonic to the peppy single material the band was known for at the time. (Even the closing track, "Thank You for Talking to Me, Africa," is a somber, funhouse version of earlier hit single "Thank You (Falettin Me Be Mice Elf Agin)".) Despite all of this, it was the band's first chart-topping album, and remains a critically-acclaimed funk classic today.
When Riot was put on CD (Epic EK 30986) as part of a Sly reissue campaign in 1990, it was one of a few that didn't feature any new material from the vaults. (It also featured a redesigned front cover that did away with the striking alteration of the American flag that graced the original gatefold sleeve.) That changed in 2007 when Legacy expanded the catalogue again; as was the case with most of the records in that reissue program, the expanded Riot (Epic/Legacy 88697 26953-2) was augmented with a mono single version ("Runnin' Away") and three unreleased instrumentals ("My Gorilla is My Butler," "Do You Know What?" and "That's Pretty Clean"). And the original cover was back, too.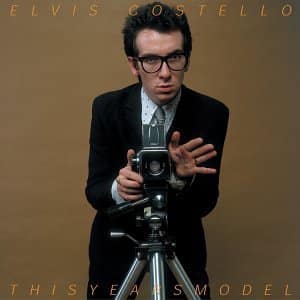 98. Elvis Costello, This Year's Model (Radar (U.K.), 1978)
If anyone mistook Elvis Costello for a romantic with the misguided slow-dance of "Alison" off debut album My Aim is True (1977), the sneering first line of "No Action" off follow-up This Year's Model destroyed such notions. "I don't wanna kiss you, I don't wanna touch," he sang a capella before a cannonade of instruments belonging to a new backing band, The Attractions, fired out of the speakers. (Elvis' new ensemble - Steve Nieve on keyboards, bassist Bruce Thomas and drummer Pete Thomas - would back Costello through 1986, and again from 1994 to 1996.) "I don't wanna see you, 'cause I don't miss you that much," Costello continued. Lovelorn he wasn't!
But audiences fell in love with Costello, who was on the bleeding edge of something really cool in British pop music. It had punk's snot-nosed edge, but it didn't compromise talent and composition for image. Truly, there was a New Wave of music heading to audiences, and with killer cuts like the propulsive "Pump It Up," reggae-tinged "(I Don't Want to Go to) Chelsea" and live favorites "Living in Paradise" and "This Year's Girl," its standard bearer was This Year's Model.
As is the gold standard for Costello's catalogue, This Year's Model endured some permutations from the very start. The original American release, released May 1978 on Columbia Records, deleted "Chelsea" and album closer "Night Rally," and instead closed out the record with non-LP single "Radio, Radio," one of Costello's best-known songs after he halted his own performance of "Less Than Zero" on Saturday Night Live that winter for this song instead. (Also gone: a free bonus 45 that came with the original British album and the iconic, intentionally-misprinted album sleeve.) After standard reissues of each respective track list on CD in 1986 (Demon IMP FIEND CD 18/Columbia CK 35331), a 1993 reissue campaign (Demon DPAM 2 (U.K.)/Rykodisc RCD-10272) formalized the track list to the original U.K. running order and added "Radio, Radio," a single B-side ("Big Tears," which backed "Pump It Up"), a soundtrack-only tune ("Crawling to the USA," from little-seen Americathon) and three demos, two of which would be fully fleshed out for follow-up album Armed Forces.
Of course, that wasn't the end for the album. Rhino's 2002 reissue of the album (Rhino R2 78354) expanded the original album with a whole bonus disc, including all six of the Demon/Rykodisc bonus tracks ("Radio, Radio" still closed the album) plus another seven, mostly live and including the cover of The Damned's "Neat, Neat, Neat" from the original bonus 45 (the studio track, "Stranger in the House," was included on reissues of My Aim is True). When Costello bought his catalogue to Universal in 2007, a straight reissue (Hip-O B0008638-02) found its way into stores, and another deluxe edition was released in 2008 (Hip-O/UMe B0010681-02). This included almost all the bonus material from the Rhino set (save live sessions for BBC and Capital Radio) and "Tiny Steps" (the B-side to "Radio, Radio" included on reissues of Armed Forces), plus a lengthy, oft-bootlegged 1978 concert at Washington, D.C.'s Warner Theatre (one track of which was released on Rhino's deluxe Armed Forces).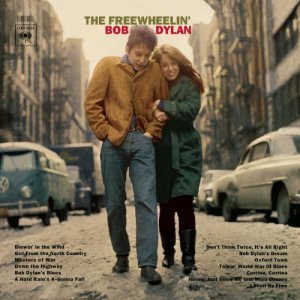 97. Bob Dylan, The Freewheelin' Bob Dylan (Columbia, 1963)
In 1941, he was born Robert Allan Zimmerman. In 1962, on his Columbia debut, he locked in his identity as Bob Dylan. A year later, with this album, he became the Bob Dylan we've all exalted for generations: a passionate, original song craftsman with a biting sense of humor and a genuine, well-spoken knowledge of the issues that were troubling America. "Blowin' in the Wind," the album's opener, hasn't lost any of its power in nearly a half-century. Nor have "Don't Think Twice, It's Alright," "A Hard Rain's A-Gonna Fall," or, frankly, anything else off the album.
It's interesting, then, that there doesn't exist any expanded edition of the album - particularly considering that four tracks from incredibly rare early pressings of the album have yet to make it to CD. The original CD (Columbia CK 8786) was released in 1990, with a remaster (Columbia CK 92396) following in 2003. (That same year, an SACD version - Columbia 82976 90321-6 - was released.) Sundazed reissued the original mono mix on LP in 2001 (LP 5115); that mix made it onto CD in the 2010 box set The Original Mono Recordings (Columbia/Legacy 88697 76105-2).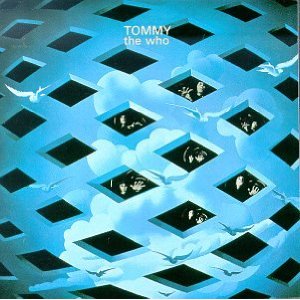 96. The Who, Tommy (Track Record (U.K.), 1969)
Sure, the idea of a rock song cycle about a boy traumatized into deaf-blind-muteness by parental transgressions who later becomes a pinball prodigy and cult leader sounds positively insane on paper. But in the hands of Pete Townshend at the height of his songwriting powers, it was a brilliant story for the enlightening end of the '60s and all the massively ambitious rock music that passed through the airwaves. None of that's been deluded by the super-sized adaptations of the album on film and stage, but it's certainly made for a lot of deluxe editions.
While early CD pressings replicated the track list of the double album on two discs (and, in a bizarre but then-typical move, cutting down on reproducing all of the original album's captivating sleeve work), it wasn't until 1990 that anyone could own the album on one disc - and even then, "anyone" referred to those who could play a gold disc from Mobile Fidelity Sound Lab. (That MFSL pressing - UDCD-533 - also included an alternate version of "Eyesight to the Blind.") A standard CD edition was released in 1993, but a significant remix and remaster appeared three years later, as part of an ongoing Who catalogue series (Polydor 531 043-2 (U.K.)/MCA MCAD-11417 (U.S.)).
The album, in its original stereo mix, entered deluxe territory in a big way in 2003, released as one of Universal's now-classic Deluxe Editions (Polydor 9861011 (U.K.)/Geffen/Chronicles B0001386-36 (U.S.)) with a deluxe digipak (complete with original artwork) and that silvery slipcase. Not only was Tommy augmented with a bonus disc of demos and outtakes (including a non-LP B-side, "Dogs (Part 2)," which backed hit single "Pinball Wizard"), but both discs were hybrid Super Audio CDs, showcasing a fresh new 5.1 surround mix when played on compatible players. (That mix was later released in the U.S. as a DVD-Audio title one year later, as Geffen B0002103-19.) But buyer beware: a U.K. pressing from 2005 (Polydor 0602498272367) features the deluxe edition on two plain compact discs.
And that's not even counting the live permutations of Tommy from the various reissues of Live at Leeds...!
Coming tomorrow: Joe takes us through CCR, classics from Prince and Elton, and some Bitches.