Here comes the fourth part of our first-ever official Second Disc Buyers Guide, in which we look at the 100 greatest albums of all time, as selected by Rolling Stone in 2003, through the filter of when and how these classic albums have been reissued, remastered and repackaged. If you've ever wondered to yourself which versions of these albums to buy for certain bonus tracks and the like, we're your one-stop shop.
We've got quite a hand here today, with two Queens and a Boss to start, so let's get to it!
Bruce Springsteen, Born in the U.S.A. (Columbia, 1984)
When you're six albums into an already-stellar career - one that's seen you make musical waves and journalistic history (being on the cover of the country's two most prestigious news magazines in the same week) - nobody expects your seventh to be your most ambitious, your most commercially successful, the key that unlocks your musical world for most of the adoring public. But that's exactly what Bruce Springsteen did on Born in the U.S.A., from its rousing, almost-intentionally misleading title track (a too-true heartbreaker about a disaffected Vietnam veteran, couched in upbeat, major-key synthesizers and Max Weinberg's pounding drums) to its somber, reflective closer, "My Hometown," a meditation on the cycles of poverty and family in the United States. Springsteen and The E Street Band were true bosses on this album and its astounding seven Top 10 singles through 1984 and 1985. Even this year, we held the album close to our hearts when the Big Man, saxophonist Clarence Clemons, passed away, with his solo on "Bobby Jean" remaining an emotional high point for this writer.
Perplexingly, the success of Born in the U.S.A. has not yet guaranteed the kind of lavish, deluxe reissue that one would naturally assume should happen. Beyond the standard CD issue (Columbia CK 38653) and a 2005 Japanese CD in LP replica packaging (Sony BMG Music Entertainment 88697 28749-2), there's nothing (although several BitU.S.A.-era B-sides and demos were unearthed on compact disc for Bruce's essential Tracks box set (Columbia CXK 69475). Now, admittedly, Springsteen and his team are deliberate cataloguers, having given detailed attention to box set editions of Born to Run and Darkness on the Edge of Town, so there's little doubt that we'll someday see a spared-no-expense edition of this perennial classic. (Whether such a box will include those crazy remixes, though, is anyone's guess.)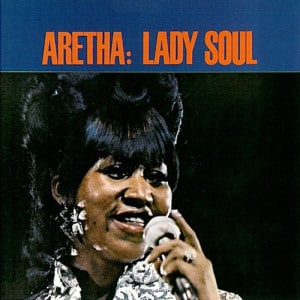 Aretha Franklin, Lady Soul (Atlantic, 1968)
Perhaps Lady Soul was a bit of an understatement; one year and two albums prior, Aretha Franklin had come into her own, seemingly out of nowhere, as the Queen of Soul on I Never Loved a Man the Way I Love You (more on that one in a minute!). Lightning struck twice with Lady Soul, thanks largely to two monster hits in "Chain of Fools" and "(You Make Me Feel Like) A Natural Woman," not to mention the underrated Top 10 single "Since You've Been Gone (Sweet Sweet Baby)."
When Lady Soul was released on CD in 1995 (Rhino R2 71933), it featured four bonus tracks: mono single mixes of "A Natural Woman," "Since You've Been Gone" and its B-side, "Ain't No Way," and an unedited version of "Chain of Fools." (This longer version originally appeared in quadrophonic sound on 1973's The Best of Aretha Franklin, which was itself reissued by Rhino Handmade in 2010.) A gold CD from Mobile Fidelity Sound Lab that same year (UDCD 623) paired Lady Soul with its follow-up, Aretha Now, also from 1968. (Elsewhere, the expanded Lady Soul was paired with an expanded I Never Loved a Man the Way I Love You by Warner Australia (8122 73696-2) in 2003; both albums appeared sans bonus tracks for an Original Album Classics box in Europe in 2009 (Atlantic/Rhino 8122 79827-9).)
Hit the jump for more Aretha, plus Jimi and Paul!
Aretha Franklin, I Never Loved a Man the Way I Love You (Atlantic, 1967)
As we know, Aretha Franklin had done a lot of solid but thankless work on Columbia Records. But when she made her Atlantic Records debut in 1967 with I Never Loved a Man the Way I Love You, with Jerry Wexler at the helm as producer, it was as though she was a brand-new, white-hot talent. "Respect," written and performed by Otis Redding two years prior, became her anthem and a landmark of 20th century popular music. Two gold singles, "Baby I Love You" and the title track, were also on the album, as well as killer covers of Sam Cooke ("A Change is Gonna Come") and Ray Charles ("Drown in My Own Tears") and newly-performed originals like "Dr. Feelgood" and "Do Right Woman, Do Right Man."
Originally released on a simple CD in Europe in 1991 (Atlantic 7567 81439-2), Rhino expanded the album in 1995 (R2 71934) with stereo mixes of "Respect," "Do Right Woman" and the title track as bonus cuts. 1993 also saw a gold disc version from Audio Fidelity (UDCD 574).
The Jimi Hendrix Experience, Axis: Bold as Love (Track Record, 1967)
Released seven months after Are You Experienced in the U.K., Axis: Bold as Love is proof positive that Hendrix wasn't a flash in the pan, with some of his best compositions appearing on this album ("Little Wing," "Wait Until Tomorrow" and the title track). America got this one in 1968, but enjoyed the same track list as the rest of the world (unlike Are You Experienced, which was culled partially from non-LP singles and the original album as well.)
Bold as Love was the last Hendrix LP to feature its own dedicated mono mix, although it's never been put on CD. The original CD pressing, however, released in the U.K. by Polydor in 1988 (813 572-2), used an alternate stereo mix without all the panning heard on the original pressings. (It is not entirely clear if the U.S. CD - Reprise 6281-2 - is from the same master.) A 1993 reissue (MCA Records MCAD-10894) perplexingly changed the Hindu art-inspired cover art to a simple portrait of the guitarist; MCA released, with the approval of the since-constructed Experience Hendrix, LLC, a new remaster in 1997, overseen by Hendrix's longtime engineer Eddie Kramer (Experience Hendrix/MCA Records MCAD-11601). (MCA also released a Japanese SHM-CD pressing in 2000 (UICY-93141).) In 2010, with the transfer of distribution of Hendrix's catalogue from Universal to Sony, Experience Hendrix reissued the album (Experience Hendrix/Legacy 88697 62163-2) in a digipak with a bonus DVD.
Paul Simon, Graceland (Warner Bros., 1986)
"World music" wasn't invented by Paul Simon, but in 1986, it sometimes felt like it should have been. The renowned singer-songwriter turned to a myriad of under-represented genres, from modern South African/Zulu singing styles to Zydeco, and fused them with his own natural songwriting talents to create an album that was both worldly and local to audiences across the globe. (If the extensive world tour commercial plaudits didn't prove Graceland's power, the raft of awards it won certainly did.)
Available on CD when it was first released (Warner Bros. 9 25447-2), Graceland was reissued for its tenth anniversary (Warner Bros. 9 46430-2) as an enhanced CD with no bonus tracks, but new liner notes and multimedia content embedded on the disc (including video from the recording sessions, photo galleries and commentary from Simon, guitarist Ray Phiri and Joseph Shabalaba of iconic African singing group Ladysmith Black Mombazo, who enjoyed their own success after appearing on the album.
Then, in 2004, as part of an extensive campaign for Simon's discography, a new reissue appeared in a digipak (Warner Bros./Rhino R2 78904) featuring a new remaster by Bill Inglot and Dan Hersch and three bonus tracks. They were a demo of "Homeless" and alternate takes of "Diamonds on the Soles of Her Shoes" and "All Around the World or the Myth of Fingerprints" (the latter of which is an alternate version pointedly light on the presence of Los Lobos, who appeared on the standard album version and later publicly complained that they did not receive the songwriting credit they deserved on the final product). When Simon bought his catalogue to Sony Music in 2011, that Rhino package was replicated, albeit in a jewel case and with an unpublicized alternate remaster by Greg Calbi (Legacy 88697 84250-2). But you might want to hold off if you haven't bought those yet: Simon has discussed plans to release a box set edition of the album in 2012.
In our next part: a Beatle, a Godfather and some Zombies - plus The Clash and Neil Young!