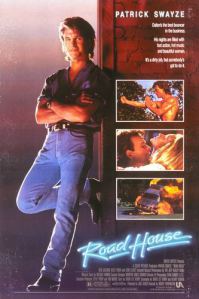 After a healthy and innovative year for film score reissues, Intrada starts off the new year with a bang – or better yet, a swift roundhouse kick: two heretofore-unreleased late-'80s action scores by the excellent Michael Kamen.
The first one is a very familiar title to pop-culture junkies and cult-classic geeks: the score to Road House. The 1989 action flick starred Patrick Swayze in his first post-Dirty Dancing project as Dalton, a strangely complex, widely-renowned bouncer with a degree in philosophy from New York University. He ventures to Jasper, Missouri at the urging of a club owner to provide his unique skill set to the town's new bar, The Double Deuce, along the way saving the very town from an unscrupulous businessman (Ben Gazzara) who will stop at nothing to control every last inch of Jasper.
The film's cult status has long been cemented, thanks to affectionate tributes from cult TV show Mystery Science Theater 3000 (writer/star Michael J. Nelson somewhat jokingly called Road House "the single finest American film") and director Kevin Smith (who provided a commentary track for the film's DVD release). The late Kamen, by then a notable name for his work on the scores to Edge of Darkness and Lethal Weapon (and, in a month's time, would see another score, to the James Bond film Licence to Kill, hit theaters), blended his signature orchestral action style with atmospheric themes for the small Midwestern town that houses the action. Intrada's long-in-development release is sourced from all the existing session master tapes, long thought lost but recently rediscovered in the MGM vaults. (One reel, which would have held two short cues from the film, was never recovered, but the remaining tapes yielded several unused cues.)
Later that year, Kamen was tapped for another quirky action film to score: Renegades. The film reunited Young Guns co-stars Kiefer Sutherland and Lou Diamond Phillips as a disgraced undercover cop and his Sioux partner who team up to recover a Native American spear from a gang of thugs. Again, Kamen tempers his lengthy action cues with local color, employing a smaller ensemble with a focus on themes and motifs inspired by the culture of the film. This disc presents the complete score with unheard passages, all newly mastered from the original session elements.
Both releases are a fitting tribute to an underrated composer, and can be yours to order after the jump!
Michael Kamen, Road House: Original Motion Picture Soundtrack (Intrada Special Collection Vol. 190, 2012 – original film released 1989)
The Homestead (Dalton's Theme)
Tai Chi
Nobody Ever Wins a Fight
Drop Like a Stone
Invitation to Brads
On the Rooftop
Loading Dock Fight
This is My Town
Emmet's House Explodes (Original Version)
Dalton and Reno Fight
Heads or Tails?
The Final Confrontation (Original Version)
The Final Confrontation (Film Version)
Final Theme
Michael Kamen, Renegades: Original Motion Picture Soundtrack (Intrada Special Collection Vol. 192, 2012 – original film released 1989)
Main Title
Buster's Bust
The Robbery
The Lance (Alternate)
Buster Takes a Bullet
First Aid
Medicine Stone
Nothing to Worry About
Beauty Parlor Source
Department Store
Broken Stone, Broken Spirit
Blazing Bullets, Flaming Lance
Brown Ridge & Find Me
The Lance
Blazing Bullets, Flaming Lance (Alternate)
Brown Ridge (Film Version)