We remember Whitney Houston (1963-2012) and her timeless legacy of song.  We're sharing this feature in her memory, and will return with a tribute to this musical legend, gone too soon.
Welcome to another installment of Reissue Theory, where we focus on notable album and the reissues they could someday see. Today's entry: a 25th anniversary spotlight on one of the best dance-pop albums of any era, and a tribute to a powerhouse R&B voice. In a word: Whitney.
Around this time in 2010, right when The Second Disc was starting out, one of the most surprising reissues from a major label was Arista/Legacy's 25th anniversary edition of the self-titled 1985 debut by Whitney Houston. Though she had a rich musical legacy in her blood - her mom, Cissy, was a prominent gospel singer, Dionne Warwick was her cousin and Aretha Franklin was a family friend - the 21-year-old's sudden rise to fame was something of a surprise to much of the public. (It was less so to Arista Records head Clive Davis, a consistent champion for her throughout her storied career.) Whitney Houston topped the charts for weeks, earned four Grammy nominations (with one win) and took three singles - ballads "Saving All My Love for You" and "Greatest Love of All" as well as uptempo smash "How Will I Know" - to No. 1.
It seemed like a tough album to top - which makes it all the more impressive that it did, hands down.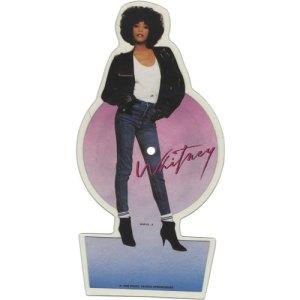 Never one to abandon a successful formula, Clive Davis, as executive producer of Houston's sophomore album, recruited a lot of the same players that made Whitney Houston so popular. Returning producers Kashif, Michael Masser and Narada Michael Walden were all on board, along with John "Jellybean" Benitez for one track ("Love Will Save the Day"). Session legends were voluminous, from bassists Randy Jackson and Nathan East and strings by Gene Page to Roy Ayers on vibes and Walter Afanasieff on keyboards. (The tenor sax work on "Just the Lonely Talking Again" was that of none other than smooth-jazz icon Kenny G!)
Like its predecessor, Whitney packed a lion's share of club-ready movers and wistful, theatrical ballads. (In some cases, the songs were truly of the theatre; "I Know Him So Well," a duet with Cissy Houston, was written by ABBA's Benny Andersson and Björn Ulvaeus and Tim Rice for the musical Chess, while "Where Do Broken Hearts Go" was co-written by Frank Wildhorn, later known for his hit musical Jekyll & Hyde.) Sam Dees, writer of "One in a Million You" for Larry Graham, penned "Just the Lonely Talking" (previously recorded by New Jersey vocal group The Manhattans); several legendary pop partnerships also contributed tunes. Billy Steinberg and Tom Kelly wrote "So Emotional" while George Merrill and Shannon Rubicam, who penned "How Will I Know" for Whitney, wrote an impressive sequel in "I Wanna Dance with Somebody (Who Loves Me)."
While critics were quick to pick up on the similarities between both records, Whitney was still a major commercial success. It became the fourth album to debut at the top of the Billboard 200 - the first by a woman - and spun off four No. 1 singles, "I Wanna Dance with Somebody (Who Loves Me)," "Didn't We Almost Have It All," "So Emotional" and "Where Do Broken Hearts Go." (This gave Houston seven chart-toppers in a row, counting the singles off Whitney Houston.) Though the singer's most successful days were still ahead of her, namely with 1992's record-smashing soundtrack to The Bodyguard, Whitney stands as a landmark in Houston's career which would do well to be recognized as an expanded edition.
While the 25th anniversary edition of Whitney Houston was a CD/DVD affair, our vision of a similar set for Whitney is all about the music, including three non-LP tracks - chief among them "One Moment in Time," a Top 5 hit written for the 1988 Summer Olympics - and a host of remixes from the vault.
Whitney Houston, Whitney: 25th Anniversary Edition (Arista/Legacy)
Disc 1: Original album (released as Arista AL-8405, 1987)
I Wanna Dance With Somebody (Who Loves Me)
Just the Lonely Talking
Love Will Save the Day
Didn't We Almost Have It All
So Emotional
Where You Are
Love is a Contact Sport
You're Still My Man
For the Love of You
Where Do Broken Hearts Go
I Knew Him So Well
Disc 2: Bonus material
I Wanna Dance with Somebody (Who Loves Me) (12" Remix)
So Emotional (Extended Remix)
For the Love of You (Extended Version)
Love Will Save the Day (Extended Club Mix)
Moment of Truth
Shock Me - Whitney Houston and Jermaine Jackson
One Moment in Time
I Wanna Dance with Somebody (Who Loves Me) (A Cappella Mix)
So Emotional (The Voice)
Love Will Save the Day (A Cappella)
Didn't We Almost Have It All (Live)
Disc 2, Tracks 1 and 8 released on Arista 12" AD1-9599, 1987
Disc 2, Tracks 2 and 9 released on Arista 12" AD1-9641, 1987
Disc 2, Track 3 released on Arista 12" AD1-9632, 1987
Disc 2, Tracks 4 and 10 released on Arista 12" AD1-9721, 1988
Disc 2, Track 5 was the B-side to "I Wanna Dance with Somebody (Who Loves Me)" - Arista AS1-9598, 1987
Disc 2, Track 6 first released on Perfect: Original Soundtrack (Arista AL-8278, 1985). Later used as the B-side to "Didn't We Almost Have It All" (Arista AS1-9616, 1987)
Disc 2, Track 7 from 1988 Summer Olympics Album: One Moment in Time (Arista AL-8551, 1988). Released as Arista single AS1-9743.
Disc 2, Track 11 released on Arista 12" 609 973 (Germany), 1987