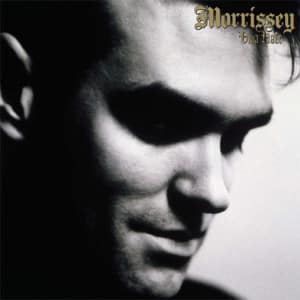 Inifintely brilliant, often fickle rock icon Morrissey is reissuing one of his most beloved albums this spring - but it's another one of those situations where fans are going to want to hold on to their old copies, too.
Semi-official fansite True to You posted a news release today for a reissue of Viva Hate, Morrissey's debut solo album from 1988. Released just six months after the breakup of The Smiths and featuring longtime Smiths engineer/producer Stephen Street, Viva Hate was a always-verbose, often-cutting burst of creativity from the singer, featuring two of his greatest solo singles, the U.K. Top 10 hits "Suedehead" and "Everyday is Like Sunday."
The new release, to be available on CD and vinyl and remastered personally by Street, will feature only one bonus track, an outtake from the Viva Hate sessions called "Treat Me Like a Human Being" which is actually replacing "The Ordinary Boys" on the standard track list. It was first released last year as a B-side to 1991 single "Glamorous Glue," itself reissued to promote a new compilation of Moz's. (This is not the first time Viva Hate has been reissued; in 1997, EMI issued an expanded edition with new artwork for the label's centennial.)
In addition, EMI will release a 10" vinyl EP for Record Store Day, featuring a remix of "Suedehead" by Ron and Russell Mael, better known as Sparks (Slicing Up Eyeballs suggests this may be an edit of a previously-released remix), as well as two unreleased live tracks from 1995.
The new Viva Hate, which also features new liner notes by Chrissie Hynde of The Pretenders, will be released March 26. Hit the jump for full details.
Morrissey, Viva Hate (originally released as HMV CSD-3787 (U.K.), 1988 - reissued Liberty/EMI (U.K.), 2012)
Alsatian Cousin
Little Man, What Now?
Everyday is Like Sunday
Bengali in Platforms
Angel, Angel, Down We Go Together
Late Night, Maudlin Street
Suedehead
Break Up the Family
Treat Me Like a Human Being (previously released as the B-side to "Glamorous Glue" reissue single - Major Minor MMPD722, 2011)
I Don't Mind If You Forget Me
Dial-a-Cliché
Margaret on the Guillotine
Morrissey, Suedehead 10" (Liberty/EMI (U.K.), 2012)
Suedehead (Mael Mix)
We'll Let You Know (Live @ The Drury Lane Theatre Royal, London - 2/26/1995)
Now My Heart is Full (Live @ The Drury Lane Theatre Royal, London - 2/26/1995)