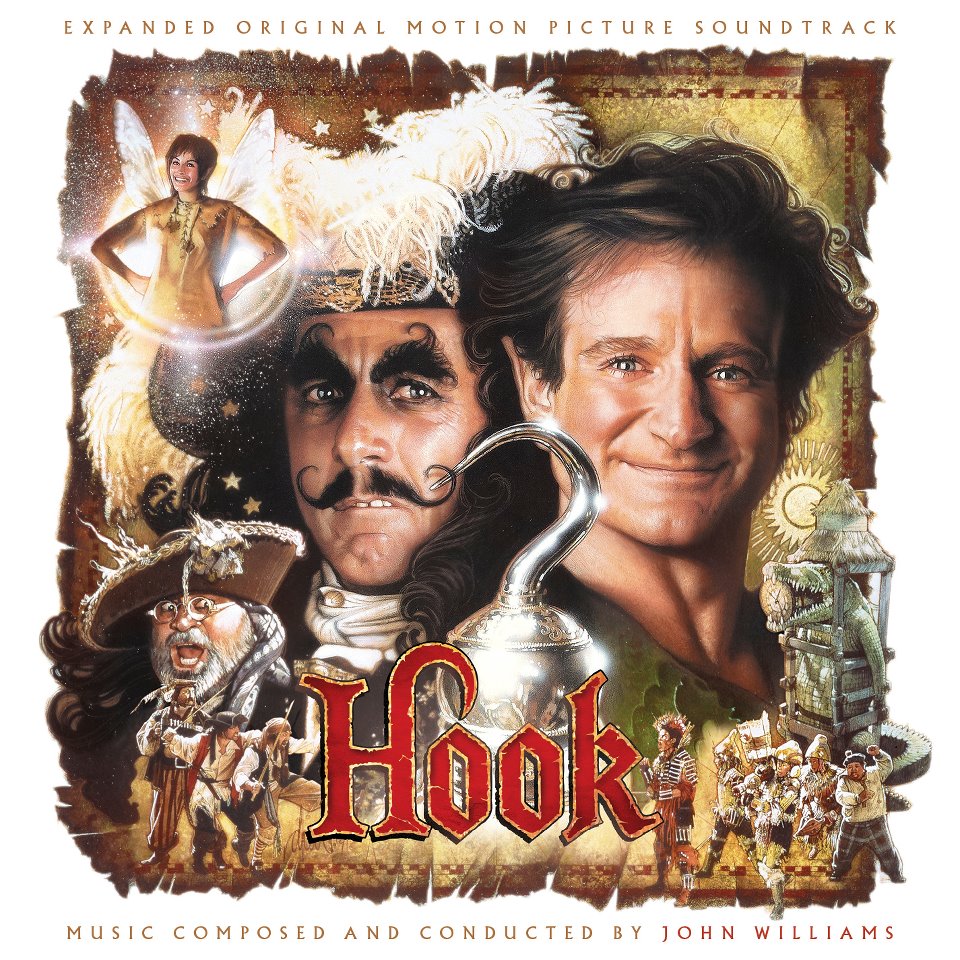 As the above image shows, it's finally true: La-La Land Records is releasing an expanded edition of John Williams' stirring score to Steven Spielberg's 1991 adventure film Hook, a modern updating of the Peter Pan mythology, on March 27. In my excitement last night, I sent an e-mail to the LLL staff thanking them for putting this release together; Joe rather brilliantly suggested that the letter would find a good audience among our dear readers, who no doubt know the feeling of excitement when beloved music is released from the vaults. We'll be posting full details of the set as they arrive, but today we share the simple joy of knowing that soon enough, Hook will be heard like never before.
To MV and the LLL staff,
Without question, I imagine you're getting a lot of e-mails and messages in praise for releasing the expanded edition of John Williams' beloved score to Hook. Let me add my words to that growing pile.
Hook was the second film I saw in a movie theater. (I realize how old that may make some of you feel, and genuinely apologize.) I was taken by the visuals to a degree, but what really amped my four-year-old brain was the beautiful music that accompanied Peter Banning's adventures. When I was old enough to read, and realized that the Hook score was penned by the man that also wrote the music to my favorite film, E.T. the Extra-Terrestrial, I was enthralled.
Thus began a journey into film score enthusiasm that influenced a genuine love for catalogue titles in the music business. The work that La-La Land and other labels do in rescuing and presenting beloved soundtracks to a devoted audience deserves to be shouted from the highest mountain. It was in that mindset that I started The Second Disc, a website covering reissues, box sets and other catalogue music ephemera in 2010. Last year, amid a year of great gains for the site and its staff of co-writer Joe Marchese and myself, MV was kind enough to take time out of a whirlwind schedule to
answer some interview questions
we'd prepared. What has always been a personal thrill - the immersion into soundtracks that play our emotions perfectly - got a little more thrilling, thanks to your kindness in showing our readers what it is you do.
With a new year, a never-ending slate of reissue news to report and a continuously-increasing readership, I speak for Joe and myself in saying it is a blessing to take a small piece of the dream by informing our readers what you and dozens of other great labels are doing to preserve and honor some of the most exalted music in pop cultural history. I will be one of thousands strong buying Hook next month and I cannot wait to excite my readers with this news.
It's cliched, but you guys have proven it with your loving treatment of great music: to live - and to listen to this work - will be an awfully big adventure.