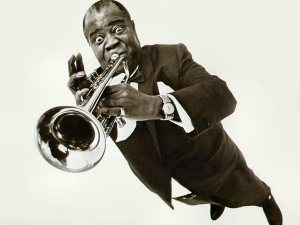 More than 40 years after his passing, one of the final recordings of jazz legend Louis Armstrong is coming to CD from Smithsonian Folkways Recordings.
Satchmo at the National Press Club: Red Beans and Rice-ly Yours presents Armstrong's five-song set given before members of the National Press Club at a black-tie gala honoring the inauguration of club president Vernon Louviere, who, like Armstrong, was a native of Louisiana. The biggest surprise to the audience was Pops' bringing his trusty horn out of semi-retirement, having spent the previous year in poor health and focusing far more on singing in concert.
After the set ("When It's Sleepy Time Down South,"  "Hello, Dolly," "Rockin' Chair," "Boy from New Orleans" and "Mack the Knife") on January 29, 1971, Armstrong performed for the public only twice more - once on The Dick Cavett Show in February, and for The Tonight Show with Johnny Carson the month after. In July, he died of a heart attack, a month before his 70th birthday.
This premiere wide release of the show - pressed onto a 300-unit limited edition vinyl disc some years ago - will be available April 24 on CD and digital download from Smithsonian Folkways as well as all major digital retailers. The release will be commemorated at the National Press Club on April 27 featuring a news conference and panel discussion with as-yet-unannounced panelists.