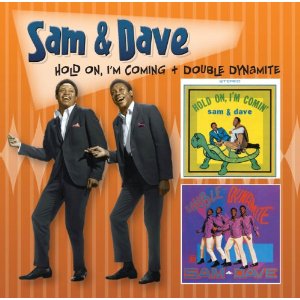 Mention "Hold On, I'm Comin'" and chances are you can hear that confident, swaggering horn riff that insistently opens the Sam and Dave classic.  Indeed, all you really need to know is in that riff!  All four albums recorded by Sam and Dave for Stax/Atlantic have been collected by Edsel on two new releases, and these expanded editions (including various single sides) add up to true cornerstones for any R&B or soul music library.  But the label hasn't stopped there.  A very different kind of R&B is on display on a two-on-one CD bringing back to print two of the three secular albums recorded for Columbia Records by Earth Wind and Fire's Philip Bailey.  Liner notes for both the Sam and Dave and Bailey titles have been provided by Tony Rounce, and the annotator is able to draw a line between these early soul men and a latter-day great.
Sam Moore & Dave Prater were actually signed by Jerry Wexler to the Atlantic label proper, but almost immediately loaned out to the Stax label, then distributed by Atlantic.  Wexler must have intuitively sensed that the company's New York uptown soul stylings wouldn't be quite right for the duo, but that the Stax team could work their magic on the vocal duo.  Eight of the songs on that first album released in April 1966 and entitled Hold On, I'm Comin' after the hit single were co-written by Isaac Hayes and David Porter, arguably as important a duo as the titular one.  They made equally important contributions on all four of the albums collected by Edsel, including five of the songwriting credits on the follow-up Double Dynamite, with which Hold On is paired as Edsel EDSS 1035.
Still one of the Stax label's calling cards, the Hayes/Porter single was an R&B chart topper, the first such for the label since 1962's "Green Onions."  (Odd footnote:  the reissue adds a "g" to "comin'" on the spine and album cover, while Atlantic actually pressed a second printing with "I'm A-Comin'" to avoid any risqué suggestion in the title phrase!)  The album itself doesn't live up to the high standards of its title track, containing five previously-issued tracks.  It's a fine listening experience but not a true "album" in the classic sense, as Stax was very much a singles-oriented company at that time.  One does wonder, however, why the duo was riding a turtle on the cover, for they were definitely in the fast lane, from the greasy "Ease Me" ("with your lovin'") to the churchy ballad "Just Me."  Steve Cropper and Eddie ("Knock on Wood") Floyd's "I Got Everything I Need" is a Memphis soul stew with a sound instantly recognizable to any fan of deep southern soul – impassioned vocals, languid piano contrasting with sly, smoking horns, rock-steady drums, crisp guitars.  Floyd also teamed with Willa Parker to write "Don't Make It So Hard on Me," and the album's twelve tracks make for a pleasing bag of tunes in various tempi but all suited to the same mood and themes of love lost and found.
The driving "You Don't Know Like I Know" is heard here in mono, while all of the other album tracks are in stereo; the stereo version was missing an overdub so Edsel opted to include the more "complete" mono version.  Three singles have been appended to Hold On, I'm Comin'.
Much had changed in just a few months by winter 1966 when Double Dynamite was released in January 1967.  The Summer of Love was just around the corner.  The groovy, psychedelic cover art may have been a concession to the times, but the music within was still timeless.  It's not a markedly different album in tone than its predecessor; "You Got Me Hummin'" is the highlight, but this unusual funk workout failed to make a big noise at the time for Sam and Dave.  "Said I Wasn't Gonna Tell Nobody" offers a more muscular (modern?) sound but the Hayes/Porter song lacked the hook and memorable riff of "Hold On," the yardstick by which every subsequent Sam and Dave song would be measured.
For the first time, cover versions were introduced into the mix including Sam Cooke's "Soothe Me" and Dan Penn and Spooner Oldham's "I'm Your Puppet" (a hit for another soul duo, James and Bobby Purify).  Though the chorus harmonies of Sam and Dave were uniquely their own, the production lacks the distinctive glockenspiel echoes of the Purifys' version but otherwise stays true to the blueprint.  But, boy, did the Porter/Hayes team deliver with "When Something's Wrong with My Baby," a stone-cold ballad classic.  It barely missed the Top 40 but this song (actually recorded first by Charlie Rich) gave Moore and Prater their best placing in many singles.
Hit the jump for Edsel's second Sam and Dave release, plus Philip Bailey's Chinese Wall/Inside Out!
Whereas Hold On and Double Dynamite were collected on a single disc, Soul Men/I Thank You has been released as a 2-CD package (Edsel EDSD 2131).  Producers Hayes and Porter offered up just three songs for 1967's Soul Men, with Hayes contributing a fourth with co-writer Paul Selph.  But among those three songs was "Soul Man," finally the song that would restore Sam and Dave to the top of the charts!  Though the lovely Lulu's "To Sir with Love" kept it from the top spot on the pop chart, it hit No. 1 R&B.  There's plenty to savor on the rest of Soul Men, too.  "May I Baby" combines the sweet and the torrid, while "Just Keep Holdin' On" is a rare spotlight for Dave.   "Hold It Baby" also continues the "holdin'" theme, with its amusing and then-timely cry, "I thought I left enough love with you, baby, to last till 1973!"   And Messrs. Moore and Prater would never have been confused with the Everly Brothers, but they do take Don and Phil's "Let It Be Me" to church!  Among the bonus material added to Soul Men is the original single "I Can't Stand Up for Falling Down" which is always a revelation for fans of Elvis Costello's cover version!
The final album in this series, I Thank You, bore the Atlantic label rather than the Stax one, the company's distribution deal with Stax having expired.  But the album was still recorded at Stax, produced by Hayes and Porter, who upped the ante by writing a full seven songs.  Tony Rounce speculates in his notes that I Thank You was assembled from leftovers, but it's a fitting farewell not just to Sam and Dave (who would sporadically reunite despite their personal conflicts) but to the entire first age of Stax, then making way for a new, far funkier sound.
"Everybody Got to Believe in Somebody" was sweetened with strings, which makes it one of the album's most distinctive tracks.  It's also unique for being a genuine duet between the two men, rather than the typical trading off on verses and singing together on the chorus.  It's amazing that this single missed the R&B charts, with its forward-thinking sound.  (Strings recurred on "If I Didn't Have a Girl Like You" and the dynamic "Talk to the Man," as well.)  On the other end of the musical spectrum, you might feel sanctified listening to the shouted introduction to Eddie Floyd and Steve Cropper's storming "You Don't Know," while a cover of the standard "That Lucky Old Sun" is similarly impassioned.  Seven more singles are included following I Thank You, making these two releases the most comprehensive Sam and Dave releases yet, a virtually complete survey of their work at Stax/Atlantic.  And now for something (almost) completely different…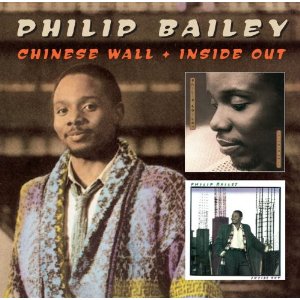 It's not always easy for a vocalist, even a lead vocalist, of a successful group to come out from that group's shadow and flourish as a solo artist.  But Philip Bailey made it look easy when he signed with Columbia Records for 1983's Continuation, produced by George Duke.  It didn't hurt that he had a then-white hot Phil Collins producing his 1984 Chinese Wall and CHIC's Nile Rodgers behind the controls for 1986's Inside Out, collected as a 2-CD set (Edsel EDSD 2119).
Sure, much of Chinese Wall hasn't aged particularly well.  It's disconcerting to hear Bailey's luscious high tenor electronically processed to the nth degree on the shudder-inducing album opener "Photogenic Memory."  At least most of the album's drums weren't synthesized, as Collins was himself behind the kit!  Bailey didn't rely completely on the familiar Earth, Wind and Fire horn sound, though EWF's horn section (as The Phoenix Horns) does appear on five of the album's tracks.  Four of those more orchestrated efforts also boasted subtle string arrangements from Arif Mardin.  But even without the horns or strings, tracks like the smooth "For Every Heart That's Been Broken" recall EWF's strengths.   Among the other agreeable tracks are "Go," an up-tempo groove that melodically recalls "After the Love is Gone" for a brief moment, and "Woman," with its seductive, lightly Latin groove. The socially-conscious "Children of the Ghetto" has a jazz feel to it.  Glen Ballard (later to gain fame producing Alanis Morissette and currently making his Broadway debut with the score to the musical Ghost) co-wrote three songs including the sweet seventies soul throwback ballad "Show You the Way to Love."
But the best track on the album, however obvious a choice, is the glistening duet with Collins (who also co-wrote the song with Bailey and Nathan East).  "Easy Lover" has all of the ingredients of a great pop song: a big, catchy hook; a lyrical tale of one evil woman; a slick, glimmering production; muscular instrumental dynamics from East on bass, Collins on drums, Daryl Stuermer on guitars, and Lesette Wilson on keyboards.
1986's Inside Out is more diverse affair, although it lacks a single song as compelling as "Easy Lover."  (Leadoff single "State of the Heart" didn't repeat its success, either.  It's also present here in its 12-inch dub mix, the Bailey set's lone bonus track.)  But that's not to say that the album doesn't have much to recommend, especially for fans of eighties pop-soul.  "Welcome to the Club," written by Bailey, Bobby Nunn and Donna Weiss, is a percolating dancefloor groove with Nile Rodgers' rhythmic production hallmarks.  "Special Effect," co-written by Bailey and Rodgers, is even more in the CHIC style, and Rodgers teamed with his CHIC bandmate Bernard Edwards for the pleading "Don't Leave Me Baby," There are some quieter moments that score, too, including "Long Distance Love," with Bailey's expressive falsetto and Steve Elson's prominent saxophone, and "Because of You" with George Duke and Ray Parker, Jr. among the guests.  Phil Collins returns for "Back It Up," joined by Duke, Rodgers, Parker, Fonzi Thornton and Jeff Beck!  The song is written by Bailey, Rodgers, Collins, Duke, Parker and Nathan East.  Despite its a-list team and intentional echoes in melody and style of "Easy Lover," it doesn't top that past hit.
All three titles feature colorful, copiously-annotated booklets with full credits and the in the case of the Philip Bailey set, full lyrics.  Phil Kinrade at Alchemy has remastered.  It's safe to say that the music of these soul men is quite likely to leave you hummin'.