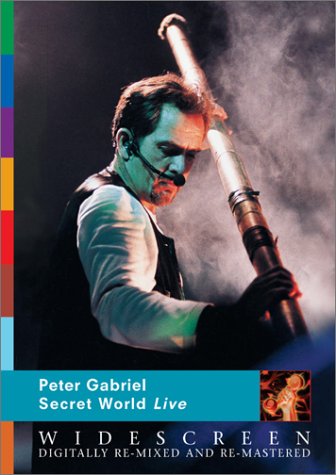 While you count down the months until Peter Gabriel's 25th anniversary reissue of So later this year, we have another catalogue project of his to anticipate this year: an expanded Blu-Ray release of 1993's Secret World Live.
After the much-anticipated release of Us in 1992, Peter Gabriel had a big surprise up his sleeve: his (arguably) most ambitious solo tour, a multimedia event so big it took two stages to perform. (For pop trivialists out there, it was also the first major appearance by Paula Cole, who went from guest vocalist to Grammy-winning singer/songwriter in her own right, with songs like "Where Have All the Cowboys Gone?" and "I Don't Want to Wait.")
That tour was memorably chronicled on the video Secret World Live, an arresting audiovisual document recorded over two dates in Italy, drawing heavily on material from So and Us.
For its DVD and Blu-Ray reissue on July 2 (July 10 in the U.S.), the program has been remastered and restored from the original 16mm negative for a new 2K transfer. There's some old and new bonus footage, too: "Red Rain," omitted from the original set list, is presented as a bonus feature, along with time-lapse footage of the stage setup, a making-of featurette, a photo montage set to a remix of "Steam" and Gabriel's performance of Us' "The Rhythm of the Heat" with The New Blood Orchestra from last year's New Blood: Live in London DVD.
Pre-order your copies on DVD and Blu-Ray from Amazon here and here.