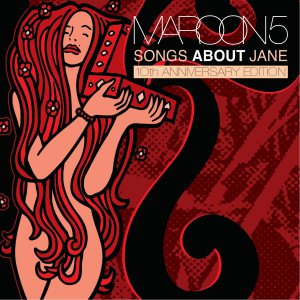 As crazy as it may sound, the debut album by pop-rock band Maroon 5 is turning 10 this year, and the band is picking a strange time to commemorate it.
The band and their label, A&M/Octone, are partnering to release a double-disc expanded edition of 2002's Songs About Jane featuring "original demos, unreleased material and videos." The set will be released to general retail on June 5; a deluxe bundle, available on the band's website, also comes with a bonus lithograph "incorporating original art inspired by each song" in addition to the album's distinctive cover art.
What makes the timing of the reissue odd is it's due to arrive alongside the release of the band's fourth album, Overexposed. It's easy to question the marketing sense behind pitting a quadruple-platinum Top 10 smash against a more current album, whose debut single "Payphone" debuted at No. 3 on the Billboard Hot 100, setting a first-week digital sales record of 493,000 units sold.
But it's also hard to deny the impact Songs About Jane had on the group, serving as one of the last great slow burns in pop history: the band was forged from the failure of power-pop group Kara's Flowers, whose Rob Cavallo-produced debut stiffed in 1997, when the members were still in high school. Adding an extra guitarist and embracing R&B and soul stylings, Songs About Jane didn't go anywhere for over a year, until fans began to notice the radio-friendly riffs and striking good looks of the band members (notably lead singer Adam Levine, who's parlayed his singing career into a prime spot as a judge on NBC's The Voice).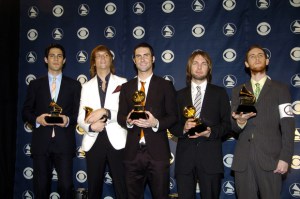 Ultimately, Jane spun off four Top 40 hits, including the Top 5 smashes "This Love" and "She Will Be Loved." Constant touring in support of Jane - not to mention a Grammy Award for Best New Artist - led 2007's sophomore album It Won't Be Soon Before Long to the top of the charts, and the group's foray into dance music with 2011's "Moves Like Jagger" was a solid No. 1 hit for weeks.
UPDATE (5/11): The full specs of the reissue have been announced, and bonus content is plentiful. The 17-track bonus disc includes demos of every song on the album, a non-LP B-side, "Rag Doll"; demos of three rare or unreleased tunes ("Woman," heard on 2004's Spider-Man 2 soundtrack, and the unissued "Take What You Want" and "Chilly Winter") and an alternate mix of album track "The Sun." The disc will also unlock video content including footage of the band recording Jane and the original EPK for the album. Hit the jump to check the full track list!
[youtube=http://www.youtube.com/watch?v=rV8NHsmVMPE]
Maroon 5, Songs About Jane: 10th Anniversary Edition (A&M/Octone B0016894-02, 2012)
Disc 1: Original LP (originally released as Octone/J 82365 50001-2, 2002)
Harder to Breathe
This Love
Shiver
She Will Be Loved (Radio Mix) *
Tangled
The Sun
Must Get Out
Sunday Morning
Secret
Through with You
Not Coming Home
Sweetest Goodbye
* released as Octone/J promo single (no cat. #), 2004
Disc 2: Bonus material (all tracks previously unreleased except where noted)
Harder to Breathe (Demo)
This Love (Demo)
Shiver (Demo)
She Will Be Loved (Demo)
Tangled (Demo)
The Sun (Demo)
Must Get Out (Demo)
Sunday Morning (Demo)
Secret (Demo)
Through with You (Demo)
Not Coming Home (Demo)
Sweetest Goodbye (Demo)
Take What You Want (Demo)
Rag Doll (U.K. B-side to "Harder to Breathe" - Octone/BMG 82876 56692-2, 2003)
Woman (Demo)
Chilly Winter (Demo)
The Sun (Alternate Mix)