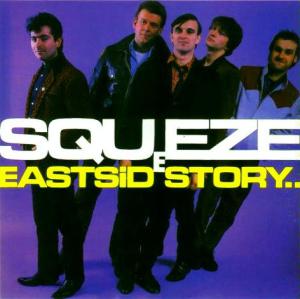 Welcome to another installment of Reissue Theory, where we focus on notable albums and the reissues they may someday see. Today marks the just-over-three-decade mark on a classic British LP of the '80s that is practically screaming for a deluxe effort.
If you were brave or foolhardy enough to label Chris Difford and Glenn Tilbrook the heirs to the throne of John Lennon and Paul McCartney, 1981 was truly the year to do it. The British singer/songwriters and their little New Wave band that could, Squeeze, had been gigging since the '70s and would release their fourth studio album in four years, East Side Story, in England 31 years ago today, May 15, 1981.
The album became a landmark of its times, with devout Squeeze fans across the world (a bit of an oxymoron, as all fans of Squeeze are devoted) hailing it as the band's crowning achievement: singable, iconic, diverse pop/rock helmed by a band in full control of their powers and a famous producer willing to coax the absolute best from them. Though key track "Tempted" was never a hit on either side of the Atlantic, it stands as the band's signature song; that's hardly scratching the surface, though, with two other singles and a host of key album sides at play.
Reissues of the Squeeze back catalogue are a key point for any fan: Universal Music Group reissued the band's first six albums with bonus tracks in 1997, and ten years later started a definitive campaign from the band's entire A&M discography, issuing expanded editions of Argybargy (1980), Sweets from a Stranger (1982), Frank (1989) and Ridiculous (1995). But the campaign hasn't gone anywhere since - and East Side Story is well atop the list of Squeeze LPs that deserve the red carpet treatment.
After the jump, we recount the making of this classic album and our vision for a quintessential version of this album on CD!
Coming off the successes of Cool for Cats (1979) and Argybargy - the former spinning two consecutive No. 2 singles in the U.K. with the title track and "Up the Junction" - Difford and Tilbrook were riding high. Though Squeeze would see one of a great many personnel changes before the recording of East Side Story, swapping charismatic keyboardist Jools Holland for notable sideman and onetime Ace and Roxy Music member Paul Carrack, the band's batteries were more charged than ever. And A&M were pleased with the band's reach enough to give them a wide berth on how to go about their next album.
[youtube=http://www.youtube.com/watch?v=UD4RKwGyOV0]
East Side Story was conceived as a double album with four sides produced by some of British pop/rock's greatest names at the time: Paul McCartney, Elvis Costello, Nick Lowe and Dave Edmunds. Ultimately, McCartney had to bow out, and sessions with Lowe and Edmunds produced very little of value (outside the superb Edmunds-produced opener, "In Quintessence." But Costello, who according to legend gave The Attractions copies of Argybargy to emulate, was enthusiastic to work with Squeeze. He would produce nearly the entire album with his engineer Roger Bechirian.)
While many of Squeeze's prior sessions were punctuated by frequent trips to the pub - all the better to draw inspiration for Difford's bright-0l'-chap lyrics - Costello in fact proved to be a stern taskmaster during the sessions, even suggesting changes in diet. He also pushed the band outside their comfort levels, urging them to record tracks like the country-tinged ballad "Labelled with Love." (Amazingly, this was the album's biggest hit, reaching No. 4 in the U.K.)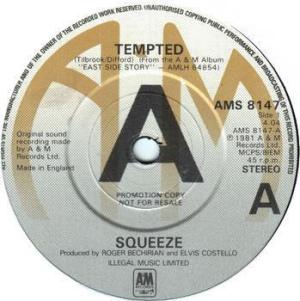 Costello also made the crucial decision to give Carrack lead vocals on "Tempted," a soulful tale inspired by unfaithful feelings while on tour. (Tilbrook sang lead on an Edmunds-produced version, which he later dismissed as sounding like the Electric Light Orchestra.) Carrack's lead and organ, all these years later, make this the go-to song to jog another fellow's memory when discussing Squeeze. But it's one of more than a dozen keepers on the album, with Difford and Tilbrook crafting little musical slices of life on "Is That Love," "Piccadilly," "Woman's World," "Mumbo Jumbo," "Someone Else's Heart" and more.
Our deluxe edition of East Side Story collates the album with all of its B-sides and outtakes (including the hilarious "Squabs on Forty Fab," a snarky B-side featuring Squeeze's greatest hits at the time pieced together as a Stars on 45-esque medley) and adds a bonus disc of a live show in Oxford recorded for the BBC on the day of the album's release, featuring an eclectic set list with a few tracks from the band's next album, Sweets from a Stranger.
Below: when "Tempted" was licensed for use in the Rock Band video game series, programmers utilized the full master recording, which had a cold ending as opposed to the fade-out on the original album.
[youtube=http://www.youtube.com/watch?v=CvCqdHYSsqs]
Squeeze, East Side Story: Deluxe Edition (A&M/UMe)
Disc 1: Original LP and bonus material
In Quintessence
Someone Else's Heart
Tempted
Piccadilly
There's No Tomorrow
Heaven
Woman's World
Is That Love
F-Hole
Labelled with Love
Someone Else's Bell
Mumbo Jumbo
Vanity Fair
Messed Around
The Axe Has Now Fallen
Trust
Yap, Yap, Yap
Squabs on Forty Fab
Wrong Way
Tempted (Dave Edmunds Version)
Looking for a Love
Disc 2: Live at Oxford Polytechnic, May 15, 1981
Take Me, I'm Yours
Too Many Teardrops
Another Nail in My Heart
Separate Beds
Slightly Drunk
Out of Touch
I Think I'm Go Go
Is That Love
I've Returned
Heaven
Pulling Mussels (from the Shell)
Yap Yap Yap
Slap and Tickle
Cool for Cats
Up the Junction
Messed Around
Goodbye Girl
Disc 1, Tracks 1-14 released as A&M Records AMLH-64854 (U.K.)/SP-4854 (U.S.), 1981
Disc 1, Tracks 15 and 21 were bonus tracks on a CD reissue of the album (A&M 540 805-2, 1997)
Disc 1, Track 16 was the B-side to "Is That Love" - A&M AMS 8129, 1981
Disc 1, Track 17 was the B-side to "Tempted" - A&M AMS 8147, 1981
Disc 1, Track 18 was the B-side to "Labelled with Love" - A&M AMS 8166, 1981
Disc 1, Track 19 released as Smash Hits!/Lyntone flexidisc LYN-7010IS, 1980
Disc 1, Track 20 released on Excess Moderation (A&M 540 651-2, 1997)
Disc 2 released as BBC Transcription disc #255, 1981