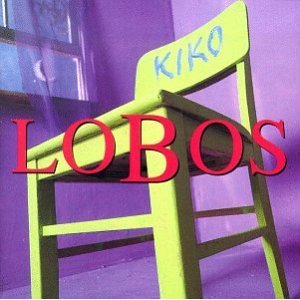 Their first compilation may have humbly seen them described as "just another band from east L.A.," but Los Lobos have remained one of the most richly diverse bands in a nearly 40-year lifespan. And this August, one of their most acclaimed LPs is getting expanded by Shout! Factory.
1992's Kiko was released some years after the band burst onto the scene with How Will the Wolf Survive? (1984) and their breakthrough contributions to the soundtrack to La Bamba in 1987. But many critics and fans - not to mention the band themselves - look highly on their work on Kiko, arguably the ultimate synthesis of the band's diverse influences, from blues to country to Tex-Mex. It was hailed as the year's best album by The Los Angeles Times and The Chicago Tribune, and the experimental video for "Kiko and The Lavender Moon" won an MTV Video Music Award for Breakthrough Video.
[youtube=http://www.youtube.com/watch?v=ornSpLMUzbw]
Shout! Factory's celebration of the album comes twofold: not only are they remastering and expanding the album with five unreleased bonus tracks, but they're also releasing a live show from 2006, in which the band played the album in its entirety. That set, Kiko Live, will be released as a CD/DVD set or a CD/Blu-Ray package and will also feature bonus interviews about the making of the album.
All sets will be available on August 21. Preview the track lists after the jump!
Kiko: 20th Anniversary Edition (Shout! Factory, 2012)
Dream in Blue
Wake Up Dolores
Angels with Dirty Faces
That Train Don't Stop Here
Kiko and the Lavender Moon
Saint Behind the Glass
Reva's House
When the Circus Comes
Arizona Skies
Short Side of Nothing
Two Janes
Wicked Rain
Whiskey Trail
Just a Man
Peace
Rio de Tenampa
Whiskey Trail (Studio Demo)
Rio de Tenampa (Studio Demo)
Peace (Live @ Capitol Studios on NPR - 12/25/1992)
Arizona Skies/Borinquen Patria Mia (Live @ Capitol Studios on NPR - 12/25/1992)
Kiko and the Lavender Moon (Live @ Capitol Studios on NPR - 12/25/1992)
Kiko Live (Shout! Factory, 2012)
Dream in Blue
Wake Up Dolores
Angels with Dirty Faces
That Train Don't Stop Here
Kiko and the Lavender Moon
Saint Behind the Glass
Reva's House
When the Circus Comes
Arizona Skies
Short Side of Nothing
Two Janes
Wicked Rain
Whiskey Trail
Just a Man
Peace
Rio de Tenampa
Carabina 30-30
Volver Volver
La Bamba
All tracks recorded live at the House of Blues, San Diego - 2/24/2006