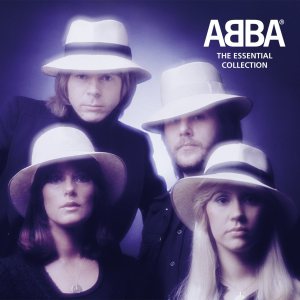 While there are more than enough deluxe reissues, compilations and box sets to satiate ABBA novices and experts alike, Universal's European arm is throwing their hat into the ring once more this fall with the release of The Essential Collection, a two-CD/one-DVD singles and videos compilation.
While there's no new audio material to be had in The Essential Collection (we can't be too spoiled after the unreleased track on the deluxe reissue of The Visitors), the set may be the most comprehensive singles collection the band has ever released. Familiar tracks like "Dancing Queen," "Mamma Mia," "Waterloo," "Take a Chance on Me," and "Super Trouper" take equal footing with lesser-known cuts like "Ring Ring" and "He is Your Brother" from the band's 1973 debut and international-only single tracks like "Bang-a-Boomerang," "Eagle" and "Angeleyes."
The DVD includes 34 of the iconic band's promo videos, including several of their hits as re-recorded in Spanish. In traditional ABBA fashion, two of those clips - the Spanish versions of "Knowing Me, Knowing You" and "Thank You for the Music" - have been unearthed from the vaults and are making their debut on home video.
[youtube=http://www.youtube.com/watch?v=-crgQGdpZR0]
Initially due for a release this month, ABBA's The Essential Collection will be released in Europe on September 3. (Separate packages containing just the CDs or the DVD will be available on the same day.) (Props to Super Deluxe Edition for breaking this story wide!)
Hit the jump to preview the track list!
ABBA, The Essential Collection (Polar/UMC, 2012)
Disc 1
People Need Love
He is Your Brother
Ring Ring
Love Isn't Easy (But It Sure is Hard Enough)
Waterloo
Honey, Honey
So Long
I Do, I Do, I Do, I Do, I Do
SOS
Mamma Mia
Bang-a-Boomerang
Fernando
Dancing Queen
Money, Money, Money
Knowing Me, Knowing You
That's Me
The Name of the Game
Take a Chance on Me
Eagle
One Man, One Woman
Thank You for the Music
Summer Night City
Disc 2
Chiquitita
Does Your Mother Know
Voulez-Vous
Angeleyes
Gimme! Gimme! Gimme! (A Man After Midnight)
I Have a Dream
The Winner Takes It All
Super Trouper
On and On and On
Lay All Your Love on Me
Happy New Year
One of Us
When All is Said And Done
Head Over Heels
The Visitors
The Day Before You Came
Under Attack
Disc 3: DVD - the promo videos
Waterloo
Ring Ring
Mamma Mia
SOS
Bang-a-Boomerang
I Do, I Do, I Do, I Do, I Do
Fernando
Dancing Queen
Money, Money, Money
Knowing Me, Knowing You
That's Me
The Name of the Game
Take a Chance on Me
Eagle
One Man, One Woman
Thank You for the Music
Summer Night City
Chiquitita
Does Your Mother Know
Voulez-Vous
Gimme! Gimme! Gimme! (A Man After Midnight)
On and On and On
The Winner Takes It All
Super Trouper
Happy New Year
When All is Said and Done
One of Us
Head Over Heels
The Day Before You Came
Under Attack
Estoy Soñando
Conociéndome, conociéndote
Gracias por la música
Felicidad
Disc 1, Tracks 1-4 from Ring Ring (Polar, 1973)
Disc 1, Tracks 5-6 from Waterloo (Polar, 1974)
Disc 1, Tracks 7-11 from ABBA (Polar, 1975)
Disc 1, Tracks 12-16 from Arrival (Polar, 1976)
Disc 1, Tracks 17-21 from ABBA: The Album (Polar, 1977)
Disc 1, Track 22 from Polar non-LP single, 1978
Disc 2, Tracks 1-4 and 6 from Voulez-Vous (Polar, 1979)
Disc 2, Track 5 from Greatest Hits Vol. 2 (Polar, 1979)
Disc 2, Tracks 7-11 from Super Trouper (Polar, 1980)
Disc 2, Tracks 12-15 from The Visitors (Polar, 1981)
Disc 2, Tracks 16-17 from The Singles: The First Ten Years (Polar, 1982)