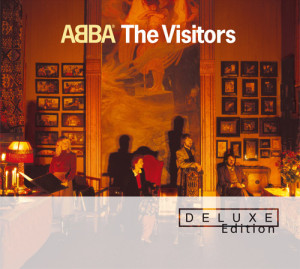 announced a deluxe edition of the group's eighth and final studio album, 1981's The Visitors.
The Visitors saw ABBA tackling decidedly darker territory than anyone could have dared to expect from the squeaky-clean Swedish quartet. The group convened in studio barely a month after songwriter Benny Andersson and co-lead singer Frida Lyngstad divorced (the other half of the group, Björn Ulvaeus and Agnetha Fältskog, had divorced a year earlier), and sessions could be predictably tense. Adding to the tension on a technical level was the decision to record the album digitally (one of the first to be made as such), a transition that required a lot of work for longtime engineer Michael Tretow.
But the album earned critical points for its slightly darker subject matter and complex musical arrangements; Billboard called it the band's "first true masterpiece." And the album sold well across the world, if not to the tune of its predecessors. (In the U.S., it peaked at No. 29 and had a moderate hit in "When All is Said and Done." "One of Us" was a Top 10 hit in several markets across the globe.) But it would prove to be the band's swan song; after a singles compilation in 1982, there would be no more performances - in studio or in concert - from the group.
Now, three decades later, The Visitors touches down once more in a double-disc CD/DVD set in the style of the latest ABBA reissue campaign. The original album is bolstered with seven additional songs: one non-LP B-side ("Should I Laugh or Cry"), the two then-new cuts from 1982's The Singles - The First Ten Years ("The Day Before You Came" and "Under Attack"), their single B-sides ("Cassandra" and "You Owe Me One") and "I Am the City," a Visitors outtake unearthed in 1993 for a compilation.
But the biggest boon for collectors is the final bonus track, "From a Twinkling Star to a Passing Angel," a collection of demo excerpts from the making of the album. This marks one of the few times since the band's dissolution that entirely unreleased, unheard material has been unearthed from the vaults. (The last occurence was in a 23-minute track on ABBA's Thank You for the Music box set in 1994.)
The DVD features a host of live performances and promotional appearances on British, Scandinavian and American television, the original music video for "When All is Said and Done" and television commercials for The Visitors and The Singles - The First Ten Years.
This deluxe edition is available April 23
ABBA, The Visitors: Deluxe Edition (Polydor/UMC, 2012)
Disc 1: Expanded album
The Visitors
Head Over Heels
When All is Said and Done
Soldiers
I Let the Music Speak
One of Us
Two for the Price of One
Slipping Through My Fingers
Like An Angel Passing Through My Room
Should I Laugh or Cry
I Am the City
You Owe Me One
Cassandra
Under Attack
The Day Before You Came
From a Twinkling Star to a Passing Angel (Demos)
Disc 2: DVD
Two for the Price of One (Dick Cavett Meets ABBA)
Slipping Through My Fingers (Dick Cavett Meets ABBA)
When All is Said and Done (Original Promo Clip)
ABBA in London, November 1982 (The Late Late Breakfast Show, BBC)
ABBA In Stockholm, November 1982 (Nöjesmaskinen, SVT)
The Visitors TV commercial (U.K.)
The Visitors TV commercial (Australia)
The Singles - The First Ten Years TV commercial (UK)
The Singles - The First Ten Years TV commercial (Australia)
International Sleeve Gallery
Disc 1, Tracks 1-9 released as Polar POLS 342, 1981
Disc 1, Track 10 was the B-side to "One of Us" - Polar POS 1291, 1981
Disc 1, Track 11 from More ABBA Gold: More ABBA Hits (Polydor/Polar 519 353-2, 1993)
Disc 1, Tracks 12 and 14 released as Polar single POS 1321, 1982
Disc 1, Tracks 13 and 15 released as Polar single POS 1318, 1982
Disc 1, Tracks 14-15 also released on The Singles - The First Ten Years (Polar POLMD 400/401, 1982)
Disc 1, Track 16 previously unreleased