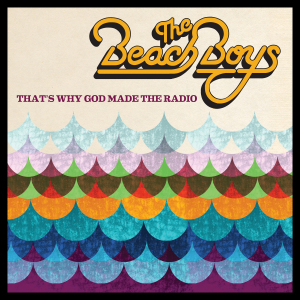 In Part One of our special two-part series, we recalled the ups and downs of The Beach Boys and the band's chief musical architect, Brian Wilson.  Today, in Part Two, we turn the spotlight over to That's Why God Made the Radio, the new album in stores today from America's Band!
Brian Wilson is still a cork on the ocean floating over the raging sea.  But is that a whiff of contentment I hear running through The Beach Boys' "reunion" album, That's Why God Made the Radio?  Despite the ups and downs survived by Wilson and The Beach Boys over the years, the emphasis in the band's 50th anniversary year is on the ups.  And I wouldn't want it any other way.  This all-new collection of songs has been produced by Brian Wilson, recorded by Joe Thomas and executive-produced by Mike Love, for those keeping score of such credits.  And Wilson's stamp is all over the new album, with rock's ultimate survivor doing what he does best: writing and singing with The Beach Boys.  At its peak moments, That's Why God Made the Radio surpasses all expectations, building on the legacy of a group for whom many felt history had closed the book.
"Old friends have gone, they've gone their separate ways," Brian Wilson matter-of-factly sings in the album closer, "Summer's Gone."  But it's a valedictory moment when he confirms that "dreams hold on for those who still have more to say."  The greatest gift of That's Why God Made the Radio is the knowledge that Wilson, Mike Love and Al Jardine, along with longtime cohorts Bruce Johnston and David Marks, still have plenty to say.  (While longtime Beach Boy Johnston is prominent on vocals, the recently-returned Marks offers strong guitar throughout.)  This won't be a complete surprise to those who have followed Brian Wilson's solo career.
In the years following 1998's Imagination, produced with Joe Thomas, Wilson teamed with a group of young musicians who could brilliantly recreate the sound of the mid-1960s Wrecking Crew productions with a modern energy.  That vital aggregation had much to do with Wilson's autobiographical concept album That Lucky Old Sun, which prefigures some of the more personal songs on That's Why God Made the Radio.  For the new album and current tour, many of those same members of The Brian Wilson Band are present: Scott Bennett, Probyn Gregory, Darian Sahanaja, Nick Walusko, Nelson Bragg, Paul Mertens, and especially Jeffrey Foskett, whose prominent falsetto colors many of the group's harmonies.  They have marshaled their forces with Joe Thomas and the Mike Love/Bruce Johnston Beach Boys group including guitarist Scott Totten and drummer John Cowsill.  The album's production bears Thomas' influence; it isn't as explicitly pastiche-oriented as Lucky Old Sun, but it's not merely a slick, glossy update, either.  Brian Wilson's favorite instruments are all accounted for: flute, tack piano, accordion, trombone, saxophone, vibes and harpischord are just a few of the tools in Wilson's arsenal.  The polished production brings all of these "pet sounds" to the fore.
A gentle tropical breeze wafts through many of these songs, but purists shouldn't forget that sun, surf and sand have been an integral part of the band's DNA since the very beginning.  The acknowledgment of those nostalgic themes doesn't take anything away from the "coming of age" of Pet Sounds and the avant-garde beauty of SMiLE, nor the stripped-down rock of the early 1970s or even the lo-fi, off-kilter pop of Beach Boys Love You.  All of these are colors of "America's band," and indeed the new album is filled with allusions to the band's past and present.
Grab some good vibrations after the jump!
The reflective choral opener "Think About the Days" can't help but remind one of "Our Prayer," the a cappella hymn that opens SMiLE.  A gentle piano joins The Beach Boys here, though, as well as French horn and vibes.  The short composition is more ruminative than urgent.  But the cascade of voices is at once soothing and spine-tingling.  It was also the first piece recorded for the new album, the vocal arrangement crafted on the spot by Wilson from Joe Thomas' chord progressions.  This beguiling melody is recalled later on the album as prelude to "Pacific Coast Highway."
Brian Wilson's is, appropriately, the first solo voice heard on the album.  "That's Why God Made the Radio" is a mission statement for the LP, "spreading the love and sunshine to a whole new generation."  The title and central chord progression came during the Imagination era from Wilson, and the song itself was fleshed out by Thomas, Larry Millas and Jim Peterik of Survivor and the Ides of March ("Vehicle").  Melodically, it also owes a debt to John Barry and his theme to Midnight Cowboy.  Earnest yet vibrant, it was a great choice for the album's single, and introduces the album's cannily-crafted Side One (so to speak!), dominated by retro nostalgia in the best sense of the word.  There's even a clever turn of phrase or two: "Feel the music in the air/Find a song to take us there/It's paradise when I/Lift up my antennae" and so on!  When the album later gives way from this rose-colored view of the past to a more sober declaration of the present, it's all the more effective.
Wilson, Thomas, Millas and Peterik contributed "Isn't It Time," with Mike Love also supplying lyrics.  The song is a "Do It Again" rewrite for the present day: "Isn't it time we danced the night away?  How about doin' it just like yesterday?"  Wilson, Thomas and Love also are behind "Beaches in Mind" and the quintessential "Spring Vacation."  The latter reiterates those themes of togetherness and reunion.  There are "I Get Around" and "Good Vibrations" lyrical references, and of course, Love could write these kinds of lyrics in his sleep: "Summer weather, we're back together!  Hey, what's it to ya?  Hallelujah!"  It could all be potentially hard to swallow, but longtime fans will embrace the notion that "As for the past, it's all behind us/Harmony, boys, is what we believe in!"  Mike Love, not war, indeed.  Love is represented as solo composer and lyricist with "Daybreak Over the Ocean," previously recorded (but unreleased) by Love as early as 1978.  The pleasantly languid song is built around a recording with vocals from Love, his children Hayleigh and Christian, and former touring Beach Boy Adrian Baker.  Wilson, Jardine, Johnston and Foskett have all added additional harmonies.  (Christian and Hayleigh are among the children pictured on the jacket of 1970's Sunflower!)
Brian Wilson seems the driving force behind "Shelter" (with shades of 1967's "Darlin'") and the quirky "The Private Life of Bill and Sue."  With an ironic, tropical arrangement and fantastic, intricate harmonies from Love, Jardine, Johnston and Foskett, the song is an observation on a reality show couple.  Yes, we're definitely in 2012!  Lyrically, it's not very pointed, but it's nonetheless delightfully sly as Wilson deadpans, "The private life of Bill and Sue/Can you dig what I'm telling you/No one knows just why we care/We see their faces everywhere!"
As enjoyable as these songs are, though, the best has been saved for last.  Joe Thomas has revealed that Wilson has been at work at an album-length suite reflecting on his life, and four of the five songs on That's Why God Made the Radio have been extracted from this work-in-progress: "Strange World," "From There to Back Again," "Pacific Coast Highway" and "Summer's Gone."  (A fifth track, entitled "I'd Go Anywhere," may eventually be inserted between "Strange World" and "From There to Back Again," but remains unfinished.)
A man drives California's Pacific Coast Highway, the ocean at his side, the wind at his back.  But though the scenery is pastoral, ghosts are everywhere on this sweltering California night.  This is what informs the final mini-suite on That's Why God Made the Radio.  "Strange World" offers a wistful riff on a familiar lyric ("It's a strange world after all") but the final triptych consists of songs which are the most ambitious, the most successful, and yes, the most that feel like the purest expressions of Brian Wilson.  This isn't a putdown to the other group members, none of whom are represented as songwriters on the album other than Mike Love.  (Reportedly tracks from Jardine and Johnston remain on the shelf, perhaps for use in a future project.)  The voices of the Beach Boys have always been vehicles for Wilson's compositional work and those transcendent harmonies.
Al Jardine takes the lead on the heartbreaking "From There to Back Again," an unconventionally-structured song.  Jardine's sensitive vocal soars over a gale of harmonies, flute and a bed of strings, reminiscing of a time "when life was still in front of you."  A cappella begins the segue into "Pacific Coast Highway," on which Brian, on lead, is at his most affecting: "Sometimes I realize the days are moving on…" and most frank: "My life…I'm better off alone…my life…I'm better off at home."  He makes a chilling "Goodbye" as the song's narrator continues his drive down the Pacific Coast Highway.
The album's touching closer, "Summer's Gone," was intended by Wilson to be The Beach Boys' final recording.  Should that come true, it provides the closure for which fans have long hoped: "Summer's gone/I'm gonna sit and watch the waves/We laugh, we cry/We live, then die/And dream about our yesterday."  Though undeniably melancholy, the song is a valedictory, too.  There's a Pet Sounds vibe, recalling ripples on the water, or the final glistening of a setting sun.  Truly all that's missing from this breathtaking song are vocals from the much-missed, late Carl Wilson.  There's even a final, post-song coda of sound that recalls Pet Sounds' finale.  "Summer's Gone" also boasts the oddest writing credit on the entire album.  While Wilson and Thomas are responsible for the suite, Jon Bon Jovi made lyrical contributions to the track while visiting in the studio!
Seeing the reunited Beach Boys in concert today, Brian Wilson's stare is often an impassive one, but hopefully it conceals a placid serenity at all that he's accomplished, which after all, is quite enough.  But the fact that he is still creating, still in touch with the music of his soul, well, that's much more than enough.  No longer in the thrall of the cutting-edge, he's now making music strictly on his own terms and with his most famous musical family.  The final lyric of "Summer's Gone" sinks in: "We dream about our yesterday."  Yes, what sweet dreams they were.  But in the unpredictable realm of The Beach Boys, there's no reason that we can't hold on to our dreams for tomorrow.  Various band members have hinted that another album might be on the way from America's band, perhaps finishing that suite.  But even if nothing further flows from these waters, That's Why God Made the Radio is a fitting final statement.  Embodying the spirit of togetherness that had long been forgotten by the Beach Boys, and a particularly American spirit of tenacity as well, this album is simply nourishment for the soul.
You can order That's Why God Made the Radio here!