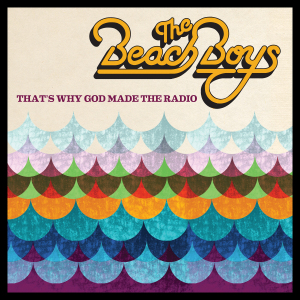 Tomorrow sees the release of That's Why God Made the Radio, the long-awaited studio album from Brian Wilson, Mike Love, Al Jardine, Bruce Johnston and David Marks: The Beach Boys. As the favorite sons of Hawthorne, California continue their enormously successful 50th Anniversary Tour and with the promise of catalogue projects to come later in 2012, we're looking at this new album and the legacy of these musical giants in a special two-part series beginning right now!
Where did our long hair go?  Like the eponymous girl of 1966's "Caroline No," our collective innocence is long gone.  And so it might be difficult at first blush to accept five men, their ages hovering around 70, singing of spring vacations and beaches in mind.  Yes, The Beach Boys are back and celebrating their 50th anniversary with a world tour and a new album.  They have just delivered That's Why God Made the Radio, their first album since 1996, their first of all-original material since 1992 and their first of all-original material with Brian Wilson since 1985.  (Whew!)  Somehow, it feels not only inevitable, but altogether right.
Summer 1967 was just around the corner when Brian Wilson collapsed under the weight of ambitions - both his own and that of others - and shelved SMiLE.  That album remained a legendary what-if until it was "completed," first in 2004 by Wilson himself and in 2011 by The Beach Boys.  It would have followed a string of records that brought melodic and harmonic sophistication to pop, and then the intensely personal statement of 1966's Pet Sounds.  Though Mike Love is said to have provided the title, the pet sounds were Brian's, building on the foundation he had laid with songs as early as "Surfer Girl," the very first he ever wrote.  Pet Sounds, though, left behind cars and surfboards (though not girls!) as it lyrically explored the themes that resonated for the young man, and his audience of contemporaries: the angst of adolescence, the promise of adulthood.   Brian Wilson's idol Phil Spector was let down when the record-buying public roundly ignored his magnum opus, "River Deep - Mountain High," and it was no different for Wilson when Pet Sounds became The Beach Boys' first album in three years not to go gold.  Capitol Records undercut any traction it may have been gaining by rush-releasing a golden-oldies compilation to stores.  It seems hard to believe today, but "God Only Knows" and "Wouldn't It Be Nice" just sounded too foreign to a public thrilling to "I Get Around" and "Surfin' USA."
But Brian Wilson didn't give up.  In those heavy, heady days of '67, he had an unquenchable thirst to push the limits of what popular music could do.  An intensely competitive perfectionist, he intended for SMiLE to outdo not only his past achievements but those of The Beatles.  John, Paul, George and Ringo were also redefining the scope of the new "rock," which had, after all replaced the "rock and roll" once played by both The Beatles and The Beach Boys.   SMiLE was pure sonic experimentation, a jagged "teenage symphony to God" that was artful and ramshackle, beautiful and impenetrable.  It should have built on the success of "Good Vibrations," the Beach Boys' single which had merged the avant-garde and the commercial into a thrilling and completely new whole.  But it wasn't meant to be, and despite some fine albums to follow, the band could never fully step out from the shadow of SMiLE as vibrant, vital hitmakers.
The abandonment of SMiLE was the first sign of fracture in the California group.  But destiny had played a cosmic joke on the golden boys of sun and surf; darkness had bubbled under the surface since the very beginning.  Just listen to the stark loneliness of "In My Room."  In later years, though, that darkness manifested itself as something more frightening than adolescent melancholy, from an association with a notorious killer to mental health issues.  All of those matters have been chronicled innumerable times and won't be elaborated upon by me.  Yet a contingent of fans (the largest contingent, one might add) has "kept the summer alive" as the Beach Boys envisioned it between, say, 1962 and 1966.  "Surfin' USA" and "I Get Around" transport these fans to a simpler, perhaps happier time.  Then there's a smaller, though still vocal, group of younger fans weaned on Pet Sounds and snippets of SMiLE rather than, say, "Little Honda."  These fans have allowed Brian Wilson, the "George Gershwin of pop" (he wouldn't accept the Mozart tag, ever modest), to reconnect with the muse that produced his most deeply personal, often experimental work in those lysergic days of 1966 and 1967.
There's much more after the jump...
Of course, The Beach Boys persevered long past SMiLE, and even survived the retreat of their leader to battle his demons.  They continued to make new, often stunning, music through the mid-1970s when nostalgia became all the rage thanks to the likes of American Graffiti and Happy Days.  In 1974, Endless Summer rode the waves of nostalgia, hitting No. 1 in the U.S. during a 155-week stay on the charts.  The Beach Boys were prepared to look back to the pre-Pet Sounds era.  The band weathered the 1983 death of Dennis Wilson and the departure of leader Brian from most activities.
It wasn't until the years following Carl Wilson's 1998 death that the Beach Boys finally came apart at the seams.  Mike Love and Bruce Johnston soldiered on as a touring concern under the band's name.  Al Jardine was left on his own.  Brian Wilson, surrounded by a group of incredibly sympathetic young musicians, reclaimed his art and his life.  He remarried and had children, as well as touring and recording to considerable acclaim.  But so prominent were the frequent instances of disharmony between these various camps, that there are still many onlookers today who cast a suspicious eye on the Beach Boys' reunion activities.  While one can't blame them, can't we also accept that perhaps these men have finally found at least a small measure of peace with each other and their shared legacy, and can now enjoy that which has bonded them together?
Brian Wilson's singular muse of extreme emotion, both melancholy and joy, was always channeled through the voices of family: two brothers, one cousin, plus assorted friends who became family.  With Dennis and Carl Wilson both having passed on, friends now outnumber relations.  But the family reunion of Brian Wilson, Mike Love, Al Jardine, Bruce Johnston and early member David Marks could hardly be more melodious based on That's Why God Made the Radio.  The man who brought a new sensitivity to rock is as sensitive as ever - and so what if it's not current?  The Beach Boys abdicated that particular throne in 1974 with Endless Summer.
The germ of That's Why God Made the Radio began with Imagination, the 1998 Brian Wilson solo album that teamed the singer with writer/producer Joe Thomas.  The producer of The Beach Boys' last studio album, 1996's Stars and Stripes, Thomas subtly modernized the classic Beach Boys sound for Imagination, which we spotlighted in a Reissue Theory post here.  Following its release, Thomas and Wilson wrote a number of songs for a follow-up album that never materialized.  As Thomas has explained, Wilson ultimately decided to hold onto those songs for The Beach Boys, however unlikely a reunion seemed at the time.  Now, with time apparently having healed many wounds, the time for these songs has come.  Mike Love has added lyrics to a number of tracks, and reportedly five wholly new songs have been written for That's Why God Made the Radio.  Most crucially, Wilson and Thomas have musically addressed all aspects of the Beach Boys' legacy, recalling those carefree summer songs as well as Pet Sounds and even SMiLE.  Holding onto these songs for nearly fifteen years, perhaps Brian was onto something after all.
Tomorrow: We dive into That's Why God Made the Radio with a full review!  You can order the album here!