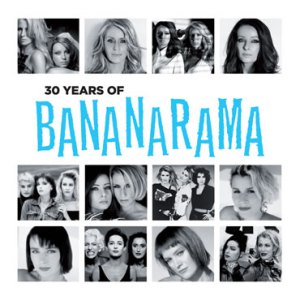 Ironically, with news of the Stock Aitken Waterman/PWL box set also comes news of one of the SAW team's most prolific collaborators: U.K. girl group Bananarama, who are celebrating their 30th anniversary with a new CD/DVD compilation.
The band initially consisted of childhood friends Keren Woodward and Sara Dallin and schoolmate Siobhan Fahey. The trio's mutual interest in tomboyish fashion and the burgeoning post-punk scene - leading to early gigs opening for The Jam and Iggy Pop and early interest from provocative ex-Sex Pistols manager Malcolm McLaren - set them apart from other cute-girl pop acts of the day, and their unique musical style, which relied less on harmonics and more on catchy choruses sung in unison, became their musical calling card.
The band's early work with producers Joffrey & Swain were instantly successful in the U.K., with hit covers like The Velvelettes' Motown obscurity "He Was Really Sayin' Somethin'" and Steam's "Na Na Hey Hey Kiss Him Goodbye" reaching the uppermost levels of the pop charts. But their original tunes found many listeners, too, particularly "Robert De Niro's Waiting" and "Cruel Summer" from the band's sophomore self-titled album in 1984. "Cruel Summer," which featured prominently in the film The Karate Kid, was a U.S. Top 10 hit.
[youtube=http://www.youtube.com/watch?v=FGYNvx9lqDQ]
Teaming with Stock Aitken Waterman in the mid-'80s, Bananarama had their biggest hits in tracks like their chart-topping cover of Shocking Blue's "Venus" and "I Heard a Rumour." But Fahey would depart the band in 1988, later joining Shakespeare's Sister, and Jacquie O'Sullivan would become the band's third member until 1992, at which point Woodward and Dallin would continue as a duo. The pair still record and tour to this day, with modern remixes of their original hits still placing well on U.K. dance charts. (A healthy amount of catalogue activity from Rhino U.K. has also kept the band in record stores, with expanded reissues, remix compilations and other products having been released in the past few years.)
Now, to commemorate the band's three decade mark, Rhino will release a new compilation, 30 Years of Bananarama, compiling the band's biggest hits from 1983 to 2009's Fascination, and paired with a DVD featuring 35 of the band's music videos, many of which are coming together on DVD for the first time.
The whole package is out July 9 in the U.K.; you can hit the jump and see what's offered, and you'll also find a pre-order link!
30 Years of Bananarama (Rhino (U.K.), 2012)
Disc 1: CD
Aie A Mwana
Really Saying Something
Shy Boy
Na Na Hey Hey Kiss Him Goodbye
Cruel Summer
Robert De Niro's Waiting...
Venus
I Heard a Rumour
Love in the First Degree
I Can't Help It
I Want You Back
Love Truth & Honesty
Nathan Jones (1988 Version)
Help!
Only Your Love
Preacher Man
Movin' On
Every Shade of Blue
Move in My Direction
Look on the Floor (Hypnotic Tango)
Love Comes
Love Don't Live Here
Disc 2: DVD
Really Saying Something
Shy Boy
Cheers Then
Na Na Hey Hey Kiss Him Goodbye
Cruel Summer
Robert De Niro's Waiting...
Rough Justice
Hotline to Heaven
The Wild Life
Do Not Disturb
Venus
More Than Physical
A Trick of the Night
I Heard a Rumour
Love in the First Degree
I Can't Help It
I Want You Back
Love Truth & Honesty
Nathan Jones (1988 Version)
Help!
Only Your Love
Preacher Man
Long Train Running
Tripping on Your Love
Movin' On
Last Thing on My Mind
More More More
Every Shade of Blue
Take Me to Your Heart
Move in My Direction
Look on the Floor (Hypnotic Tango)
Love Comes
Love Don't Live Here
Venus (12")
I Can't Help It (12")
Tracks 1-4 from Deep Sea Skiving (London, 1983)
Tracks 5-6 from Bananarama (London, 1984)
Track 7 from True Confessions (London, 1986)
Tracks 8-11 from Wow! (London, 1987)
Tracks 12-14 from Greatest Hits Collection (London, 1988)
Tracks 15-16 from Pop Life (London, 1991)
Track 17  from Please Yourself (London, 1993)
Track 18 from Ultra Violet (Curb (U.S.), 1995)
Tracks 19-20 from Drama (A&G, 2005)
Tracks 21-22 from Viva (Fascination, 2009)