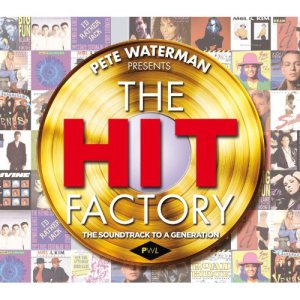 It may have been the "flavor of the month" as European '80s pop went, but the distinctive sounds of Stock Aitken Waterman and the PWL label was one heck of a flavor, earning a rather generous compilation/box set treatment, Pete Waterman Presents The Hit Factory: Soundtrack to a Generation  in the U.K. this summer.
Mike Stock, Matt Aitken and Pete Waterman began working for Waterman's PWL production company in 1984, specializing in Hi-NRG dance music by U.K. pop artists like Hazell Dean and Dead or Alive; the latter group's "You Spin Me Round (Like a Record)," produced by the SAW team, was a No. 1 hit in the U.K. and peaked at No. 11 in the States, the first step in solidifying the team's popularity.
When they attracted the attention of girl group Bananarama, however, things really started to take off. The SAW/PWL collective turned into England's equivalent of the Motown assembly line, with an array of fresh-faced young talent performing peppy originals and synthed-up covers of pop classics. Several of the artists, including Rick Astley and Kylie Minogue, enjoyed major international success.
[youtube=http://www.youtube.com/watch?v=dQw4w9WgXcQ]
While the mainstream press usually dismissed their works as fluff, those who came of age among '80s and '90s pop charts do love what they heard, and have been well-suited by the odd wave of nostalgia for that sound in the form of reissues and compilations (Cherry Pop has overseen expansions of many PWL albums in recent years, along with this compilation from longtime SAW partner and engineer/mixer Phil Harding).
A PWL "Hit Factory Live" Concert to be held in London next month will feature a good amount of the artists on this new set, which will be available from Sony in the U.K. as a double-disc compilation or a triple-disc box set with a bonus CD of rare and unreleased dance mixes. Both sets will be released in England on July 9, two days ahead of the anticipated live event.
Hit the jump to take a look at all the hits on The Hit Factory!
Pete Waterman Presents The Hit Factory: The Soundtrack to a Generation (Sony Music CMG (U.K.), 2012)
Disc 1
Respectable - Mel & Kim
Never Gonna Give You Up - Rick Astley
I Should Be So Lucky - Kylie Minogue
You Spin Me Round (Like a Record) - Dead or Alive
Love in the First Degree - Bananarama
Too Many Broken Hearts - Jason Donovan
You'll Never Stop Me Loving You - Sonia
Happenin' All Over Again - Lonnie Gordon
Let the Music (Lift You Up)  - Loveland featuring Rachel McFarlane
When I'm Good and Ready - Sybil
The Harder I Try - Brother Beyond
Whatever I Do (Wherever I Go) - Hazell Dean
You Think You're a Man - Divine
Toy Boy - Sinitta
Blame It on the Boogie - Big Fun
Heartache - Pepsi & Shirlie
Say I'm Your Number One - Princess
Especially for You - Jason Donovan & Kylie Minogue
Heartbeat - Steps
Disc 2
Hand on Your Heart - Kylie Minogue
Venus - Bananarama
Who's Leaving Who? - Hazell Dean
I Just Don't Have the Heart - Cliff Richard
Together Forever - Rick Astley
Cross My Broken Heart - Sinitta
Nothing's Gonna Stop Me Now - Samantha Fox
Lover Come Back (to Me) - Dead or Alive
It's a Fine Day - Opus III
Roadblock - Stock Aitken Waterman
I'll Keep On Loving You - Princess
Beyond Your Wildest Dreams - Lonnie Gordon
Sealed with a Kiss - Jason Donovan
The Love I Lost - West End featuring Sybill
He Ain't No Competition - Brother Beyond
Listen to Your Heart - Sonia
I'd Rather Jack - The Reynolds Girls
Showing Out (Get Fresh at the Weekend) - Mel & Kim
Tragedy - Steps
The WIP 2 Tribute Mix
Disc 3 (exclusive to box set edition)
Say I'm Your Number One (Princess to a King Mix) - Princess
New York Afternoon (Extended Version) - Mondo Kané
The Heaven I Need (Extended Version) - The Three Degrees
Looking Good Diving (with the Wild Bunch) - Morgan/McVey featuring Neneh Cherry
I Just Can't Wait (Alternative 12" Mix) - Mandy Smith
Only the Strong Survive (Extended Version) - Precious Wilson
When I'm Good and Ready (Original 12" Mix) - Sybill
Too Many Broken Hearts (Party Hearty Mix) - Jason Dononvan
What Do I Have to Do? (Billy the Fish Mix) - Kylie Minogue
What a Night (Party Night) (12" Remix) - Dolly Dots
You Spin Me Round (Like a Record) (Buzzing Bees Mix) - Dead or Alive
Disc 1, Track 1 and Disc 2, Track 18 from F.L.M. (Supreme, 1987)
Disc 1, Track 2 and Disc 2, Track 5 from Whenever You Need Somebody (RCA, 1987)
Disc 1, Track 3 from Kylie (PWL/Mushroom, 1987)
Disc 1, Track 4 and Disc 2, Track 8 from Youthquake (Epic, 1984)
Disc 1, Track 5 from Wow! (London, 1987)
Disc 1, Tracks 6 and 18 and Disc 2, Track 13 from Ten Good Reasons (PWL/Atlantic, 1989)
Disc 1, Track 7 and Disc 2, Track 16 from Everybody Knows (Chrysalis, 1990)
Disc 1, Track 8 and Disc 2, Track 12 from If I Have to Stand Alone (Supreme, 1991)
Disc 1, Track 9 from The Wonder of Love (PWL, 1995)
Disc 1, Track 10 and Disc 2, Track 14 from Good N' Ready (PWL, 1993)
Disc 1, Track 11 and Disc 2, Track 15 from Get Even II (Parlophone, 1988)
Disc 1, Track 12 from Heart First (Proto, 1984)
Disc 1, Track 13 from The Story So Far (Proto, 1984)
Disc 1, Track 14 and Disc 2, Track 6 from Sinitta! (Fanfare, 1987)
Disc 1, Track 15 from A Pocketful of Dreams (Jive, 1990)
Disc 1, Track 16 from All Right Now (Polydor, 1987)
Disc 1, Track 17 and Disc 2, Track 11 from Princess (Supreme, 1987)
Disc 1, Track 19 and Disc 2, Track 19 from Step One (Jive, 1998)
Disc 2, Track 1 from Enjoy Yourself (PWL/Mushroom, 1989)
Disc 2, Track 2 from True Confessions (London, 1986)
Disc 2, Track 3 from Always (EMI, 1988)
Disc 2, Track 4 from Stronger (EMI, 1989)
Disc 2, Track 7 from Samantha Fox (Jive, 1987)
Disc 2, Track 9 from Mind Fruit (PWL, 1992)
Disc 2, Track 10 from PWL single PWL3, 1987
Disc 2, Track 17 from PWL single PWL25, 1989
Disc 3, Track 2 from Lisson Records 12" single DOLEQ 2, 1986
Disc 3, Track 3 from Supreme Records 12" SUPETX102, 1985
Disc 3, Track 4 from CBS 12" single MORGT1, 1986
Disc 3, Track 6 from Jive 12" single JIVE T146, 1987
Disc 3, Track 7 from PWL 12" single PWLT 260, 1993
Disc 3, Track 8 from Atlantic 12" single DMD 1363 (U.S.), 1989
Disc 3, Track 9 from What Do I Have to Do? Original Synth Mixes EP (digital only) (PWL/Mushroom, 2010)
Disc 3, Track 10 from RCA 12" single PT 41614, 1987
All other tracks previously unreleased