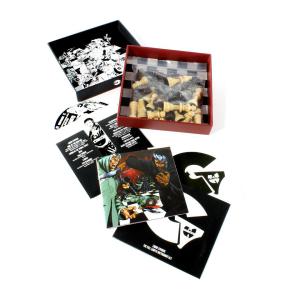 When it was first released in 1995, Liquid Swords, the acclaimed solo album from GZA of the immortal rap collective Wu-Tang Clan, was credited to its maker as "Genius/GZA." Nearly two decades later, with a deluxe edition forthcoming from specialty label Get On Down, it's hard to argue that.
Liquid Swords came at a time when the Wu-Tang Clan, who'd turned many a head with their patchwork lyrical style, idiosyncratic sense of humor and straightforward look at urban life. Enter the Wu-Tang (36 Chambers) was a critical and commercial smash, buoyed by singles "Method Man," "C.R.E.A.M." and "Protect Ya Neck."
In a bold move, the Clan were able to negotiate with Geffen solo record deals for the group's members. From there, the members of Wu-Tang Clan went from strength to strength, with Method Man's Tical in 1994 and the seminal Return to the 36 Chambers (The Dirty Version) from Ol' Dirty Bastard (recently reissued by Get On Down), Raekwon's Only Built 4 Cuban Linx and GZA's Liquid Swords all dropping in 1995.
With a perfect blend of Wu-Tang guest slots, production from fellow band member RZA and what The Chicago Tribune called "one of the most substantial lyrical journeys in hip-hop history," it's easy to see why Liquid Swords stands head and shoulders above its hip-hop contemporaries, making it a killer choice for a deluxe reissue from Get On Down. In the label's typical fashion, the content is not only expanded - adding a bonus disc featuring an instrumental version of the entire album - but lavish packaging featuring a full chess set.
Liquid Swords: The Chess Box is available July 24 and can be ordered here. Hit the jump to check out the track list!
GZA, Liquid Swords: The Chess Box (Get On Down GET 54043, 2012)
Disc 1: Original LP (released as Geffen GEFD-24813, 1995)
Liquid Swords
Duel of the Iron Mic
Living in the World Today
Gold
Cold World
Labels
4th Chamber
Shadowboxin'
Killah Hills 10304
Investigative Reports
Swordsman
I Gotcha Back
B.I.B.L.E. (Basic Instructions Before Leaving Earth)
Disc 2: The Full-Length Instrumentals (released as Geffen promotional double LP PRO-A2-4810, 1995 except tracks marked *)
Liquid Swords
Duel of the Iron Mic
Living in the World Today
Gold
Cold World
Labels
4th Chamber
Shadowboxin'
Killah Hills 10304
Investigative Reports
Swordsman *
I Gotcha Back
B.I.B.L.E. (Basic Instructions Before Leaving Earth) *