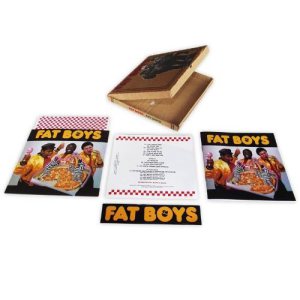 For a while, they were the biggest names in hip-hop, and their crossover success made many power players of the genre hungry for similar mainstream acceptance. Who else could prompt two eating puns in that sentence but The Fat Boys, whose debut album is coming out next month in a unique deluxe package.
First known as The Disco 3, the Brooklyn-based Fat Boys - Mark "Prince Markie Dee" Morales, Damon "Kool Rock-Ski" Wembley and Darren "Buff Love" Robinson - were at first glance the latest in a line of great clown princes in rap music. The Fat Boys not only tipped the scales, but they embraced it, appearing on the cover of their debut LP joyously considering a pizza. Their genial nature also led to a stunning amount of crossover success, not only with two hit singles, both covers (a 1987 take on The Surfari's "Wipe Out," featuring backing vocals by none other than The Beach Boys, hit No. 12 on the Billboard charts; the next year, they duetted on "The Twist" with Chubby Checker and peaked at No. 16), but in film as well (Krush Groove, the cult-classic comedy Disorderlies and the theme to A Nightmare on Elm Street 4: The Dream Master, "Are You Ready for Freddy?").
Gold and platinum records aside, The Fat Boys' popularity waned as rap turned harder and urban, and they released their last LP, Mack Daddy, in 1991, recorded after Prince Markie Dee embarked on a solo career. Robinson, whose pioneering human beatboxing ranked next to Doug E. Fresh and Biz Markie, would die of a heart attack in 1995. But The Fat Boys' legend never really died - and now, with the first-ever CD reissue of the group's debut LP in July, there's some music to rediscover.
And how will this album be served up? Hit the jump to find out!
The Fat Boys' eponymous debut LP will be reissued by Tin Pan Apple Records - the group's own label created by manager Charles Stettler in 1987 - and, in a move worthy of Get On Down Records' discography, it comes in a special pizza box package (the disc is inside the box in a slipcase, with a liner notes booklet and collectible sticker)! The remastered album includes three bonus tracks, including The Disco 3's first single, "Reality," as well as audio interviews and vintage promotional content. (The set's Amazon description also reveals the existence of a hidden track: New York DJ John "Mr. Magic" Rivas "announcing The Disco 3 as the winners of the Tin Pan Apple After Dark Dance & Rap Contest at Radio City Music Hall (May 23rd, 1983), where the group got their record deal.")
The Fat Boys' box is out July 10, and you can order it below.
The Fat Boys: Deluxe Edition (Tin Pan Apple Records, 2012)
Jail House Rap
Stick'Em
Can You Feel It?
Fat Boys
The Place to Be
Human Beatbox
Don't You Dog Me
Reality - The Disco 3
International Love - The Disco 3
All You Can Eat
Rap Attack Promo
Fat Boys/Charlie Stettler Interview
Fat Boys Interview #1
Fat Boys Interview #2
Tin Pan Apple After Dark Dance & Rap Contest (Radio City Music Hall - 5/23/1983) (Excerpt)
Tracks 1-7 originally released as Sutra LP SUS-1015, 1984
Track 8 was Sutra 12" A-side SUD-018, 1983
Track 9 was Sutra 12" B-side SUD-024, 1984
Track 10 from Krush Groove: Music from the Original Motion Picture Soundtrack (Warner Bros. 25295, 1985)