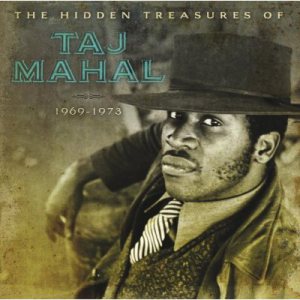 Perhaps Henry Saint Clair Fredericks Jr. just didn't have the right ring to it?  Whatever the reason, the former Fredericks took the name of Taj Mahal after the palatial Indian mausoleum, and never looked back.  The singer, songwriter, multi-instrumentalist and all-around renaissance bluesman had his first solo tenure with Columbia Records, from 1968 to 1976, and most of that period is addressed on the new 2-CD anthology The Hidden Treasures of Taj Mahal 1969-1973 (Columbia/Legacy 82876 82294 2, 2012). This set features two CDs of previously unreleased material, both live and in the studio. The first disc debuts studio recordings dating from 1969-1973, and the second disc premieres a full-length live concert, recorded April 18, 1970 at the legendary Royal Albert Hall in London between the releases of Giant Step/De Old Folks at Home (1969) and Happy to Be Just Like I Am (1971). And plans are already afoot for further projects from Mahal's entire Columbia Records catalogue.
Disc One of Hidden Treasures compiles unreleased songs and alternate takes from four distinct sessions, each with its own musicians.  These different bands bring out different qualities in Taj Mahal, the singer, and it's a pleasure to hear, since his work as a vocalist is often overlooked in favor of his instrumental prowess.  His singing is obviously blues-derived, as Mahal is one of the most influential figures in establishing the ongoing relevance of traditional acoustic blues.  But he also takes in folk, country, gospel and world music influences, not to mention rock; after all, he played the Sunset Strip with Ry Cooder as a member of The Rising Sons in the heady, a-go-go days of the mid-sixties!  All of these influences are evident on the twelve tracks here.  That said, it's easy to see why many of these rough performances didn't see release initially, although that doesn't diminish their value.  This disc may not be an ideal introduction to Taj Mahal's artistry, but it's a gift to those familiar with his deep history.
We dive in right after the jump!
Both familiar and unfamiliar songs dot the landscape.  The repertoire primarily consists of Taj Mahal originals, with a couple of traditional tunes and a Dylan song for good measure!  The earliest session is from December 1969, with frequent collaborator Jesse Ed Davis on guitar, plus Gary Gilmore on bass and Chuck "Brother" Blackwell on drums. "I Pity the Poor Immigrant" from Bob Dylan's John Wesley Harding, is, like many of Dylan's best songs, open to interpretation.  Its weighty imagery and point-of-view ostensibly from God Himself ("I pity the poor immigrant/Whose strength is spent in vain/Whose heaven is like Ironsides/Whose tears are like rain/Who eats but is not satisfied/Who hears but does not see/Who falls in love with wealth itself/And turns his back on me") is kept both imposing and mysterious coming from Mahal.  It's stylistically a good match for the other track from the session, the folk spiritual "Jacob's Ladder."
The infectious "Chainey Do" ("No one will love you/Like Chainey Do!") was later deliciously covered by the Pointer Sisters, and is one of four songs performed with The Dixie Flyers in 1970 at Miami's Criteria Studios.  Mahal, on his National steel guitar and harmonica, is also joined by Jesse Ed Davis.  The Dixie Flyers add color to first quartet of songs, with Davis' guitar a natural standout as it enlivens the first of two versions of "Sweet Mama Janisse" presented here.  This "Delta blues about a woman who comes from Louisiana," as per Mahal's concert introduction on the second disc, has chugging bass, a roaring guitar and a more bluesy vocal compared to the second, later version from the following year.  The 1971 take has horns (most prominently, tuba) and a breezier air, plus a spoken intro ("Here's a little story/'bout a friend of mine who comes from Louisiana…") yet ultimately seems rougher than the first version.
As earthy blues-soul, the lack of polish doesn't hurt these performances too much.  An alternate version of "Tomorrow May Not Be Your Day" (originally included on Happy to Be Just Like I Am) closes out the Dixie Flyers set, and is a fast and furious soul explosion, with gritty, guttural vocals.  In addition to "Sweet Mama Janisse," a 1971 Bearsville, New York session yields two other lost gems.  Here, Mahal is joined by a horn section, Bill Rich on bass, John Simon on electric piano and acoustic piano, Greg Thomas on drums and Kwasi "Rocky" Dzi Dzournu on congas.  "Ain't Gwine Whistle Dixie (Any Mo')" had already been recorded for 1969's Giant Step/De Ole Folks at Home and unfolds like a laid-back jam session, with all of the band members on the same wavelength, savoring the easy camaraderie.  And yes, Taj actually whistles, too!   (Tuba virtuosos Earl MacIntyre and Howard Johnson also supported Taj at New York's Fillmore East.  That concert was preserved on 1971's The Real Thing.)
"You Ain't No Streetwalker, Honey, But I Do Love the Way You Strut Your Stuff" is an even more sprawling rave-up, clocking in at over 16 minutes.  One's fondness for this track will depend on how interesting an extended jam on a slight piece is ("Strut that stuff!  Strut it!  Strut it!" exclaims Mahal with wild abandon) but there are some delightful moments, with wailing vocals, bleating horns and exuberant harmonica.
The disc closes with three tracks from a session at New Orleans' Sea-Saint Studios, produced by studio proprietor Allen Toussaint.  Unfortunately Toussaint doesn't join in on piano, but Mahal is joined by Hoshal Wright on electric guitar and Eric Ajaye on bass.  Sonny Boy Williamson's blues standard "Good Morning Little Schoolgirl," with new lyrics added by Taj, was, like "Whistle Dixie," already recorded on Giant Step/De Ole Folks at Home.  Toussaint's touch is not easily detectable on these tracks, though he and Mahal must have enjoyed their collaboration enough to work together again, including on 1984's Conjure-Music for the Texts of Ismael Reed.  Taj plays the banjo on a pleasantly ragged "Shady Grove" ("My sweet Shady Grove…"), and disc closer "Butter" is a taut and appealing instrumental.
Good as these tracks are, the real attraction for many might be the tight set of roughly 53 minutes that can be found on Disc Two.  Live at the Royal Albert Hall: April 18, 1970 is a representative show from the early period of Taj Mahal's career and shows him easygoing and in command of his audience.  An a cappella "Down by the Riverside" and spare, acoustic "John, Ain't It Hard" set the tone for the evening and its inclusive spirit.  In his charming opening remarks, the artist encourages the audience to clap and even sing along with him and his band, consisting of Jesse Ed Davis, John Simon on piano, Bill Rich on bass and James Karstein on drums.
The set is cohesive, but touches on funk, traditional and electric blues in a low-key but gripping setting in which the emphasis is squarely on the musicianship.  Each band member gets a chance to shine, whether on the Mahal/Davis co-write "Big Fat," on which there's no fat at all, or on The Band's equally "heavy" "Bacon Fat," which even swings a bit and features some scat!  Largely the set has as laid-back a groove as the blues allow, but the piano is rollicking on Sonny Boy Williamson's "Checkin' Up on My Baby" and the vibe is raucous on "O, Susanna."  "Tomorrow May Not Be Your Day" was surveyed on the first disc's Miami sessions, but makes a fitting concert closer.  It's the only time the evening approaches the fervor of a rock performance, and you'll likely be left as enrapt as the audience that night in London.  Minor quibbles aside (some of the lengthier patter passages could have been sequenced as their own tracks, as the "Band Introductions" has been), this is a rich document of the early years of an always-evolving talent.
The Hidden Treasures of Taj Mahal features an essay by Miles Mellough putting the performances in perspective; both discs have been mastered well by Mark Wilder, the second in tandem with Vic Anesini.  If you're a fan of Taj Mahal, you just might want to take a giant step and immerse yourself in these two discs of music that's both rare and well-done.
You can order The Hidden Treasures of Taj Mahal here!